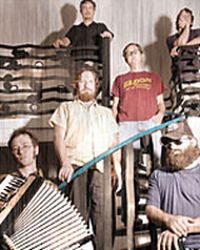 My Education is a Post-rock band formed in 1999 in Austin by Brian Purington, Eric Gibbons and Sean Seagler. They were first thinking in having vocals in their music, but the idea was scratched. The addition of Stars of the Lid keyboardist Kirk Laktas, Cinder violinist James Alexander and guitarist Chris Hackstie established the line-up of the band. Their self-released debut, 5 Popes, was released in 2001, but it sold out in 2001. It wasn't until 2004 that the record label Thirty Ghosts Records re-released it and won more fans thanks to it. Some more records followed.
I got in touch with the band and this is their story.
############################################################################
Your biography has been covered in your ProgArchives profile so let's bypass the biography details. But which bands were you influenced by and why did you choose that name ?

Brian Purington – Right before we moved to Austin, I was setting in my living room in San Angelo, TX trying to think a name for the band. I looked over @ my bookshelf, and saw a copy of William S. Burroughs's My Education. I thought the name summed up what playing in a band was about… a process that's still ongoing.


This is an archive based interview also intended for the fans you get well after both you and I have passed away so let's go straight to your albums. Please give us your views/some words on your albums, starting with.......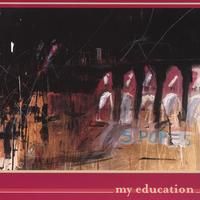 5 Popes from 2004

Brian Purington - 5 Popes is our 1st album. All of the songs were written, and recorded within 6 months of us being an instrumental band. We put out the album ourselves in 2002 with the wrong colored CD (pink). Ballyhoo Withdraw reissued it 2004 w/ the correct color (red).

James Alexander– Recorded at the original Bubble studio. Mullets and grilled meat featured heavily in the creation of this record.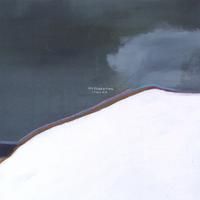 Italian from 2005


Scott Telles - This is the album that really got me interested in My Education. I was a big fan of this album before I was in the band. The emotional quality of the songs, the beauty of the instrumentals...gorgeous. Particularly the end of "Thanksgiving" - it just sent chills down my spine.

James Alexander - In comparison to "5 Popes", "Italian" is more expansive and even 'experimental'. It features some truly epic guitar squalling, and some particularly fine keyboard playing from Kirk Laktas. The closing track "Green Arrow" was our big closing number "money shot" for a number of years. Unfortunately, we don't play much from this record anymore, but I think we're going to try adding at least a couple of them back into the repertoire.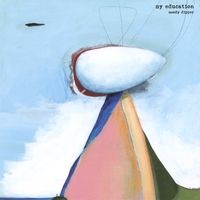 Moody Dipper from 2006

Scott Telles - This is the first album I'm on. In fact, my debut playing in My Education was the take that you hear here on the first track of the album, "Spirit of Peace". A bit unnerving - I'd never played a note with the band before, and suddenly we were in the studio and the two-inch tape was rolling! It came out great, though - a fitting tribute to one of my favorite bands, Popol Vuh. RIP, Florian.

James Alexander – Moody Dipper is comprised of three original tracks –written with original bass player Eric Gibbons - and four very interesting remixes of tracks from Italian. There was some problem with the stems from Italian, and the resulting remixes are all perhaps a bit more crunchy and distorted than they might have been otherwise. "Spirit of Peace" was originally recorded by Kirk Laktas and me on a Time-Lag records tribute to Popol Vuh. This is the first record to feature the contributions of vibraphone player Sarah Norris. Her addition to the title track is particularly moving and beautiful.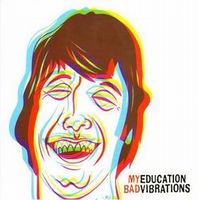 Bad Vibrations from 2008

Scott Telles - The first full album I'm on so of course one of my favorites. Unfortunately sold out at this time - who wants to repress it on vinyl for us?

James Alexander – Bad Vibrations is a standout recording. I think more than any of our records, it is based on emotions genuinely felt – a little sad, a little defiant. My Education attempted to record the track called "Aria" a number of times before finally getting it right on this one.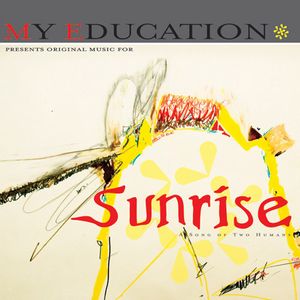 Sunrise from 2010

Scott Telles - Playing the score for this great film by FW Murnau for sold out houses was a joy and a very emotional experience for both the audience and for us, and I think this album encapsulates the experience nicely.
We still play several pieces from the soundtrack in our live sets.

James Alexander – Sunset features a beautiful cover painting by artist Skye Ashbrooke – he also contributes visuals for some of our shows. Looks great (and sounds even better!) on the vinyl LP version.

For those of us unfamiliar with your music; how would you describe you music, and which bands would you compare yourself with?

Scott Telles - We always get lumped in with other "postrock" bands like Godspeed and Mogwai, etc., but I prefer to think of us in terms of a long history of great music that just happens to be instrumental,
whether you're talking about Booker T. and the MGs, Klaus Schulze, the Ventures or Mahler.

How is the creative processes in your band from coming up with an idea to it's being recorded ?

Scott Telles – Generally, one of us comes up with an idea, a concept, or a riff, and then the rest of us harass it, attack it, add to it, pummel it, spice it up, arrange it, and after a while it suddenly becomes a My Education piece.


What have you been up to since the release of Sunrise? What is your schedule and plans for the next weeks and months ?


Scott Telles– Well, we collaborated with the Noble Motion dance company of Houston for a series of modern dance performances – that was way fun.
As always, we are hoping to go to Europe with the release of the new album (tentatively titled All My Friends) on Golden Antenna in Germany when we finish it – mixing is currently scheduled for mid-November 2011. We also have a remix album of tracks from Sunrise in the works as well as a live "bootleg" compilation of shows from our 2010 tour.
And, of course – live shows – two coming up include one with the Sea and Cake and one with Dave Lombardo's Philm project.

To wrap up this interview, is there anything you want to add to this interview ?


Scott Telles – Peace out. And be sure to keep your dugs clean.
Thank you to the band for this interview