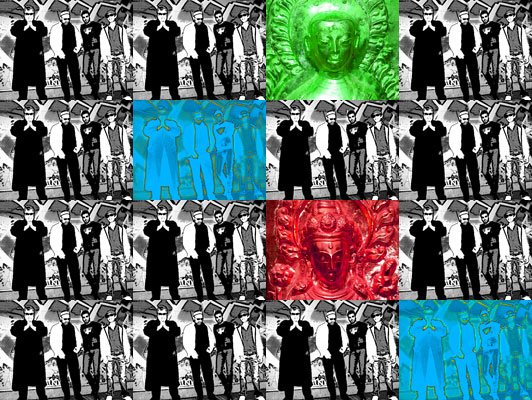 Mysteries Of The Revolution is a London-based keyboards-led power trio, founded by composer/multi-instrumentalist BB Davis (born September 21, 1962). His previous Project, Red Orchidstra, with French virtuoso keyboardist Daniel Biro, has already produced one of the all time groove classics their version of Roy Budd's theme from the seminal '70's gangster movie "Get Carter!" . This time he has founded Mysteries Of The Revolution - a three piece with BB on drums, flute, beatvox/voice ,Dan Biro, keyboards, and Mark Smith, bass. A new eponymous album has been recorded fall 2007.
I got in touch with the band and Dan answered my questions.
####################################################################################
When, where and by whom was your band born ? Did any of you, past and present members, play in any other bands before joining up in your band ? Why did you choose that name and which bands were you influenced by ?

Mysteries Of The Revolution - the band - was formed in late 2007 by BB Davis along with long time friend and musical associate virtuoso keyboardist Dan Biro.

Dan was also a founder member of BB's legendary Red Orchidstra, whose version of the theme from the '71 Brit gangster movie 'Get Carter' has become a 'groove classic'(Blues & Soul) After record deals, great gigging, touring and much mayhem (BB being variously described as 'Oscar Wilde on acid' - The Jazz Cafe gigs being a case in point) BB decided to retire The Orch and seek pastures new. Plus he wanted to get back to the kit (BB having fronted The Red Orchidstra on flute, vocals & percussion)

Calling on another great friend (and sometime Orch bass player) leading UK bassist Mark Smith MOTR was formed, deliberately as a three piece to start with, for the first album. BB wanted to explore what a keyboard based trio could do bringing elemental factors such as psychedelic overtones to collide head on with sounds, textures and passionate vibed out playing.

In terms of influence Miles, Weather Report, Chick Corea, Mahavishnu Orch, Coltrane, Tony Williams' 'Lifetime' ( Williams being a big influence on BB as a player along with Rahsaan Roland Kirk) are up there along with Soft Machine, Zappa, Led Zep, Doors, Hendrix, Beefheart, Santana, Ten Years After, Alan Holdsworth, Gong, Delius, Debussy, Tavener, Barber, Vaughn Williams, Jerry Goldsmith, Lalo Schifrin and John Barry.

The band's name was a genesis of various thoughts and emotions. One of BB's favourite European film directors the revolutionary Dusan Makavejev made the influential W.R. Mysteries Of The Organism which in fact carried a heavily disguised hugely poignant political statement. Wanting to stir things up a bit and create his own musical revolution the name was born. BB in essence remains an enigma.

How is the jazz scene in your local area and are you able to get gigs in the British Isles and further afield these days ?

It's said that British jazz has never been more vibrant and in a sense that's true. There are some fine individual players. But it depends on what is defined as 'jazz.' As it is the UK remains pretty conservative. If it's 'classic format' jazz i.e. piano trio or fronted by a sax or similar (in whatever guise) it's 'jazz' and the scene's 'fairly' healthy. There's the smooth jazz circuit, the big band scene, the ubiquitous female vocalist songstress jazz and the 'new' wave which does embrace rock etc with some interesting outfits but is all too often the 'emperor's new clothes.' Much better things are happening in Europe and the States in that area. Anything however touching on 'fusion' or 'outside' of this is in for a hard ride. We're supported by (and supporters of) the burgeoning London 'undergound' scene where clubs such a the brilliant 'Mau Mau' in Notting Hill welcomed us with open arms and we've done some great gigs there. Jazz for us shouldn't be so heavily labelled. It should be far more open and experimental embracing many more facets of music making - many more giant strides in that area were made in the 60's and 70's. MOTR we're pleased to say has found favour in America (we're distributed by Wayside) and it's to the States we're looking to tour.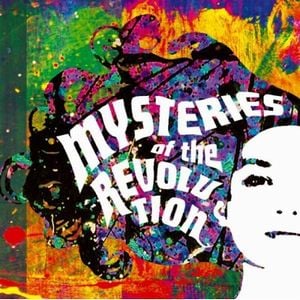 Over to your only release so far. Please tell us more about your Mysteries Of The Revolution album from 2008.

MOTR's eponymous album trackwise begins its journey from the light - the chorale intro to 'Welcome' - through to the dark weirdness of 'Moonfrog's Tucker' (a slight caress to Beefheart) taking a semi-filmic mystical/urban ride to the apocalyptic 'Have You Seen Enough?' thence into the light once more with the ethereal end-piece 'Evolution'.

There's the full-on, passionate Hammond growling of 'The Crunch', the subtle, driving 'Romantica', the Arabic flavoured 'Secret Fire' (inspired by a stay in the Moroccan city of Essaouira) the uniquely enigmatic 'The Elevation Of Mr Handy'
and the slinky vibrous 'Storius Sensorius' as well as BB's tour-de-force flute/beatvox piece 'Big Budd'ah' (dedicated to one of his greatest influences, Rahsaan Roland Kirk)

The album was recorded in the late summer/early autumn of 2007 in London and completed in 2008.


For those of us unfamiliar with your music; how would you describe you music and which bands would you compare yourself with ?

'...Neo-classic psychedelica dished up in a sweaty, heady brew of heavily jazzified, passionate, funked up, blissed-out, head-on grooves with a whole dash a' finesse n' panache - yeah, really!..'
We like and admire a lot of bands. For example Santana's 'Caravanserai' remains a seminal album for us as does Caravan's 'In The Land Of Grey and Pink' The Softs '3' and Mahavishnu's 'Inner Mounting Flame' but they had their own sound and MOTR has its sound, we don't really think each or anyone's comparable. We're MOTR.

What is your plans for the rest of the year and next year ?

We're working now on the second album, and beyond that. Sadly during the preliminary sessions for the second album bassist Mark Smith passed away and it put the band on hold for a while. It was a real shock. Mark was ludicrously young to join the great jam in the sky and virtually irreplacable. But the second album will almost certainly be both a suite'Symphony Of The Spirits' followed by a track album. The line up will probably also be expanded to include guitar and possible wind instruments.

To wrap up this interview, is there anything you want to add to this interview ?

MOTR's all about moving forward. We just want to keep making interesting passionate spiritually fulfiling music which continues to explore new directions and is forever experimenting. In so doing we hope we bring our audience with us!
Thank you to Dan for this interview