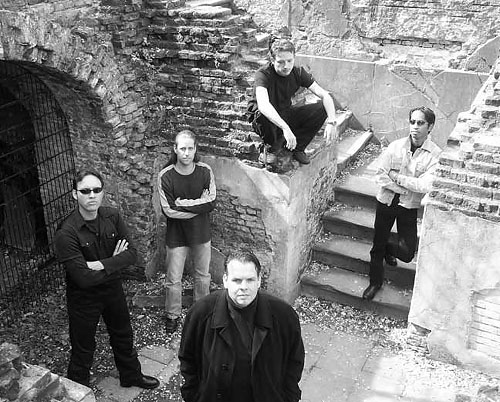 SILENT EDGE is a progressive metal band from the Netherlands that was formed by Minggus Gaspersz (keyboards) and Emo Suripatty (guitar). They set out to make progressive symphonic metal in the vein of Symphony X and Dream Theater with the neo classical influences of Yngwie Malmsteen's "Rising Force" and Royal Hunt. The band currently consists of William Verwoert (vocals), Emo Suripatty (guitar), Minggus Gaspersz (keyboards), Andre Hendriks (bass), and Matthieu Boer (drums).
In August 2000, they recorded their first demo "Under a Shaded Moon" which contained two tracks. In 2003, they self released their debut album "The Eyes of the Shadow."
I got in touch with the band and Emo Suripatty answered my questions.
###################################################################################
When, where and by whom was your band born ? Did any of you, past and present members, play in any other bands before joining up in your band ? Why did you choose that name and which bands were you influenced by ?
It was years ago. Minggus Gaspersz (keys) was in a band called 'No way out'. I joined short after the band started (I think it was in 1995). After a while the style changed drastically because of my input: it became more metal and more technical. We decided to change the name into Silent Edge. I remember we were having dinner at McDonalds after rehearsal when Minggus suggested the name. We thought it was a great idea and the name stayed.
Band members come and go, for all kind of reasons. Most of us weren't really in the spotlight in the music industry. We were developing our own style out of the spotlight, just in the rehearsal room.
Especially Minggus and I were trying so many musical things. We listen to different bands and each of us has different ideas about music and composing. But the chemistry is amazing.
We listen to so much different music:
Symphony X, Dream Theater,. Andromeda, Circus Maximus, Pantera, Metallica, Also: Mr. Big, Queen, Journey, Prince, Harem Scarem, Glenn Hughes, Royal Hunt, Gary Moore, Testament, Police, Racer X. Of course all the 80's shred guitar style: like Satriani, Vai, Malmsteen and Greg Howe. Classical music like Bach, Sor, Vivaldi. I remember going to a classical piano concert one day and going to Anthrax the day after. We all love good music and the influence is there in our own compositions.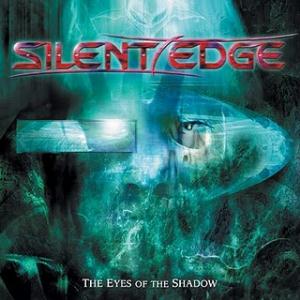 Over to your only album to this date. Your album The Eyes of the Shadow was released in 2003. Please tell us more about this album.
This album is written over the years, mostly by Minggus and me. The songs were a result of the quest of finding your own style. No one of the band was experienced with composing on this level with this kind of music when we started the band. We wrote a lot of songs and experimented a lot. So the songs were arranged and rearranged and so on. We are not easily satisfied, so it took some time before we want to put anything on CD. But the result is stunning. When we compose, every detail is considered. We are very critical not just about your own parts, but the whole song, production, vocal lines, backing vocals, lyrics, artwork, just everything. The reason why we so focused is because all the songs are really personal. It is sort of a short personal story.
The opening song is 'Through different Eyes' It is a very easy listening metal song with a great kind of 'swing'. The solo is quite challenging.
The second song is 'Savage Symphony'. It is a hard to play song, especially the intro. The song has a lot of classical scales. It is about problems you do not talk about. But one thing is certain, some day it will explode; it will burst like a volcano.
'Wasted lands' is steady metal song, with some really fast trash in the middle.
'The curse I hold within' is acoustic guitar and vocals. It has a lot of classical influences in it.
'Crusades': instrumental track with fast solo, double bass and a lot of vocal backings by Willem.
'For ancient times' is a song with a lot of groove but challenging parts and some slow solos. Willems voice on this one is truly amazing.
'Lost conscience': slow groovy song about the world going to an end.
'Under a shaded moon:' uptempo metal song with some halftime changes.
'Rebellion:' Probably the most hard-to-play song. Fast up tempo and with lots of fast solos. It is about finding your own way within the mass.
'Rebellion (the Awakening)': just vocals and piano. Boom!
This album was self-released. Please explain why you choose to go down this route.
For this album it was really important for us to do things our way, not talking about just music, but also the lyrics, art work, about everything. When other people will be involved there will be a lot of opinions and stuff. I am talking about the music industry of course. It is like giving your child away, which is unacceptable. We were there when the child was born until he walks out of the house to have his own life. Maybe look at it that way. It was our first real record as a band.
For those of us unknown with your music; how would you describe you music and which bands would you compare yourself with ?
The music is a mix of progressive metal, classical, hardrock with a lot of backing vocals, fast solos and complex instrumental parts. It is a mix of a lot of elements, but the song comes first, it is not just a collection of fast instrumental parts.
We don't compare our selves really. But in reviews we are often compared to Dream Theater and Symphony X.
Some years ago, there was rumours about a new album. But what have you been up to since the release of this album ? What is your current status and plans for this year and beyond ?
Yeah there was. But life changed, especially our own private life. Marriage, childeren were born, work. So each of us got focussed on there own thing for a while. And there was no pressure really, because we don't have to make a living out of it. We don't rush things, for us the 'fun factor' and the 'art of making music' count. We are not into the commercial part or we don't have business reasons. I said 'Yes, there was', but I what I wanted to say, was 'Yes, there was, but there still is.' Making music and putting it on a CD is still something we want. We already have some good songs written and we will continue.
To wrap up this interview, is there anything you want to add to this interview ?
Thank you for interviewing us. I really enjoyed it.
Rock on.
Thank you to Emo Suripatty for this interview

Their PA profile is here and their homepage is here