Blotted Science is the collaboration of guitar virtuoso Ron Jarzombek (Watchtower, Spastic Ink) and Alex Webster (Cannibal Corpse). In 2007, they came out with one of the most technically impressive and vicious metal records ever made, 'The Machinations Of Dementia.' With a new EP out this year, I got a hold of Ron to answer some questions I had about this project.
How did you (Ron + Alex) meet up and decide to collaborate?
I saw Alex on the Cannibal Corpse 'Wretched Spawn' DVD playing a song
called 'Frantic Disembowelment' along with some of my favorite weird scales and knew
that I had to get a hold of him and find out if he wanted to put something together. I got
in touch with him by posting a message on a Spastic Ink/Watchtower forum and within a
few days a friend of his relayed the message to him and Alex and I started emailing. He
was aware of WatchTower and Spastic Ink so he kinda knew who I was. The first time
we met was months after we started writing for the first Blotted Science CD. Cannibal
Corpse played in Austin, at that's where I first met him. I think we wanted to collaborate
on something because we both wanted to explore a bit of a different type of metal. I had
never written or recorded anything near death metal, and Alex of course was mostly
known for his death metal playing and writing. But I think working with Alex overall just
for me has brought out a whole new side of me that I didn't know was there.
To someone who has not heard the music of Blotted Science, how would you
describe your music?
I'm describing the new EP as a cross between Cannibal Corpse, Spastic Ink and a Bugs
Bunny cartoon. This material had to be written a lot different because we were writing to
film. But musically, I think we have a good mixture of tech and death metal, with a lot of
other stuff thrown in. It's some rather brutal stuff, but there is quite a bit of melody, and
lots of varied tonality. I also try to use disgusting chordal type things so it's not so riffy
all the time. We have blastbeats but they don't dominate songs. Just throw some of that in
to make the death fans happy. LOL. I try to use lots of tonalities by incorporating 12 tone
systems, and they work out great for us. And we can still use common death scales that
we've grown to love writing with.
There is certainly a great focus here on keeping things technical. Tell me, how are
some of these riffs created? What is the creative process in terms of writing the music of
Blotted Science?
The 12 tone system that we used for the new EP 'The Animation Of Entomology' is
called '12 Tones in Fragmented Rows'. It worked out GREAT for the whole EP. Riffs
were created by using whatever notes were given by chopping up the complete row. We
ended up with some crazy clusters of notes. That's the cool things about working with a
12 tone clock. You end up with weird note combinations that you wouldn't have come
up with without it. I think the weirdest thing about the material is the arrangements.
Since we wrote all songs as a score to bug films, everything had to match up to what was
onscreen. It was very difficult trying to make the material into constructed "songs" while
maintaining the accompanying visuals. As far as being techy, lot of time signatures had
to be in 7, 5, 11, 9 ½ etc... because that's how many counts we were working with in a
scene. Rather than having "sections" in these songs, we had "themes" because the scenes
would change so fast. Some of these themes just last for a few counts, some as many as
45 counts. As far as the techy timing of things, that's just my nature. I don't attempt to
write to make things syncopated and complicated rhythmically, that's just how I write.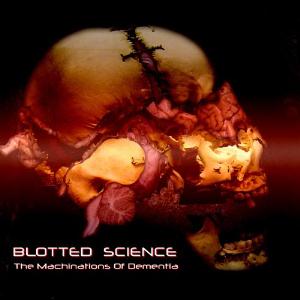 What are your views on Blotted Science's debut, The Machinations Of Dementia?
It was my first adventure into the death metal world. I had to do a lot of listening to
Cannibal Corpse and basically death metal in general just to try to get a grasp of it.
When we first started Chris Adler was our drummer so I had lots of Lamb Of God CDs
playing in my truck. On 'Machinations' we dealt with brain disorders and dementia… fun
subjects like lobotomy, narcolepsy, vegetation, insomnia, night terror, etc… It was also
fun working with such low tones with the whole CD being tuned to low A. I was getting
disgusted with "prog" metal around this time and was looking for a different metal genre
to fit into. I grew up listening to bands like Rush, KISS, UFO, Scorpions, so all of the
blastbeat stuff was new to me. But I couldn't be any happier with the result of that album.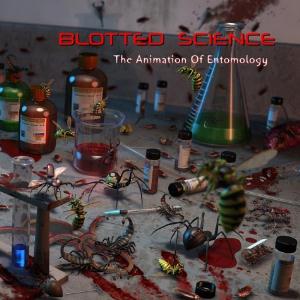 Moving forward, what can you say about this new EP, entitled The Animation Of
Entomology? What has changed this time around?
Well, since the music was written to accompany films, it's not going to sound like a
normally constructed song. And really, isn't it getting old hearing the same type of
structure in songs? But concept wise, I just think there was a need to follow along the
same lines of 'Machinations', with the scientific element, but head in a slightly different
direction. I don't know of any metal band who had based a CD on bugs, and as off-
the-wall as that all sounded months ago, I think by watching the videos fans REALLY
understand why it was done. TONS of bands base concepts around skulls, death, and
the old cliché witches, dragons, etc… It's very refreshing when something like Fredrik
Thordendal's 'Sol Niger Within' comes out. That's such a brilliant piece of work. Or for
the guitarheads something like Steve Vai's 'Flexable' really stands out. I just see no point
in doing what everybody else is doing, or has done before.
"On this new EP, there is a four part suite called 'A Sting Operation'. What inspired
you to make a longer piece, and what ties each of the four tracks together?"
Good question. Once you see the video it will all make perfect sense. There are 4
separate "chapters" in the flick that we scored to, but all victims are killed by the same
swarm of killer wasps. Musically, 'A Sting Operation' is tied to together by something
like 22 musical themes that are all scattered throughout the 4 pieces. Explaining the
complete 9 minute song on the upcoming instructional DVD is going to be a blast
because it's so involved and makes such great use of the 12 tone system. All 4 parts of 'A
Sting Operation' use the same "key" (arrangement of 12 tones on the clock), but the 4
individual pieces are based on different fragments on the clock. 'Human Barbequed' is in
sets of 6 notes starting on the odd numbers on the clock, 'Cessation Sanitation' is in sets
of 3 notes starting on all numbers on the clock. 'Seeing Dead People' places the notes on
numbers 6 through 11 on the clock inside the notes on numbers 12 through 5, then rotates
3 times, giving sets of 4 notes for 9 different groupings, and 'Omitting Eyes' is in sets of
sets of 6 notes starting on the even numbers on the clock. I think I just confused myself…
This new release sees Blotted Science taking in a new drummer, Hannes Grossmann.
How has this changed the dynamic of the band?
Yes, one major thing that changed from 'Machinations' to 'Animation' was the fact that
we knew from the start who was going to be playing drums. Nothing against Charlie
(drummer on 'Machinations') but he had to come in and try to give us what we wanted,
which was based on Chris Adler's style. With Hannes, he got in on writing drum parts
from the very start. I sent him simple programmed parts and he did his own thing with
it, and the result speaks for itself. Especially on something like 'Cretaceous Chasm'. His
playing on that song is borderline overplaying, but it just worked so well with the piece.
What bands have you been listening to lately? What has been inspiring you?
I've been asked that question quite a bit lately and to be honest, I don't really listen to too
much. I usually listen to things while driving but when I'm at home I listen to whatever
I'm working on and usually have SportsCenter on, mainly because if I have music on it
will interfere with the music that I'm writing, rehearsing on recording.
What advice or tips would you give to an aspiring guitarist or composer trying to make
it in music?
Try to be yourself and don't be a copycat. I'm so tired of all of the youtube guitarists
out there playing the same crap everybody else does. Putting popular guitarist names in
tags so that they can be in the "shred" club. I'm just so sick of that. Guitarists calling
themselves musicians because they can play a freeform solo over a Staind song for some
stupid internet contest. How about sit your ass down and write your own music for a
change. Quit worshipping all of you guitar heroes and do something for yourself. If you
need inspiration, listen to something other than your guitar heroes. Overall, I just think
there's too much worshipping and copying, and not enough individuality. C'mon guys,
get out your theory books, learn what you are doing, and put something together that
is all your own. Don't just focus on the icing on the cake, learn what flavor the cake
is, whose birthday it is, and if the party will be at Chickfila or Chuck E Cheese. Learn
something about timing, rhythm, tonality, harmony, arrangements, structure, concepts,
THEN combine that with your "shred".
Thanks to Ron for answering these questions!
Blotted Science's PA profile can be found HERE.


Edited by Conor Fynes - November 10 2011 at 13:48