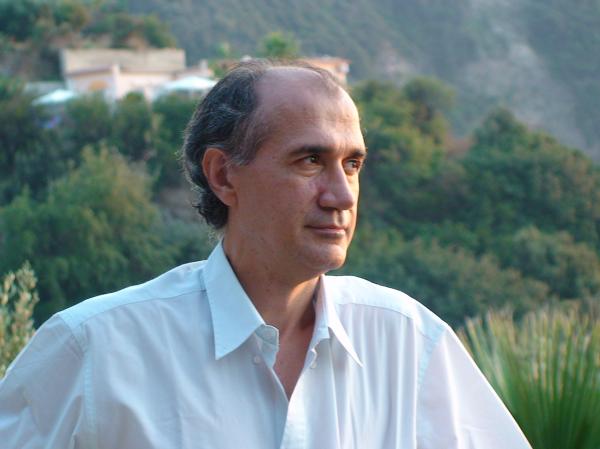 Mario Cottarelli is a composer and multi-instrumentalist born in Cremona Italy in 1956. Around the age of 14 he became the drummer in a band called Gli Eremiti, along with friends Marco Lupi, Franco Masulli, and Luciano Marchetti. They were mostly a cover band and didn't get far, but managed to record a single which on the flip side included a version of PFM's "Impressioni di settembre." After the split Cottarelli added guitar to his talents and then keyboards. During RPI's fertile classic period he began composing music but was unable to attain a recording deal as the prog market in Italy dried up in the later 1970s. He surfaced again in 2007 with his first album. His second album was released earlier this year. An album praised by, among others, Finnforest in our RPI team.
Me and Finnforest got in touch with Mario for his story.
##########################################################################################
Did you play progressive rock in the 70s ? Tell us a bit about your musical world back when the Italian prog "classic era" was happening.You tried to get a deal back in the 1970s, but to no avail. What happened here ?
In the 70s I was very young. I began to devote myself to music in 1970 as an autodidact drummer. I played drums with some bands of Cremona, my town, until 1975: sometimes we played songs of progressive bands as Pfm, Banco, Le Orme, La Nuova Idea, Jethro Tull, Gentle Giant, King Crimson. In 1972 I learned to play guitar as an autodidact. In 1973-1974 I took electric organ and jazz harmony courses. As early as 1972 I composed my first songs, Increasingly keen on the progressive-rock genre. By the mid-1970s my pieces became longer and more complex but I was not yet able to produce demos of sufficiently high technical quality. Only in 1977-78 I presented my first demos to record companies, but it was too late: the Italian record industry was no longer interested in progressive-rock. Only the alternative label Divergo in 1979 offered me a chance to cut a record. The label's manager was surprised noticing what I had been able to do using a two track recorder and playing drums, guitar and organ by myself (with collaboration of a bass player and a flute player) and offered me two choices: publishing my material as it was or waiting some months to realize my music in a more professional way. I chose the second option, but, after postponements, the project was not completed because the label closed down in 1980. At this point I decided to opt for a more commercial style of music.
After graduating with a degree in biology in 1982, I made a foray into dance music, recording several songs as a composer and arranger during 1984-1988. Some of these songs became known around Europe. During this period, among other things, I worked with Ivana Spagna and Claudio Simonetti. As of 1993, I have written music and lyrics for many Italian folk and melodic dance bands.
After that experience; what made you finally release your two albums three decades later ?
Over time, I realized that progressive-rock is the kind of music I need to fully express my personality. Also, in Cremona, when I was 49 years old, there was a convention about Progressive-rock at musicology school, with participation of conservatory's teachers. I understood that Prog was at long last considered as a music of great value by the cultural world. By then computers allowed at last the chance to realize a very complex music economically. So, in 2005, I revisited some pieces I had composed in 1975. I rearranged them, changed the lyrics, played and recorded them myself. The result was the Cd "Prodigiosa macchina", published by New Lm Records (Ravenna, Italy) in November 2007.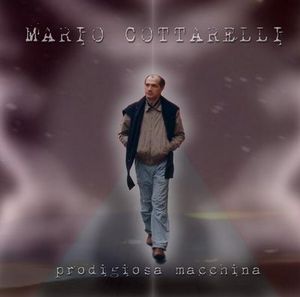 Please tell us about the music on Prodigiosa Macchina from 2007
In "Prodigiosa macchina" I chose from my archive two long songs I retained the best about the structure; after having changed the lyrics, they became "Prodigiosa macchina" and "Il pensiero dominante". I also chose the instrumental "I cori della Via Lattea" for its absorbing atmospheres and because it is very good as ending piece. The music of these three pieces was rather satisfactory for me even without arrangements, so I made simple arrangements without changing the original nature of the pieces.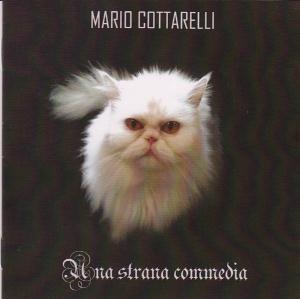 And your new album "Una Strana Commedia"?
The songs I have chose for this album had a good potential, containing interesting ideas, but in some case the ideas were only sketched or the structure were not satisfactory. Therefore in 2010-2011 I have reworked these songs not only arranging them but also adding small parts; the arrangements are more complex than the arrangements of album "Prodigiosa macchina".
What was different about the recording process of the two albums?
In both albums I have used computer MacIntosh as a recorder (a multitrack-recorder), but in "Una strana commedia" the software is more professional. Also, in "Prodigiosa macchina" I had a collaborator in mixing: Marco Zanoni, a very good musician of Cremona.
Tell us about how you record? Do you have a home studio? What kind of equipment are you working with in recording?
In my home studio I have a keyboard, a computer, a stereo system and a microphone. All sounds are contained in the computer, that also contains many plug-ins for the effects (reverb, echo, fuzz, etc…). I play the keyboard in real time, but I can successively apply various functions, like copy, paste, cut, quantize. Quantize is a function that allows one to render more precise the performance, but I prefer to use this function only in the intentionally robotic part .
Both albums draw on material written in the 1970s. Do you have more archival material to work with, or would future albums deal with new material? What is your plans for the future ?
I have more archival material composed from the 1970s and perhaps the next album will only contain songs of that decade, reworked of course.
Who do you consider musical influences, rock or otherwise?
My musical influences are: Jethro Tull, Genesis, Gentle Giant, Mike Oldfield and the Italian bands Le Orme, Pfm, Banco del mutuo soccorso.
I'm sorry about the loss of your beloved cat gracing the album cover. Will you tell us her name and why she was chosen for the cover? (It's a great cover!)
The name of the female cat on the cover is Mitzy and the photo was napped by my wife with a very cheap cellular telephone. Mitzy was loved by me and particularly by my wife for her grace, femininity, sweetness, intelligence and altruism; when another cat of ours was ill, she crouched near that cat to comfort it; also, when my wife picked up her, she licked the nose of my wife, like a dog! Mitzy was chosen for the cover because she is the direct opposite of the strange comedy of human beings; with her penetrating glance she seem to admonish us; her innocence, wisdom and mental equilibrium are a model for everybody.
My review noted the quantity and complexity of ideas flowing through the new album, and a friend of mine commented on the care taken with the vocals. Was it challenging to fit your many ideas and parts together? Or was it all quite natural and relatively easy?
About the care taken with the vocals I thank my wife, Jasmina Radanovic, who is a soprano and a singing teacher. Ability in fitting my many ideas is especially due to the magic moment of the 1970s, when the enthusiasm for having broken the schemes of traditional song brought many composers to create heterogeneous pieces with extraordinary easiness. The work I have recently made about my old pieces mostly consists in arranging, but in cd "Una strana commedia" I also have added some parts, for example the "solo" in the title track and the melody in the central part of "Bianca scia".
You've mentioned that the lyrics were re-written for four of the five songs. Tell us about the lyrical theme of the album, for the benefit of the non-Italian speakers who will hear it.
The lyrics were re-written for three of the four sung songs (in fact one song is an instrumental piece).
In the first song, "Una strana commedia", a father tells to his son that, growing, the confine between the right and the wrong will be no more clear; there will be no more the mental cleanness of childhood and life shall become like a strange comedy; also, he shall have to choose between any types of stupidity, for example cramming the language with swearwords: this behaviour is generally considered an expression of spontaneity, but in my opinion it's a face of human comedy, even a type of conformism. Also, in this song I speak about influences of cinema and mass-media on people's habit and influences of people's habit on cinema and mass-media, as in a sort of Larsen effect, with disastrous consequences; I also speak about illation practice by many people and people's refuging in what I call "psicocasta" (a word invented by me, meaning a caste founded on ready-made thoughts and culture which benefit psyche). The father tell that refuging in a psicocasta is not the best way to be free, but it's better than falling in drug or alcoholism.
The theme of the second song, "L'occhio del ciclone" ("The eye of the storm"), is the need for despising someone or something to increase self-esteem; the eye of the storm represents a more objective point of view to watch reality.
The lyrics of the third song, "Corto circuito" ("Short circuit") were written in 1981 and no more changed; the theme is a moment of depression, a situation in which someone can fall living in this human comedy.
In the fourth song, "Bianca scia" ("White trail of light") I say that in the primitive parts of our brain (as amigdala) there is a stupid being which conditions our life and we must fight against that being using our cerebral cortex, the centre of rationality.
But also the instrumental "L'orgoglio di Arlecchino" ("Arlequin's pride") play a role in the concept album: its cheerful atmospheres and the title represent a reaction against the negative consequences of the strange human comedy.
Do you have any desire to work with other musicians at this point, or are you happy to construct your solo albums?
For me to construct my album by myself is always a fascinating challenge, but I am not alone: there is with me a collaborator… The young Mario Cottarelli! Joking apart, it's possible that in the next album I will have recourse to a sound engineer for a better mixing, how I already did in "Prodigiosa macchina", in which however the software was less professional.
Tell us about the flute sounds and choral vocals on this release. Were these sampled or live performances? I didn't see credits concerning these.
Also the flute sounds and choral vocals are sounds contained in the software and played by me through the keyboard.
Who is your favorite Italian progressive rock band?
In my teen-age my favorite Italian progressive rock band was perhaps Pfm, but I liked Banco in a similar way and now I consider Le Orme at the same level of the other two bands. Le Orme is the most prolific band of these and mostly admirable for fantasy in writing the melodies… And I love melody, as a good Italian.
Many of us feel the Italian prog rock sound has its own identity beyond that of the English scene. There are the operatic elements, the more frequent warmth of romantic sounds from the piano, a slight avant-garde edge, and the Italian song tradition to name a few characteristics. It must be rewarding to see such enthusiasm for Italian prog rock 40 years after the scene began, and much of it coming from fans abroad. Any thoughts on the RPI then or now?
RPI in the 1970s was an amazing novelty and had a great audience; the concert gathered thousands of persons. Now it's more difficult to amaze the public and RPI is a very small niche in the Italian music market; however Internet allows the musicians to be listened all around the world, in theory at least. Also, the technology offers a lot of possibility, lowering the costs of production.
Anything you want to add to this interview ?
I want to thank the Progarchives staff and especially Jim Russell (Finnforest) and Torodd for the esteem and the opportunity given to me to point out my music in the world.
Thank you to Mario for this interview