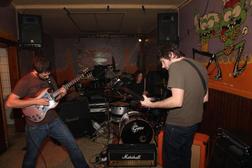 Made up of ex ISAïAH, BLISS, and THE DERRICK SHOW members, TERRAFORMER [not the UK drum&bass artist] is the Belgian Math/Post-hardcore trio of LIO, OLI, and GUI.

Very little biographical info on the group is currently on hand but in 2010 they released their eponymous debut, a 6-cut EP. The material reflects contemporary Math sounds emphasizing a dirty, heavily layered, sometimes frantically played product that will please some mathrock listeners but not all. However, a many-faceted band can be heard under the scrap iron and TERRAFORMER shows much promise.
I got in touch with the band and Guillaume was kind enough to answer my questions.
#########################################################################
When, where and by whom was your band born ? Did any of you, past and present members, play in any other band before joining up in your band ? Why did you choose that name and which bands were you influenced by ?

We've been playing for almost three years now. We're coming from the area of Liege, a town in the french part of Belgium. We knew each other for a long time, we played in different bands together or not. The only still active is Isaïah where Guillaume played.
We named our band like this because we were looking for something efficient and a little bit geek-related. And it sounds massive !
How is the music scene in your area ?

Music scene in our area…
Our country is very small, so we won't talk about our town which is very very tiny but more about Belgium.
It's quite difficult to say. For sure, if you are in metal stuffs or pop rock stuffs you would find easily happiness here in Belgium, but if you don't… it's another story.
Geographically, Belgium is divided into two main areas (north and south) and this division is also felt in the music scene. In the south of Belgium, where we come from, people are more interested by pop/rock or metal bands and take a few interests for alternative music (even for well-known groups). So the majority of places to play in concerts are dedicated to pop/rock or metal. It's quite difficult to make music in Belgium if you don't fit the mould. Hopefully, there still some collective who take alternative bands into consideration and organize concerts, help groups with their releases… For example, in Liège, there is Honest House, Dance Mullet Dance, Silenceless, Sabotage bkgs, Moustaches Forever, We Told You To Play Fast. Without these guys, playing music in Liège would be more difficult.

For those of us unknown with your music; how would you describe you music and which bands would you compare yourself with ?

Something with delay and low tuned guitars. We have some melodic climax, some wild and abrasive parts and between this we try to put some guitar tappings.
We don't like to compare ourselves to other bands or to a band particularly, we are influenced by every band we like, and we listen to a lot of stuffs !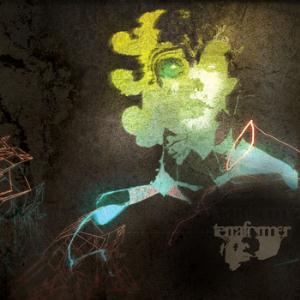 Over to your only release so far. Please tell us more about your self titled EP/album from last year.

This was the first recordings we made with the band. We had a lot of positive feedback and nice reviews which was great ! We released 100 pieces with the help of our friends from « we told you to play fast records»

You have chosen to make this a free download through Bandcamp (thank you !). Why ?

Every people has to get a free access to culture. So it's the way we like making music.
So every time we will be able to do it, we'll do it.
And if people really like our songs, they are free to help us by buying our merch at shows.

What have you been up to since last year, what is your current status and plans for this & next year ?

We took a break to make songs and build a new set. We started playing shows again last month and we're recording now our LP, which will be release next year. Then we'll play as much as we can and go on tour for Easter or the summer, depending on how soon we'll release the LP.
To wrap up this interview, is there anything you want to add to this interview ?

First of all, thanks to the ProgArchives community for their amazing work, for helping bands like us and for giving them the opportunity to express themselves.
And we are sorry for our bad English, really… We hope we'll becoming better in the future.
Anyway, stay tuned for our upcoming release !!!
Thank you to Guillaume for this interview