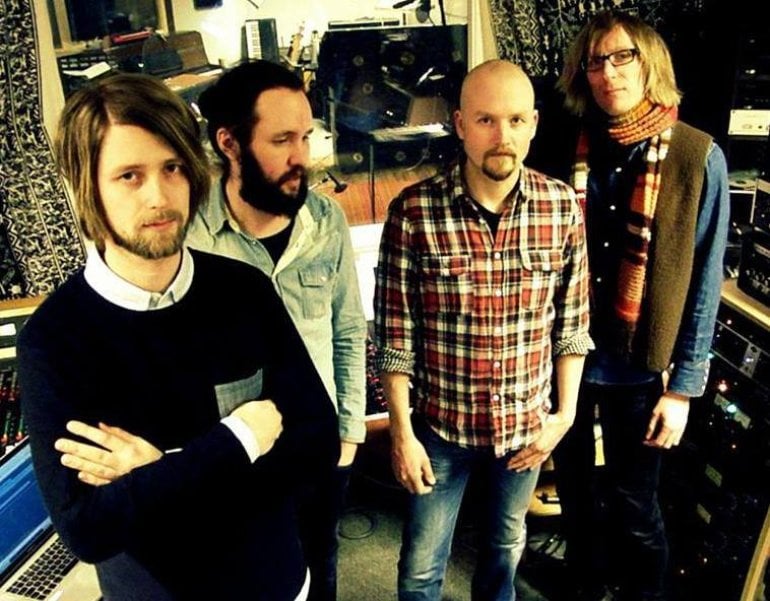 Swedish outfit MY BROTHER THE WIND consists of Nicklas Barker (of Anekdoten fame), Mathias Danielsson (Makajodama, formerly of Gösta Berlings Saga), Ronny Eriksson (Magnolia) and Tomas Eriksson. The foursome were not too familiar with each other when their debut effort was recorded at a concert held in May 2009. The venue for the occasion was Drop Out in the Swedish city of Åmål, the latter a small place that made it's name in the history books following the Swedish motion picture f**king Åmål, a movie about teenagers living in a place where nothing ever happens.
I got in touch with the band. Both Nicklas and Mathias answered my questions.
##############################################################################
My Brother The Wind is a spontanous combustion of members from Anekdoten, Magnolia, Gösta Berlings Saga and Makajodama on a stage in a city in the middle of nowhere where nothing ever happens besides of the local cats chasing elk. Please explains how you guys got together and whose idea this was. Why did you choose that name ? Is your band now a permanent band ?
Nicklas : I think it was Ronny & his brother Tomas who asked Mathias and then they asked me if was interested in a jam session. Ronnys friend Love has this great analog studio in Åmål. We went there one afternoon in 2009 and recorded some improvisations during a couple of hours. It was one of those really rare moments when you just start playing and everything falls into place. We knicked the name from a Sun Ra vinyl that I have in my shelf. We think it suits the mood of the music we make. I definitely consider this a permanent band. One of the most interesting musical projects I've been in.
Mathias: Yes, Ronny and I had talked a while about making an psychedelic album like they did back in the old days. Finally we decided it couldn't wait any longer and Ronny's brother Tomas was interested as well. We wanted twin guitars and we agreed that we should ask Nicklas. The album is made in a recording studio, not an stage though.... I believe this band can go on forever. It brings us so much joy!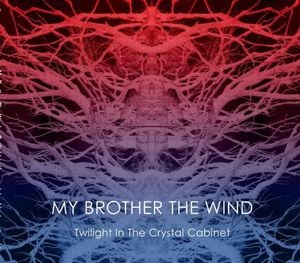 Over to your two albums. Please tell us more about Twilight In The Crystal Cabinet from 2009.
Nicklas : It was recorded at our first meeting at Drop Out Analouge during two hours in 2009. We didn't know what to do really and didn't even discuss any musical ideas. We just started playing and first piece we played was recorded on to tape and became the first track of the album, Karmagrinder. I really don't remember much of the recording but I remember being happy. We used a 16 track 2" machine which gave us the right warm sound. So everything is improvised recorded live with no overdubs. We mixed the tracks the day after in real time adding some compression, tape echo and phaser. That's it.
Mathias : Everything about this band is so free, we don't have to live up to anything or we don't demand anything from each other. The music is a offspring of how we feel and what mood we're in. It is a very relaxed environment in Love Tholin's studio, and he keeps to himself in a good way. Just asking us how we want things but he also contributes to the creative atmosphere that always seems to be there when the five of us meets. It makes everything so easy.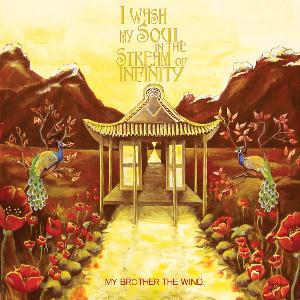 You returned earlier this year with I Wash My Soul In The Stream Of Inifinity. Please tell us more about this album.
Nicklas : Well we basically did the same thing as we did with "Twillight", spontaneous improvisation recorded live in the studio with no overdubs. It turned out a bit different. We focused more on the creating an atmosphere together and less on guitar solos. We also used some more instruments this time as Mellotron, 12 string, organ and an Electric sitar. It sounds quite different to "Twillight" and you can hear that we have done some gigs together. This time we used up maybe 4 hours in the studio recording and another 4 hours the day after doing the mixes. We used the same old 16 track 2" tape machine. It's much easier recording analog I think. Everything sounds good without using compression or much EQ. It's not like recording digital when you come to the mixing with a bunch of computer files that you have to glue together to some music. We made sure that we had the right sound before we recorded and kept that during the mixing. Basically we just added some overall compression and some tape delay. I am so pleased with this album and so far the reception has been very positive so I hope it will do good.
Mathias : When you record analog you get the vibe and characteristics from the gear that you use, it becomes part of the music. That's what you end up trying to recreate when you record digital and sense the lack of "life" in the recording. I like when you can hear in the final result that the spirit of the gear is present, a digital delay can never sound like a tape echo for example. And one great component when recording without overdubs is that you play with a clarity and focus, like when you're speaking and every word counts. That is something that people don't mention that often, how the endless possibilities that digital recording provides affects the playing.
For those of us unfamiliar with your music; how would you describe you music and which bands would you compare yourself with ?
Nicklas : It's improvised psychedelic rock with a "kosmische" touch, I guess with influences from the music we listen to like Bo Hansson, Gong, Amon Duul, Träd, Gräs & Stenar, Sun Ra, Grateful Dead, Cream and so on.
Mathias : And a collective energy that could be compared to the one of John Coltrane and his band.
What have you been up to since the release of your new album, what is your current status and what are your plans for this year and beyond ?
Nicklas : The year after we released "Twilight" was pretty hectic. We did concerts in Sweden, Finland, Denmark & Belgium and recorded this new album "I Wash My Soul In The Stream Of Infinity" which was released on vinyl, cd & download a week ago so we haven't done much since then but we are booking gigs now and doing promotion. Our main plan now is to do as many gigs as we can and later next year enter the studio again.
To wrap up this interview, is there anything you want to add to this interview ?
Nicklas: We are always looking for gigs so don't hesitate contacting us if you want to arrange something. Also check out the album on Spotify or iTunes and If you like it get the cd or vinyl. It sounds so much better, especially the double vinyl sounds amazing. Also be sure to check out our Soundcloud page where we constantly uploading concerts and unreleased stuff. We don't have a band website yet but visit our Facebook page where you can find almost everything you need to know.
Thank you to Mathias & Nicklas for this interview

Their PA profile is here and the homepage is here