NETHERLAND DWARF is a one-man band from Tokyo, whose sole permanent member so far have chosen to stay anonymous. While this musical endeavour made it's first digital appearance in 2008, it wasn't until 2010 that it solidified into something concrete. Debut album Moi Moi was recorded and mixed in 2010, and in the summer of 2011 this production was picked up and released by French label Musea Records.
I got in touch with Anonymyous and here is the Netherland Dwarf story and the songs he sent me for our enjoyment.
###################################################################################
Why, when and where did you set up Netherland Dwarf ?
I came up with the name "Netherland Dwarf" officially in early 2010. The recording of the first album was almost finished then.
Did you play in any other bands before setting up Netherland Dwarf ?
I used to play in some other bands, but they had no relation with prog music, and I did no recordings with them. I did some DJ work at some dance clubs until this release of the CD.
Why did you choose that name and which bands were you influenced by ?
Netherland Dwarf is a name of a famous kind of rabbit. The reason is that the pop and friendly images from the rabbit are similar to my musical ideals.
My favorite artists are VANGELIS and ELECTRIC LIGHT ORCHESTRA.
My album contains a lot of keyboards, I was influenced by COLLEGIUM MUSICUM a lot.
Of course I love EMERSON, LAKE & PALMER and EKSEPTION, as well.
And beyond these, SEBASTIAN HARDIE's continental style had big influence on this album,
and of course, there was influence from HANS LUNDIN (KAIPA) who participated in the album.
I love various types of music, as well as prog music....so I cannot tell you all the names of them.

The identity of yourself is Anonymous. As a world exclusive, do you want to reveal your identity here ?
You should imagine a lovely rabbit, because I don't want to break your dreamy imagination.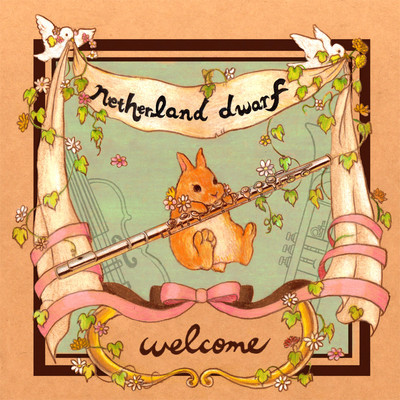 Your debut album Moi Moi was released earlier this year. Please tell us more about this album. How would you describe the music on this album ?
The debut album "moi moi" consists of nine tracks (one of them is a bonus track). The language of the greeting in Finland was chosen as the album title, because it is a first album. I want to give the listeners my greetings.
As you know, nowadays, we can purchase single track on the Internet, so I made each track to be able to be released as a single CD.
This album is a concept album. From dawn to night, a rabbit does various things, so imagine the rabbit while listening to the music, please.
I just remembered that I often listened to BO HANSSON's "Music Inspired By Watership Down"during the recording.
That album is also a concept album of a rabbit, isn't it ?
What have you been up to since the release of that album and what are your plans for the immediate future ?
Thanks to prog fans all over the world, it seems that "moi moi" is spreading day by day.
I am very happy and grateful for my fans.
I have uploaded an unreleased track on YouTube, so listen to it, please.
About my future schedule after the debut, I will release Toy Music that has a Symphonic Rock element. Maybe it will be released as a download release. About a second album of Netherland Dwarf, God only knows.
To wrap up this interview, is there anything you want to add to this ?
As you know, Japan was hit by the terrible earthquakes on March 11th this year. I was processing the contract with MUSEA RECORDS then. Many CDs in Japan were delayed being released because of the earthquake, and concerts were called off.
And during this period of suffering, I am very happy to send my music to more people around the world.
Thank you very much for reading this interview until the end.
I want to express my thanks to the stuff of Prog Archives for giving me this brilliant chance, as well.
(think about rabbits)

(don't forget........imagine rabbits)

Thank you to our Japanese friend for this interview