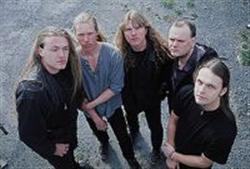 This is an old interview I did for my old magazine back in 1998, thirteen years ago. Not much has changed with this band during these thirteen years. I have therefore lifted this interview from this magazine and re-published it here.
The interview was done with Haakon Salvesen and I have omitted the last part which is not relevant anno 2011.
###############################################################################
When and where was Trivial Act started?? Could you give us a brief biography??

Trivial Act started in Arendal,winter 1992, as Cemetery Gates. Of the original line-up is it only B. Andreassen and H. Salvesen left. The other band members left for several reasons. We got Eric Wroldsen from Decadence to play the drums in 1993, Kim Isaksen joined approximately one year after. This line-up stayed until 1995 when Jan left the band. We then received former Overdose bass-player as his predecesor in 1995. This line-up stayed until November 1997 when Erik left for personal reasons. From the time of 1992 till 1998 Trivial Act recorded 3 demos and one CD recording. The next CD will be released in the year of 2000(?)

Have you done tracks for samplers? Which samplers ?

We are on a sampler called "...A gathering of 8 Norwegian..." with 2 songs from our third demo. We recorded 3 tracks which two of them were added to that CD. Both songs are also on our last album "MindScape", but one only as bonus track on the Japanese version.

The musicians in Trivial Act are veterans in the Norwegian scene. Why took it so long time for you to release a full CD ???

Veterans? The long awaited debut album was due to the fact that good songs don't grow on trees. For one good song I think we throwed ten away. And we are all five of us individuals of perfections.



The recording of "Mindscapes" was full of strange problems. Could you please tell us about the recording session ??

We started in March 1996. We started up with building our own studio at an old "shack" at Trom°ya. We started the recording on the 1st of May, and at the first drum beat, the problems started. The "shack" which we had builded the studio in, was also a place where it was held conferences of different kinds. We received so many complaints that we had to make the recording-sessions at evenings and nights. This caused ofcourse neighbour complains. The other problems, to many to mention, but we can briefly say: thrown out due to other using the studio, rain through the roof almost destroying our mixing table, technical problems every day, the studio destroyed and moved to other locations...etc, etc...

"Mindscapes" is a very impresive album. Could you please tell us more about the album and its material ?

Thank you! What can we say? The album contain 8 very different tracks (10 on the Japanese version). There are no consept between the songs, and we think it is an extremely diverse album, but with a "whole" sound. We think we have created an image which is fairly different from other bands around. We have a dry and honest sound which gives no room for errors, and the listener can hear each instrument very clearly.

"Mindscapes" was released some months ago in Norway. What has your band been doing since the release of the album ???

We have used the time to play a couple of gigs, begun writing new material for both live and studio. And worked...

You recorded a Japanese version of "Mindscape" with bonus tracks. Could you please tell us more about the Japanese version ??

Nothing special about it, but for 2 new tracks which can not be found on other albums. At least not one of them. Change was recorded in 1994 with different sound and arrangements. Under the sun is a long and very progressive song, which take the us into (as usuall) several different styles and directions.

Your record company FaceFront are a totally unknown label for us. Could you please tell us more about this label ?

FaceFront is a un-indipendent label (?? -ed) which are working on their own interests and values. They are totally controlling them selves. A great partner when it comes to values and non-commercial interests. We received great support from them and totally freedom to record what we wanted.

Norway is most known for its huge Black Metal scene. Do it exist a Heavy Metal/Progressive Metal /Prog Rock scene in Norway ? Which bands are involved ??

The Black-Metal scene in Norway is huge and there are some great bands doing it like; Dimmu Borgir, Emperor and Satyricon (This is first of all a personall opinion and I am not writing this on the behalf of the band) As what the Metal/Progressive scene is in Norway compared to the Black- Metal? Very small. There are few good prog-bands in Norway, as far as we know, like Spiral Arcitect which are great guys delivering great music in an extremely technical way.
Thank you again to Haakon for this interview

Their PA profile is here