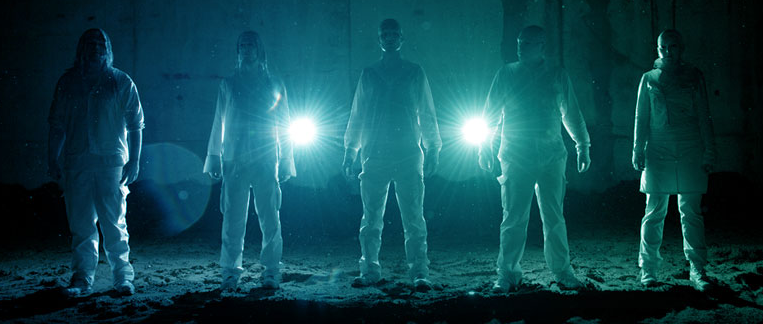 TODTGELICHTER, a band with music nearly as interesting as their name, is a German experimental post metal band formed in Hamburg in 2002 by guitarist Frederic and drummer Tentakel P. The band started out as an intense black metal band. The band eventually was joined by vocalist Mort and they released a demo in 2003. With the addition of bassist Nils and second guitarist Felix, the band signed with Folter Records and released their debut full-length album "Was Bleibt..." in 2005. After the release of the album, Felix announced he was leaving the band, and he was eventually replaced with Claudio. 2007 saw the release of their second album "Schemen," which gained them an international audience after selling thousands of copies.
I got in touch with the band and Tentakel P answered my questions.
################################################################################
Your biography has been covered in your ProgArchives profile so let's bypass the biography details. But which bands were you influenced by and why did you choose that name ?

The name TODTGELICHTER stands for ourselves - friends bound by death looming around and above us, freely translated. It is old German and thus maybe hard to translate correctly. It transports a certain feeling and morbidity for us, but since nearly ten years now it has become more than a name. It has become an entity of itself, carrying the memories, experiences, joys and achievements of all involved persons. It serves as a vessel for mainly melancholy, a bit of agression, also hope, sadness and joy, amongst others. Those feelings
are given form by our music, so it has been and is still fitting. The bands we were and are influenced by do mostly evoke the same feelings:
I wouldnīt want to name them here, as there are too many even for one, not to mention EVERY member, of this band. But be it Rock, Pop, Metal, classic, whatever - our musical influences carry those emotions, and we like to dwell in them to get inspired, even when they are not Metal. Today that may be CRADLE OF FILTH, tomorrow that may be PINK FLOYD...

Your band has been associated with the black metal scene. Do you regard yourself as a black metal band and what is your views on the black metal scene?

"Has been" should put it right. I can only speak for myself here, but Black Metal to me transports a certain feeling which I just canīt see in our music anymore. So, I wouldnīt go as far as to call us Black Metal, and my bandmates seem to agree - we like to call our style simply "Extreme Metal" nowadays. This way we do not limit ourselves - we still do have Black Metal elements present in our music, yet there are also many other influences so that label seems roughly adequate.
But just between you and me, we donīt give a damn about this ever-so-famous labelling business; we just want to make music the way WE want to listen to it. Let other people categorize it, if they must; but in the end it all comes down to this: Do you like the music? Thatīs all that should matter. I really see no sense in people accusing us of betraying our roots for example: So yeah, we did Black Metal earlier and now we donīt, big deal. Get over it or just listen to something else, hope you see my point ;-) Forgive me for being bitchy about this particular point, but we have experienced people to put too much empathisis on that topic.

To answer the second part of your question, Black Metal nowadays mostly bores me. As soon as someone tries something innovative and new, Iīm all for it, but most of it is just dilletantish and uninspired crap. Itīs just not enough to be able to torture some audial perversions out of your instrument as most bands (if they are even a band and not some one-man-project) seem to think. Luckily, there are a few good examples to prove this theory wrong, I myself would add LANTLÔS, NEGATOR, DER WEG EINER FREIHEIT and some more to the list of Black Metal I still like to listen to.

How is the local music scene in your area now ? Is it easy for you to get any gigs ?

Sure, somehow it has always has been easy for us to get gigs, we get offers very steadily. Now our booking is done by DRAGON PRODUCTIONS, who also do DARK FUNERAL, ANNEKE VAN GIERSBERGEN and many other great artists, and we have big plans for 2012 but canīt say anything official just yet ;-) All in good time. You know, I rather see that as a gift if you take into account that the German Metal Szene explodes with bands playing everywhere and at any time, Iīd say for small bands it has become harder and harder to play good gigs with bigger bands because the scene is overfed with concerts here. Sometimes you would have three Metal concerts in one week, so where to spend your money on? And if you miss a band youīd want to see, you can be sure in most cases they will return within the year... Guess we just have that certain something that fans and bookers want to see; in my opinion you have to present something which people canīt get everyday, and I suppose we achieve that through our music as well as with our shows. And we do not take every opportunity, we choose carefully, so that a TODTGELICHTER-concert stays something special.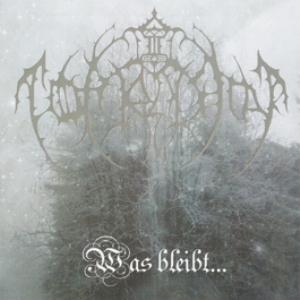 Over to your three albums. Please tell us more about the Was Bleibt... album from 2004.

Yes, that one has been Black Metal, and no mistake. We had just released a demo the year before, so the joy of having your first recorded output in your hands was somewhat tarnished, but anyway this has been a big step for us as we had the record deal with FOLTER REC. and several gigs coming up to look forward to. Black Metal it was because that was what we felt like doing at that time, and looking back after more than seven years now it felt great, I wouldnīt change a thing. In my opinion this was a necessary step for us to grow as musicians and composers; and to be honest, anyone following us since that time can also see our technical progress as musicians as we were learning our instruments as we went along. We really started from scratch, and our ideas were a lot bigger as our skills (admittedly equalling zero when we started, haha). Do I need mention that I canīt listen to it today without a mixture of pride and embarrassment?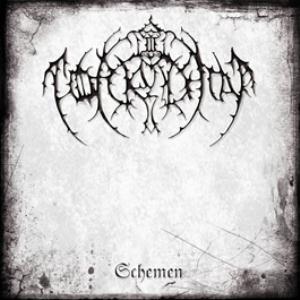 You returned in 2007 with the Schemen album. Please tell us more about this album.

Iīd say this is the crowning of what we had to say in Black Metal, and I still like it very much because it also shows an aggressive as well as a progressive side to Black Metal (attentive listeners can also hear elements into the direction of "Angst"). Part of this was due to the influence of our new guitar player Claudio, who came to us in the middle of the composing process after Felix had left us. There are those who say that if it werenīt for Mortīs screams, that album would already have had a hard time classifying itself as Black Metal. This might be true and part of the different views among us that lead to Mort leaving us finally, stepping aside as he said himself for us to evolve into the direction we wanted and he didnīt. Funny thing is that he really likes "Angst", he just didnīt want to be part of creating it. But he did a very deep and radical change of his whole life at that point, I donīt know if he even makes any music nowadays, just that he is a completely new and happier person now and if that meant for him to quit being part of TODTGELICHTER, I still am happy for him.

Another thing is the fact that Marta sings for the first time on "Schemen", and although we thought that we would be considered "untrue" with that experiment already, the orthodox Black Metal police seemed only to recognize one album later... which only proves that no matter what you do, you canīt please everyone, so there is no point in trying, is there?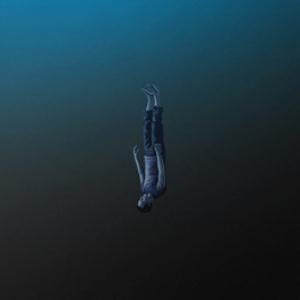 Your so far last album is the Angst album from last year. Please tell us more about this album.

Ah, the album I want to dedicate to all our haters. And the album I consider the most complete and harmonious of them all, the album where we had no restrictions and maybe the first album where we really had found ourselves. Where we had grown as musicians and songwriters, and where we worked best together as a band so far. You know, for me we were always recognizable for our melodies, and that hasnīt changed a bit on "Angst". The feelings and melodies are still there; but the sound has changed undoubtedly as we put much thought and work in it this time, checking out many different guitar amps and sound and their correlation; experimenting with drumsounds; and having more diverse vocalwork this time. Mort has been replaced with Nils, and we always wanted to add more clean male vocals - something Mort didnīt want to do, but as we tried this with Nils he did a really good job as you can hear on "Oblivion" and Café Of Lost Dreams". I guess another point is that Claudio was there from the beginning of the composing process this time, and he and Frederic go really well together, we have several melody arches harmonizing with each other, thatīs a thing we shall empathize even more strongly on the next album. Concerning the music we implemented more Rock elements, got slower and more heavy - there is just more space for each instrument, and I suppose weīre going to work on that as well.

For those of us unfamiliar with your music; how would you describe you music and which bands would you compare yourself with ?

Again, I wouldnīt want to compare us to any other band out there.
Weīre listening to too much different styles and bands so we donīt have any direct idols, and we do not want to copy any other band, too.
Itīs a state-of-mind-thing: We try to make ourselves free from any influences when weīre rehearsing and try to transport the musical moment, that is that what WE have in our heads. I think if you start naming Bands you sound like youīre on the wrong track and you wonīt be able to grow beyond the status of a copy, thatīs just not what we want to do. If we have succeeded, anyone can judge for him-/herself. There are some Post-Rock influences as I was told (although not one of us could tell what exactly Post-Rock IS, haha) and some people said they hear early 90ties-Gothic-Metal in it - Well, I myself would say itīs the mix what makes us interesting; personally I like to hear the Rock-influences in an Extreme-Metal-Mix based on Black/Death/Doom/Gothic Metal with some experimental elements, all that with a hell of a modern, extreme and crystal-clear sound sound fitting these modern times. We want to look forward, we do not look back, we strive to bring new impulses into Metal to push it forward. And if that means we have to implement elements from outside the Metal scene, we will do that, too... Letīs see what the new album brings ;-)

What have you been up to since the release of the Angst album, what is your current status and what are your plans for this year and beyond ?

2011 has been a busy and productive year for us: We played some festivals, the METALFEST Dessau for example with a.o. CRADLE OF FILTH, AMORPHIS and AMON AMARTH; and we did a weekīs worth of gigs at the HEIDENFEST tour with WINTERSUN, FINNTROLL, TURISAS and others. We have played many club,- headliner-, and tour gigs to promote "Angst" - amongst the more memorable were the two gigs with PRIMORDIAL for the release of their new album around easter; the RAGNARÖK- and METALFEST- Festivals and of course, as said above, the 6 HEIDENFEST-extended shows. Those have been really great experiences, and we hope to be even more present in 2012. Three dates are already fixed, but not official yet - we should be able to announce them at the beginning of next year, I guess. At the moment weīre busy writing new songs, planning the next recording session and working on the concept for the next album, which slowly takes form. So thatīs what weīre planning, finish composing the next album until around march, play as many gigs as possible during spring, summer and autumn until we can enter the studio again at the end of 2012. Studio is already fixed, so make no mistake, itīs going to happen soon ;-)

To wrap up this interview, is there anything you want to add to this interview ?

Thanks for staying with us through the whole interview, dear reader, and if youīre intrigued go check out:


Thank you to Tentakel P for this interview

Their PA profile is here and their homepage is here

Their Myspace is here and their Facebook is here



Edited by toroddfuglesteg - December 02 2011 at 03:50