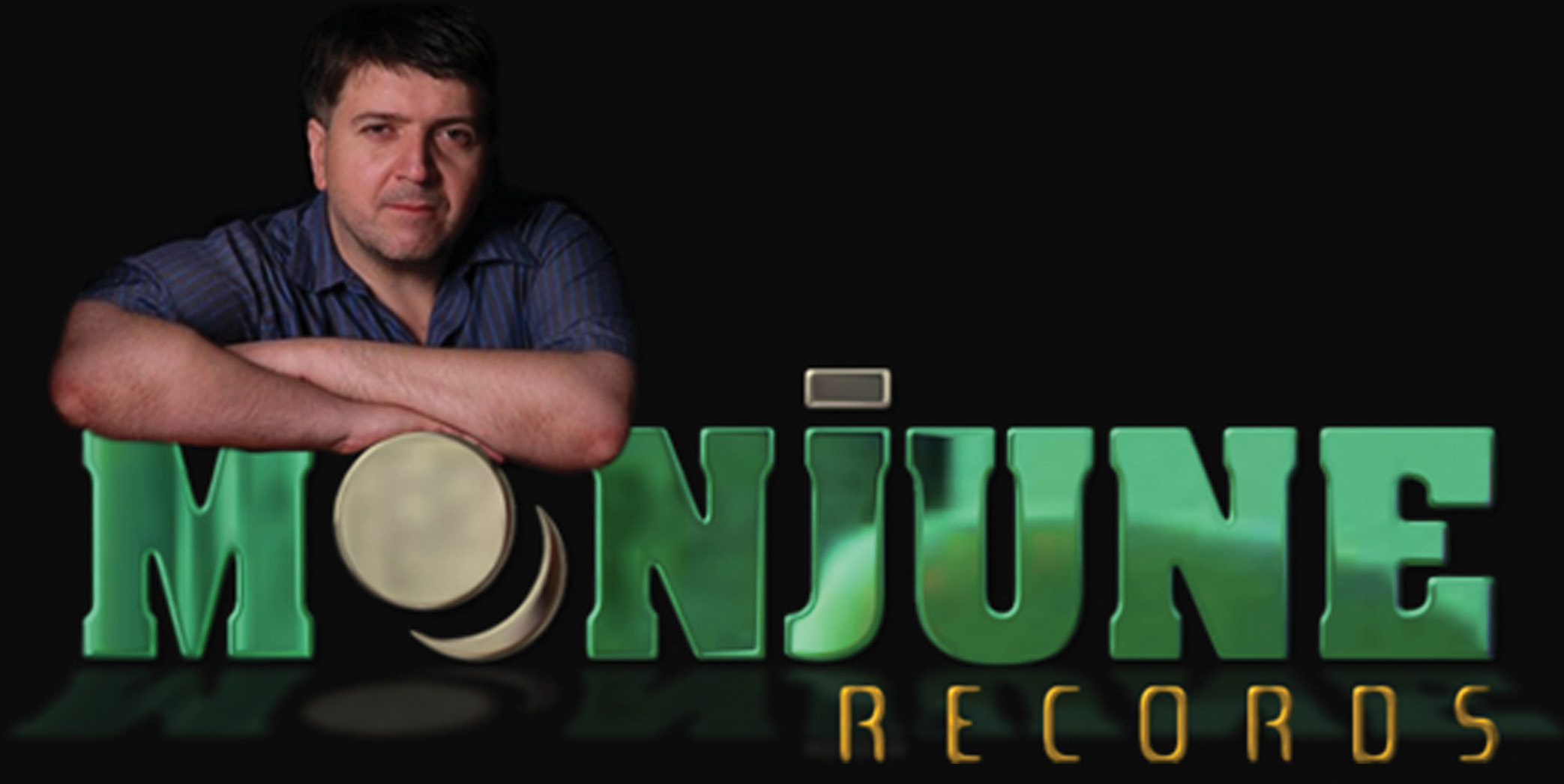 MoonJune Records is a record label who operates between progressive jazz and progressive rock.
Progressive music in other words.
MoonJune Records are celebrating their ten years anniversary this year and I got in touch with it's owner Leonardo for it's story.
#################################################################################
I gather your label name refers to the excellent song on Third, Soft Machine's masterpiece. What was you background and why did you want to start a record label ?

I was born in former Yugoslavia, grew up in Italy and since 1990 I live in New York City. I studied Portuguese language and literatures and history of Portuguese speaking countries at the University level and when in Italy I have translated many books essays, literary and scientific work from/to Portuguese, Italian, Serbo-Croatian. And I have been collecting records since I was a teenager. When I came to NYC, I was partner in a graphic design and advertisement company with a very vast clientele in any sort of music business not only in NYC.

When I started the label in 2001, all I wanted was to help few young Italian bands, and few musicians gravitating around Soft Machine Legacy to have a legitimate record label voice, since I was also involved in booking their gigs. My objective then shifted to something that was growing inside of me, to create a label that supports music that gravitates within an evolutionary progressive musical continuum that places jazz at one end and rock at the other, and anything in between.

Is Moonjune Records your daytime job or do you have a sane job in addition to the label ?

Today is impossible to survive and make living running a record label that specialize in the music I am releasing. MoonJune Records is just a side activity for me, and I do something else for living, still in the music and entertainment business.

The distribution, marketing and promotion part of Moonjune Records is explained on your homepage so let's bypass this issue. Running a non-major record label is the art of how to get as many omelets as possible from one egg. How are your finances; are you breaking even or even making profits ?

My label barely survives but is somehow self-sufficient; a few titles that sell are able to cover losses and expenses of those that do not sell. In the end, it's almost at a break-even point; a lot of energy is invested with no profits whatsoever, but MoonJune is like a hobby - something you spend a lot of time on without taking financial advantage of..
There are too many CDs on the market and the market is overwhelmed. People are still buying them, but they cannot buy everything.
Also, there are a lot of illegal downloads, my whole label is available for illegal digital download via various torrents and file sharing websites hosted in exotic countries where there is no regulation and copyright protection. People do it even in the USA and Europe or Japan, You try to kill someone's blog that has entire albums downloadable in a pretty high resolution mp3s, but then, like a mushroom, another resurfaces.
I asked a couple of these guys, one in the USA and one in Holland, why they were offering Allan Holdsworth's album as a free download. Their answer was that they were helping the artists because, according to their theory, their downloads help the artist's career and can increase the label's and artist's visibility and thereby increase sales !!!
I am trying to survive by promoting quality music; it's not easy, but here I. am.



I know you and many others share a passion for Soft Machine. What made this band such a truly fascinating band and which SM studio albums do you love most ?

Soft Machine constantly changed personnel resulting in equally constant stylistic shifts - from the psychedelic post-Dadaist pop of its early days, to the abstruse writing and jagged free improvisation of its middle period and fusion-centric final days. It was because every member brought a different perspective to the band.

The same philosophy applies today to Soft Machine Legacy, although the broader diversity of environments everyone has seen since those early days creates an opportunity for even greater musical cross-pollination. I am not a particularly big fan of the very early SM, I think their first album featuring Kevin Ayers was good for the time being, respect that, but the band went to completely higher level once Hugh Hopper came in on their second album from 1969 "Volume Two". Kevin Ayers is a very decent singer songwriter, but not good jazz player at all. To me, the quintessential Soft Machine line up was when Elton Dean joined the band, the so called 'classic' line-up of Mike Ratledge, Elton Dean, Hugh Hopper and Robert Wyatt.
My two favorite albums are definitely "Volume Two" and "Third". And I love "Seven" very much.

You have worked with many of the music scene greats, such as Allan Holdsworth and Hugh Hopper (R.I.P). What is your signing policy and how do you deal with your artists ?

I do not have any policy to sign an artist: I go with the flow. What is on MoonJune represents my taste in music, but what is evident is that, with the exception of very few albums, there is always a jazz presence. I like the edge that is between rock, jazz and the unknown. MoonJune is about progressive music, but is definitely not a specifically progressive rock label. I like many musical styles, and what is on MoonJune is not the only kind of music I like or listen to.
In the broader progressive sphere I would never sign any band that plays progressive metal, virtuoso fusion or so called neo-prog. Also, note that very few albums feature singing: 95% of my catalog is purely instrumental music.
Most of my label is purely based on the music of my friends and their close networks, but in a very few cases I have signed bands that I've discovered via the internet, or because they contacted me and it happened that I liked what they do.
That's how Slivovitz and Mahogany Frog are on MoonJune Records. I love both bands a lot and have every intention to continue with them, but I believe that they will always be isolated cases.
In the future, I think I will only sign people that I know or that I am friends with, while continuing to release albums by the artists already on my label. In the next year or two I will launch very few new artists and then, as always, purely through personal connections. I'm not going to sign anyone that is not in my close circuit of friends, or at least recommended strongly by them.
I've recently signed Chicago-based band Marbin, but the connection was that the band was introduced to me by a journalist friend and by a musician friend who is on their album. I then saw them live and was immensely impressed by these two young lads from Israel, Danny Markovitch on sax and especially Dani Rabin on guitar.


Who typically buys a Moonjune Records albums?

I do not believe in typical buyers; because the music on MoonJune is mostly atypical so the buyers are also atypical. There are several dozens of hard core MoonJune fans who have every single album I put out. Every time I send out a newsletter with the press release about a new release, they are always the first to buy the CD via MoonJune's website. I sell albums to everyone who wants to buy them.
I have distributors in North America, Japan and in most of Europe, and a few dozen wholesale buyers around the world who resell my products. I sell CDs on my website, at occasional festivals and on tours of certain artists. My releases are affordable, and significantly are cheaper than those of many other similar or independent labels.

I guess you are very happy with the Moonjune Records roster as it is. But if given the chance, which non-Moonjune artist would you have loved to work with?

I would like to release at least 20 high quality live recordings of Allan Holdsworth's own band, any era, any line-up, and 20 live recordings of Terje Rypdal, mostly from the 70's and early 80's, any line-up. To me, they are the two absolutely greatest living guitar players, and I am a huge fan of both of them. I have a special admiration for Terje Rypdal's music work; he is the most complete guitar player I am aware of, while Allan Holdsworth is simply a guitar alien, probably the greatest guitar player, with Jimmy Hendrix, who has ever walked the Planet Earth.
If I can steal an artist from a friend, it would be Alex Machacek. He is one of my best friends among musicians, and I book him occasionally. In my opinion, he is one of the greatest guitar player to appear in the last 20 years, and many consider him to be a new Holdsworth. Alex is currently on Abstract Logix (www.abstractlogix.com), run by a great friend of mine Souvik Dutta (whose roster also includes John McLaughlin), but sooner or later I would like to have at least one Alex project. He is one of the most impressive musicians I've ever heard or seen live. He's done three tours of Japan with me, two of his own band (one featuring Doug Lunn on bass and Terry Bozzio on drums, and the other one featuring Kai Eckhard on bass and the phenomenal Marco Minemann on drums), and one with Eddie Jobson UKZ.


Several industry analysts believe LPs will replace CDs as the only physical storage format for music and they are back in fashion like never before. Have you thought about branching into LPs or are CDs your only physical products?

The business of LPs is not a good business. It is profitable if you rerelease albums by known bands, but if you want to start releasing the work of new artists, that's a purely utopian idea as there's no money to be made. I will not branch into LPs for few reasons. If you listen to Tarkus by ELP on both formats, LPs sound fantastic in comparison. But if you record a new album by, say, Allan Holdsworth and mix and master it properly, then it would sound 10 times better than if on the best possible vinyl. The only thing I miss from LPs are their sleeves.
As for cassettes and tapes ... does anyone remember them?

Have you had any bad experiences of any kind ?

No never. But I would like to mention one little episode. There was an Italian fusiony progressive rock band few years ago that I really liked, very similar to D.F.A. and Deus Ex Machina, and while I had a very great communication with the keyboardist, and was ready to help them and release their new album, their bass player and so-called leader had a very bad attitude. This I didn't like at all, and I cut all communications with them. Everybody around me knows that I am a person who likes to enjoy the music and the friendship of this life. Although I really liked the band's music, I preferred to cut our ties from the beginning as I can only have friends as artists on MoonJune Records.
One of the criteria to be on MoonJune is to be friend, period.
I receive tons of e-mails from bands from all over the world asking to submit a demo. I never say no to anyone, even when I am so clear that I do not consider any neo-prog, progressive metal or acrobatic fusion gymnastics.
I have received over a thousand or more demos via snail mail or weblink in the past 10 years. I tend to answer everyone and to listen at least a bit of their music. In 95% music is not convincing, but I have found many amazing artists that I wasn't aware of, and have greatly enjoyed their music, but, for whatever reason, I've never had the chance to work with them.


What Moonjune Records releases have you planned for the next year?

I have in plan several cps of Indonesian artists: the new studio albums of Tohpati Ethnomission and simakDIalog, and few new artists such as Tohpati Bertiga, Agam Hamzah Ligro Trio, I Know You Well Miss Clara and Dewa Budjana. Then there should be new albums of The Wrong Object (Belgium), Doubt (Belgium/UK), Mahogany Frog (Canada), plus few new comers like Ernesto Holman Pasto Seco (Chile), S.A.D.O. (Italy), John Sound (Denmark) and few more.

I may have touched upon this theme in another question, but what are your thoughts about the music industry and its future ?

Let me run this by a witch lady; maybe she has an answer for all of us.

Who are your five all time favorite progressive artists and albums ?

OK, You mentioned "progressive", because I have many artists who I love that are not so called progressive There's Cream, The Who, Keith Jarrett, Eberhard Weber, Egberto Gismonti, early Black Sabbath, The Doors, Jefferson Airplane, John Lee Hooker, Howlin' Wolf, John Coltrane, Wayne Shorter, Led Zeppelin, Keith Tippett, Brian Auger, Otis Redding, Aretha Franklin, CSN&Y, and many many many more, more names I could mention, more names I forget ....
All of the following albums have their own meanings for me, which doesn't mean they are the best or my absolute favorite: Robert Wyatt "Rock Bottom", Soft Machine "Third", Van Der Graaf Generator "Pawn Hearts", Pink Floyd "The Dark Side Of The Moon", Terje Rypdal "Odyssey". Five is not the right number to ask for. When I get asked for 10, I write 10, then I have to add 5 more, then I decide to make a list of 33, then 50, then.... Anyway, I'd like to squeeze into this list Il Balletto Di Bronzo's masterpiece "YS".

Five progressive rock artists? I must include 11, as in a football (soccer) team:
Robert Wyatt, Terje Rypdal, Soft Machine, Allan Holdsworth, Van Der Graaf Generator, Pink Floyd, King Crimson, Gentle Giant, Hatfield & The North, Frank Zappa, Mahavishnu Orchestra, National Health, PFM, Banco, Il Balletto Di Bronzo. Of course I love early Genesis, Jethro Tull and EL&P and tons of mellotrons and analog synth, but as I have said, it's so difficult to mention everyone.



Anything you want to add ?

I love progressive rock, but I feel that the progressive rock scene is like a ghetto. I've noticed that many progressive rock fans are actually very retrogressive with closed minds, which is in contrast to the spirit of progressive rock. I do not like ghettos. MoonJune supports music that transcends stylistic pigeon-holing, but operates within an evolutionary progressive musical continuum that places jazz at one end and rock at the other. The ever-expanding boundaries of these two musical categories have since come to include everything from progressive rock to ethno-jazz, from experimental avant-garde to jazz-rock, and anything in between.
That's progressive to me.
Thank you to Leonardo for this interview
The homepage is here

I hope the Youtube samples is doing MoonJune Records the justice it deserves



Edited by toroddfuglesteg - December 05 2011 at 16:59