SOT is Skjalg Reithaug: Guitar, Lars Andreas Haug: Tuba and Anders Hunstad: Drums.
The band SOT was created back in 1992 when all of us went to high school together. Our main influence to start this band was the obscure french jazz-rock trio nicely named "The impossible trio". This band consisted of guitar, tuba and drums and did have some very interesting tunes! So.. a trio in this format was not at all impossible, but rater infinite, unusual possibilities at hand.
We where very young at this time so we hadn't played in any significant bands before SOT.
SOT is short for Salt Of Tusj which was our nicknames at that time.
Where in the Norwegian scene does your band fit in ?
Hard to say, really. I think jazz, prog and metal fans with an open mind will love SOT music. It is such an unusual line up and varied musically, so I find it hard to compare us to other Norwegian bands.
You have background from the reasonable successful death metal combo The Allseeing I. What did you bring over from that band and death metal to SOT ?
I find lots of similarities between these two bands. The Allseeing I is extreme prog taken to its limits, and SOT brings in different textures and improvisation. Both bands love complex arrangements and odd time signatures. SOT also occasionally has some strange metal riffs. The Allseeing I is of course more brutal and extreme. SOT is more funny, odd, beautiful and bizarre.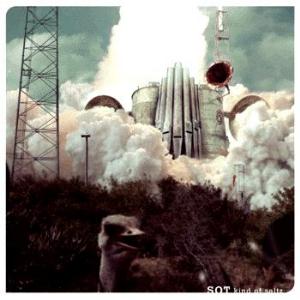 You have just released your debut album Kind of Saltz through Bandcamp. Please tell us more about this album. Is there any plans to do a physical release (LP/CD) too ?
The album was recorded at Skansen lydstudio, Trondheim in August 2011. We are extremely pleased by how our debut album turned out! All the tunes have its own special mood so it´s quite a journey to listen to this album. Take the adventure! The album cover is also great and fits the music perfectly. We are going to release this album physically through our own label "Sotanic Sounds", as well as Bandcamp. We will press 500 copies to start with to sell at our concerts, the bandcamp page, Abstract Logix and maybe some other internet stores. We are working on a distribution deal on the album to Norwegian stores, but we will see about that later.
How would you describe your music and which bands would you compare yourself with ?
Colorful, imaginative, experimental, funny, deep.. Many things, many moods. I find SOT to be pretty unique. The music is a result of the bands chemistry of the three of us together. I think the most important thing to a great artist is the ability to visualize. When we write for SOT we go in the creative dimension which is built out of SOT´s collective aura. Then you have to be a bit clairvoyant and hear/visualize something in this dimension and then transcribe it down and out to our physical dimension. When you are inspired from your inner flame, rather than outside influences you are creating something personal and unique. Having said that, when I listen to the album I can hear some similarities to bands such as King Crimson, Mahavishnu Orchestra and Frank Zappa.
What have you been up to since the recording of the album, what is your current status and what are your plans for this year and beyond ?
We have been working on new material since the recording of "Kind of Saltz". We have a release party for our album at Cafe Kaos in Oslo, 14th of December. A few days later we are playing together with the legendary Norwegian prog-rock band DejaVu on the 17th of December at Elm Street in Oslo.
In January next year we are heading for a two week tour in South Trøndelag, Norway, and will start the recording of our second album after this.
We are also going to play at the Krakow Percussion Festival in Poland at the 11th of February.
The rest of the year we will try to play as much as possible and hopefully release our next album in autumn 2012.
To wrap up this interview, is there anything you want to add to this interview ?
I just want to thank you, Torodd, for this interview and for being added to the archive!
Interesting Prog Archives fact: Both Anders, and Skjalg from SOT played in the melancholic Prog-rock band Ravana from the archive.
Thank you to Skjalg for this interview