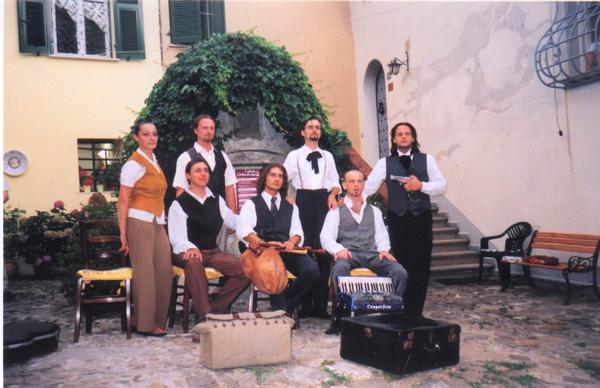 The 'Bededeum Project' started officially on September 2nd 1997, due to an accidental encounter of some of the group's members at a concert of Vincenzo Zitello, a well-known Italian harpist. Apart from that occasion itself, what convinced us to begin this experience was the shared interest in folk music, especially from the 'anglo-celtic' area (Irish, Breton, English, Scottish etc.). In particular, groups such as Pentangle, Fairport Convention, Steeleye Span etc. have considerably influenced our musical taste, even if none of us had exclusively listened to folk music, but also to Rock music from the late sixties and early seventies, English and Italian progressive, American psychedelia, Canterbury music, Jazz, as well as the central characters of the great age of musical revolution in the years of the youth protest movements - from Jimi Hendrix to the frenzy of Daevid Allen's Gong, from the German 'kraut rock' of Can to Jethro Tull, from King Crimson to Genesis, and then Pink Floyd, Bob Dylan and, most of all, our own Fabrizio De André...
I got in touch with the band and here is their story.
#####################################################################################
Your biography has been covered in your ProgArchives profile so let's bypass the biography details. But which bands were you influenced by and why did you choose that name ?
There's a story, belonging to the fable tradition of our area, the Northern Tuscany, which tells about lost souls that every night go down in procession towards the village of Miseglia, to haunt the dreams and the minds of the living. The souls cross the dark streets, singing a strange litany "... bededeum bededeum mena la m'nata...". Incomprehensible words that probably derive from a corruption of the ancient popular Latin; so we thought that Bededeum was the right name to emphasize the relationship between past and present, history and imagination, memory and dream, which is the basis of our musical project since its inception.
How is the local music scene in your area now ? Is it easy for you to get any gigs ?
This is not a great moment for the italian music, especially in provincial towns like ours. Few are the theaters or clubs where you can still listen to live music and the growing economic crisis requires a certain austerity to those who traditionally have invested in proposing musical culture, like the local administration. Despite this, there are many attractive bands, whose member are ofter very young, in the Italian underground music movement. Perhaps the problem is an over-standardization of the music scene: probably it's easier to run through well established and simply recognizable patterns rather than gamble on experimentation and research. Plus, we must add the crisis of records sales that afflicts the wobbly world of music. We think that who continues to invest in music today, both in composition and production, is honestly driven by a deep passion. And that's the way we see our collaboration whit "La Locanda del Vento", the label that has produced our last album, especially with Loris Furlan, a man who considers music a cultural treasure to propose and support.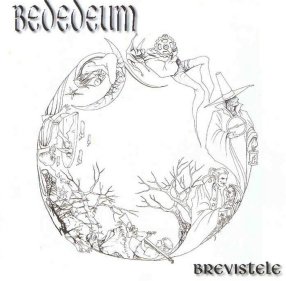 Over to your two albums. Please tell us more about the Brevistele album from 2002.
"Brevistele" is the closing album of a cycle. It has been created to collect all the different elements that characterized us until that moment. We started as a popular music band, with particular reference to Anglo-Celtic music and, more generally, ancient medieval music. For many years we have written and presented our songs during historical re-enactment context. We pursued a long research about local fable's tradition and all through our production, there are several songs related to the Apuan popular culture. As time goes by we shifted the attention to different visions, ideas and emotions, keeping the key features in our way of conceiving music.
Then you had a six years long record break. What happened during these six years ?
The period ended with the release of "Brevistele" has also led to a mutation in the lineup. Over the next 6 years we have had several lineup changes and we slowly laid the foundations for the new album. In the 2003 tourneé we share the stage with a theater company; we directed the musical aspect of a story, set in the beginning of the last century, whose theme was the difficult relation between man and work, especially the tragic situation of iron mines and marble quarries workers. That experience was very helpful to define a new path. We approach to music not as a product linked to recording industry. We don't record anything if we don't feel what we're proposing. It must reflect us, with our strengths and our faults, our limitations. We compose and play music with passion, and we really like what we do. Just to be clear, we don't seek sound or arrangement's perfection: our purpose is to feel the musical project as a son. That's why it's been so long time between the first and second album.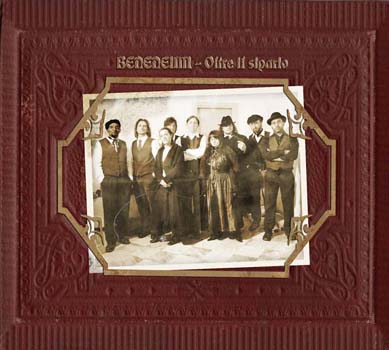 You returned in 2008 with the Oltre il Sipario album. Please tell us more about this album.
Just like the first album, "Oltre il Sipario" represents the end of a period of our story. In this work we liked to tell about human beings, in the way we have seen them in so many life experiences, with literary and cinematographic cross-references: weak in their miseries but with a the strong desire not to be overcome by events dictated by fate, fortune, precise human will, often prevaricating. Each track is designed as a black and white photography, or a daguerreotype, in an old album of memories. Faces which are showing important stories, but with no voice to tell. "Geordie" and "Le Voci di Derry" were already part of our live repertory from "Brevistele". All the other songs were composed or rearranged in the six years following the first album's publication.

What is the lyrical topics in your songs ?
Topics covered in the texts of our songs are just the effort to offer a voice to those stories we were talking about before, both in the last and previous album. Telling people, in their wealth and their tragedy, just like characters of a comedy that somehow want to present themselves and we offered a stage. So we told the story of those who have lost their lives at work, trying to earn their daily bread, the story of a soldier in the French front line in World War I, or a woman forced to cross the ocean to fight poverty. Sad stories, of course, but, at last, reveal the precise will to face life with passion and determination, often at the cost of making the supreme sacrifice. As the story of Nicola Sacco and Bartolomeo Vanzetti, two Italian anarchists, wrongly accused of homicide and murdered in the electric chair in America in 1927, to whose memory we have dedicated the album.
For those of us unfamiliar with your music; how would you describe you music and which bands would you compare yourself with ?
It's not easy to give specific definition of our music, also due to the latest developments in compositional. For what that concerns live performances, we've often played combining music and theater, arranging songs in a uncommon style compared with folk music, genre to which we belong. Once, answering to a question about the kind of music we propose, we said that our was a "psycho-anarchist-inter-ethnic-apuan-folk". It was a joke, obviously, and today we only say that we play acoustic music, not necessarily bound to a specific genre. It depends on what we listen. Even if we don't follow a single musical pattern, many are the bands representing, directly or not, our musical background: King Crimson, Jethro Tull, Strawbs, Pentangle, Third Ear Band, Steeleye Span, Comus, Gentle Giant, Gong, Faust, Can, Lena Willemark, Leo Ferrè and Fabrizio De André. So, we love playing and listening to music, some of us have shows on the radio, and this necessarily has consequences in our own way of composing music.
What have you been up to since the release of the Oltre il Siparioalbum three years ago, what is your current status and what are your plans for this year and beyond ?
After the second studio album's release, there were changes in the lineup, as occurred after the release of "Brevistele": first step was the permanent entry of a string trio, viola, violin and cello who replaced the bagpipes and flutes during the concerts. That has been a great experience because it allowed us to try out new solutions. After a period of ups and downs, now we're setting a new formation once again: string trio has been reduced to violin and viola and we have also introduced a "jazz-style" drums, trying not to deform the whole project's sound. Musically, we're looking for new arrangements, acoustic testing much closer to progressive music. As we like to say, a "Progressive Steam". We hope to start a new tour in the beginning of 2012. Now we're working on the repertoire and on new adaptations of old songs. We will record our third work at the right moment.

To wrap up this interview, is there anything you want to add to this interview ?
Like any human sharing experience, during all these years, the Bededeum project has had many moments of difficulty and of suffering growth. We never tried to be successful neither to gain public consent. What allowed us to overcome all difficulties, while continuing to compose songs and to play together, was the desire to tell stories, through our music and visions. We play because we like it and we're going to do it as we continue to share this passion. The future is in our feet and in our finger's tips.
Thank you to the band for this interview