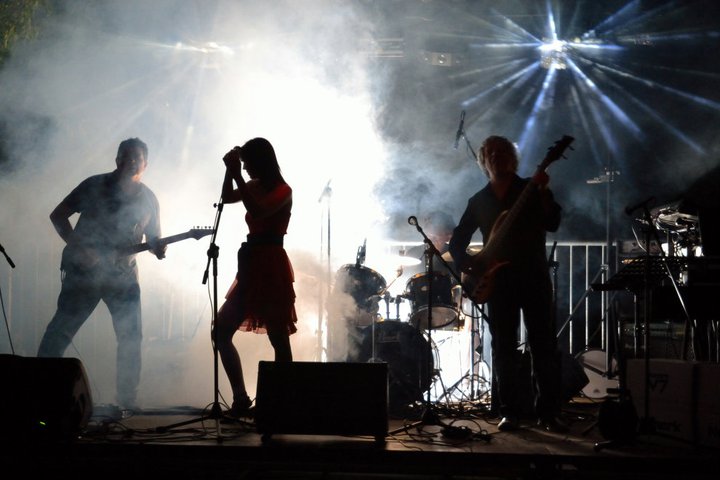 French band ALKOZAUR was formed back in 2003 by Antoine FERRERA (bass) and Didier LAPCHIN (guitars), long time friends whose relationship has ben ongoing since they attended school together in the late 70's and played in school band ILLWILL. The two of them started rehearsing at Antoine's place, initially utilizing keyboards for additional instrumental details. Later on three friends of Antoine would help out occasionally, namely Philippe COMPAGNON (vocals), Patrick PERARD (keyboards) and Philippe THELLIEZ (drums).
I got in touch with the band and Antoine answered my questions.
##################################################################################
Your biography has been covered in your ProgArchives profile so let's bypass the biography details. But which bands were you influenced by and why did you choose that name ?
Well, the music of this album was essentially composed by Didier and Antoine. Philippe brought the melody of the vocals in addition to lyrics. Each of us has our own trip and our own inspiration. Antoine came to progressive in 73 with the master piece "Echoes" from Pink Floyd. PF still influences him a lot. He also gained some experience from Step Ahead with which he recorded a first album in 81. Didier played with different local groups and developed a "personal" album, which contains some passages which influenced the album "Serum of Life". Philippe is probably the most cultivated on Prog Rock music among us. He discovered it when he heard, at 13, "Hairless heart" from Genesis concept album "The lamb lies down on Broadway". He fell in love with this kind of music... Genesis and Peter Gabriel are probably the most significant sources of inspiration for him. His records collection is impressive and grows permanently though his tastes are eclectic and he listens to Unitopia with pleasure as well as IQ or RPWL!
We keep the best for last! Porcupine Tree wins unanimous support from all of us, and our passion for this group perhaps appears in our compositions.
The name of the group was found by Didier. It was initially a joke. Didier, Philippe and Antoine are on their fifties, not so young then... in French we have this expression "Vieux dinosaure" that means "Old dinosaur", we are not sure it exists in English to speak about an old man. This is the origin of the "...zaur"!
The "Alko..." comes from the fact that we enjoy life and we like being together around a table with good food and good wine, and we found that the expression "Old alcoholic dinosaurs" was funny. Was it not?
France has a rich musical tradition with Jaques Brel, Ange, Clearlight, Mona Lisa and Magma. Where does your band fit into this scene ?
Ho! They are great and very specifics in their different styles. We don't think that Alkozaur sounds like one of these artists. And, despite our advanced ages, we are new in the musical landscape.
In fact, we do not necessarily claim our French identity in our music. The public of progressive is also beyond our frontiers, and we really appreciate if foreigners enjoy our music.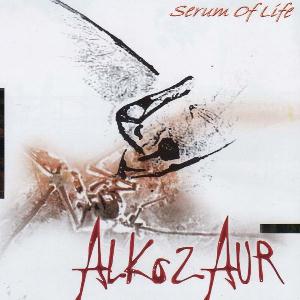 Your debut album Serum of Life was released earlier this year. Please tell us more about this album.
The album contains our first ten compositions. It starts with one of our favorite piece: Forget the Sun, which alternates hard and calm passages. It continues with what we think could probably be the master piece of the album, Sarah Smiles. We composed the structure of this title when we came back from a concert of Porcupine Tree at l'Olympia in Paris. Maybe the auditor will not hear any similarity, but we were very impressed by Anesthetize, and this piece was in our mind when we worked on Sarah Smiles. We could keep speaking about each piece in details, the rhythm of Nice Trip or the atmosphere of When Angel Fly, but let's move on...
We shared the pleasure to make this album with Thierry and Serge who brought a lot of virtuosity in the final product. We recorded and mixed this album by our own means. So we could take our time. Recording sessions remain for all of us a very good memory. On the other hand, the mixing session was harder, but we succeeded in obtaining a result that suits to every musician.
Nowadays, thanks to computers it is very easy to record and mix with a quite good quality, but for the mastering, we preferred to entrust it to a professional studio, to be sure it would fit the standards for pressing.
For those of us unfamiliar with your music; how would you describe your music?
We like the text on MUSEA's website, our distributor: "atmospheric, precise and unusual compositions", with "inspired lyrics and melodies", "subtle, energetic album, with rhythms sometimes surprising". We think it summarizes well what we think of our music. We hope that this will encourage people to listen to it.
What have you been up to since the recording of this album, what is your current status and what is your plans for next year?
First, we enjoy the moment. It is our first album! We are delighted. And we take care of the promotion with our distributor.
We are now essentially working on new compositions.
At this moment we do not have specific plans of concerts, we prefer to let the winter pass and wait for springtime to schedule other scenes with some news titles.
To wrap up this interview, is there anything you want to add to this interview?
Sure! Let's take advantage of this opportunity to thank Prog Archives for making this interview and for giving us the possibility to promote Alkozaur's music.
Congratulations to Prog Archives for the great source of information on Progressive Rock.
Thank you to Antoine for this interview

Their PA profile is here and their homepage is here



Edited by toroddfuglesteg - January 02 2012 at 12:42