RAVANA is one of the most obscure band on this site having recorded one sole album (rumours talk of a second one , but never listed anywhere) in the mid-90's when Scandinavia was bringing a fresh breath of air to prog rock , giving an alternative to progheads not convinced by the Magna Carta label groups of the early decade. Hot on the heels of Anglagard , Landberk and Anekdoten , another batch of Nordic groups quickly invaded our ears among which Catweazle, Simon Says , Hoyry Koyne, White Willow and their fellow Norwegians Ravana. But these guys managed only that one album that got released with the help of a prog rock magazine but sank without a trace.
I got in touch with Anders Hunstad through the new PA addition Sot and here is the Ravana story.
#######################################################################################
When and by whom was your band formed ? Did any of you, past and present members, play in any other bands before joining up in your band ? Why did you choose that name and which bands were you influenced by ?
Sverre Rødseth(vocals) and Rune Carlsson(bass) started playing together in 1989 under the name "De Døfødte" ("The stillborn" in English)with school-friend Henrik Larsen who later became the first drummer in the next band This was mainly a punky outfit that played coversongs of Norwegian rock.In 1990 they actually formed Ravana with guitar-player Anders Malt and, later,myself on keyboards.They took the name from a demon in Indian mythology and wanted to get away from the 3-chord punk songs to explore bigger musical territories with a desire to experiment.Influences at the time would be Pink Floyd,Pixies,The Cure,Janes Addiction and The Sugarcubes to name a few. Later influences includes Nirvana,Cranes,Dead Can Dance,Bel Canto,Norwegian jazz and improvised music.
The Norwegian prog rock scene back then were concentrated around Hybris Mag, Briskeby Records, Pan Records and Colours Records with Thule still active 2500 km further north up in Honningsvaag. Where did Ravana fit into this picture ?
We never really felt we fitted in anywhere.The Prog-rock thing happened when the owner of a fanzine wanted to release an album with us and we ended up playing some gigs at the club at Chateau Neuf called Inkognito and later doing tracks for some compilation albums with other prog-acts.
If we were to say we belong to a certain scene it would be the scene that we created ourselves at the time with bands like Dødsverk,Pondus,Fungus,Kong Kannibal and El Caco.We had a big house in the woods that had rehearsal-rooms for all the bands and we all came to see each others gigs and became friends.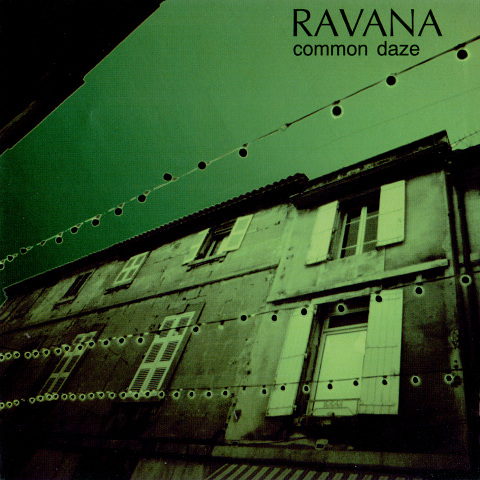 You released your one and only album Common Daze in 1995. Please tell us more about this album. How would you describe the music on this album ?
The album"Common Daze" was simply us recording the stuff that we had been playing for several years,and we didn´t really have an overall plan for the sound. We recorded it in a traditional way with drums and bass at first,then guitars,keyboards and finally,the vocals. It was recorded in a studio called Skyline in Kongsvinger,and engineered by the owner Erik Martinsen.There is a lot to be said in hindsight about this whole prosess and I guess we did the best we could at the time. The general feeling I have now,all these years later, is that we never really used our potential as a band at all,there was never any point were any of us thought about adding textures,more keyboards,different guitar-arrangements,vocal dubbing and harmonies etc. I think none of us took charge and it all kind of peaked when someone told us that the album should´nt be compressed and mastered because the music was so dynamic..!! This made the album sound weak and dull even though some of the songs worked fine and we were still proud of the album when it was finished.
Ravana broke up sometimes later or around the release of this album. When and why did Ravana break up ?
It is hard to say really what happened,but I can remember that when our fourth(!) drummer told us he was leaving to join the UN-soldiers in Libanon the general feeling within the band was pretty exhausted.We all had different things we wanted to do and it came to an end after a gig at the local place in our home town.
What is the availability of this record now and is there any plans to re-release this very sought after album through Bandcamp or in any other form ?
We have never thought about re-releasing the album but maybe we could do it online like you suggest. I still have the mastertape so we could actually remix the album,depending on the costs and so on.
I know you and Skjalg are very busy with Sot now. What is the other Ravana members up to and do you still have any contact with them ? Is Ravana now history ?
Rune has been playing with A-ha keyboardist Magne Furuholmen,Knut is constantly touring with Swedish and Danish jazz-acts,Skjalg is in a death-metal band called The Allseing I,Sverre and myself has been touring and recording with a band called Bermuda Triangle for several years,I have also worked with bands like Briskeby,Morten Abel and are currently doing keyboards for black metal band Satyricon.
We actually started rehearsing again in 2010 and we have been to Malmø in Sweden (drummer Knut Finsruds hometown) and recorded several songs,two of these songs are soon to be mixed and we will post them online on every social medium available. We are also trying to play gigs in 2012 but nothing is booked as of yet.
Thank you to Anders for this interview