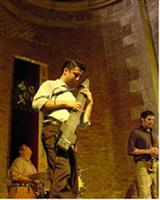 NIMA & MERGE is a fusion of progressive rock, jazz, and world music. The group consists of composer Nima Rezai on Chapman Stick and synth Stick, Dan Heflin on saxophones, and Brad Ranola on drum set. The three musicians generate an unusually expansive sound which their compositions demand. The result is a truly unique and powerful sonic experience.
I got in touch with them and Nima Rezai answered my questions.
####################################################################################
Your biography has been covered in your ProgArchives profile so let's bypass the biography details. But which bands were you influenced by and why did you choose that name ?
From an early age, I was heavily influenced by a lot of rock and prog rock. I used to listen to a ton of Rush and Yes and Pink Floyd in my teenage years. They probably had the most influence in my developmental years. Later I also got into a lot of jazz and loved (and still do) artists like Pat Metheny and John McLaughlin who could cross so many genres and do it tastefully.
The inception of the name came from the original name of the project "Merge". I thought it was a great name to match the blending of styles. But as it turns out, many other groups thought it was a good name too. So instead of battling for the name, I just selfishly changed it to Nima & Merge!
How is the music scene in your local area now ?
Oh boy! Well it's LA and although it has the brand name, it's still very challenging. I'm not sure it's necessarily the area and rather, just the general state of the music industry. But it's always sad to see so many people and bands coming out here in the hopes of "making it" and falling for the "pay to play" trap. Personally, I usually stay away from clubs unless it's a special event and try to stick to playing outdoors and outside the area.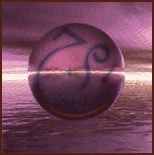 Over to your four albums so far. Your debut album Merge was released in 1998. Please tell us more about this album.
The debut album was really when the band came together. It was at a time of our lives when we had the luxury of rehearsing 3 times a week and wrote the songs and recorded them all in a year. It was exciting and I'm still proud of what we accomplished. So much has changed since then both in terms of recording technology and in terms of the direction of my music. The debut album was the first and last album which we recorded entirely in a recording studio and I certainly miss that.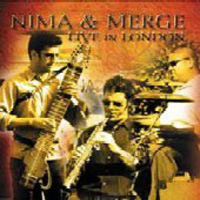 Your second album was a live album from 2004 named Live In London. Please tell us more about this album.
In the summer of 2003, we flew out to London to play at the "Jazz on the Streets" festival. The festival's director told us there was no budget. Being a hungry young musician, I still decided to go out there and I'm sure the director thought why not if we're crazy enough to go out there on our own. We also had my long time coproducer and engineer Toby Rosen with us who decided to vacation at the same time. Well our first gig was in a remote soccer field with the stage having nothing to do with the soccer game! Certainly an experience. Luckily, after they heard us play, we were put in better and better venues throughout the week such as Soho square and Trafalgar square. Toby decided to record us at the various venues on what now seems like a brick for a laptop and that's how "Live in London" was created.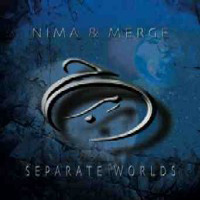 Your third album Separate Worlds was released in 2006. Please tell us more about this album.
We ended up doing things backwards. The live album should have come out after the second studio album because it included a lot of the same songs. The good thing however was that we'd been playing all the new songs so much that recording them took no time. Toby, who was attending Cal Tech at the time, recorded us in one of the dorms' club rooms and we recorded all the main parts in 2 days. Then there were a lot of great guest musicians added. Our second album that was mixed and mastered by ourselves. The music became more defined in blending eastern and western music with heavy jazz and rock elements and lots of unique instruments.
Your new album is Songs Of Strange Delight. Please tells us more about this album.
This latest album was an ambitious goal to say the least. I had a grand idea in mind to mix a ton of musical styles and instruments together while still maintaining an overall feel that made the album and music uniform. In the past few years, I was really able to solidify my stick sound and sound design in the way that I'd always envisioned it. So a lot of the album revolves around the various unique textures and melodies that the stick creates. But that's just the beginning. The album includes 14 fantastic musicians and the instrumentation varies from Persian santour to the Australian didjeridu to the Japanese Koto and percussion from all around the world. There are also electronic drums on some of the tracks. But none of the percussion, drums and instruments are sampled. There was even a taar player whom I've never met in person and he recorded his part in Iran. Crazy how much things have changed.
Also, on this album, the violin became the primary melody instrument as a pose to sax on the previous albums.
This was also the first album where I took a stab at 3 covers. Sting's "Fragile", The Beatles' "Norwegian Wood" and a Jimmy Hendrix Medley combining "Little Wing" and "Machine Gun".
You have changed your name to Nima Collective on Songs Of Strange Delight. Why this name change ?
I never thought that Nima & Merge had a great ring to it. Plus, the project now has so many different musicians involved in both recording and live performance that the word "collective" seemed more appropriate.
For those of us unfamiliar with your music; how would you describe you music and which bands would you compare yourself with ?
I think that unlike a lot of Chapman music, my music just uses the stick as a tool to deliver my music. Don't get me wrong. I love the instrument and the ability to be able to use it on the album as the primary instrument. There's just a lot more layers than just that. I think my upbringing in the pro rock world and Persian background have both had a great influence on my music. No matter what genre the music falls in at various times, I always try to write music that the average musician and technical musicians alike can enjoy and feel that the last album has a much more mature sound overall. That probably didn't describe it too well!
I'm not sure what bands I can compare with. So I'd love to know what people that hear my music for the first time would compare me to.
What have you been up to since the release of Songs Of Strange Delight ? What is your current status and what is the plans for your band in the future ?
I've been out performing quite a lot since the release of the album and happy that the album is getting a positive response. Looking to get back on the road next year and play more European jazz festivals and performances in general. I'm also working on the next album which has a much more raw jazz fusion sound. Really excited to finish that album.
To wrap up this interview, is there anything you want to add to this interview ?
I'd like to thank Torodd for the opportunity to be interviewed and I hope that I can continue to record and perform. I think the greatest thing about being a musician, aside from the artistic aspect, is being around some of the most intelligent and open minded people I know and I am grateful for that.
Thank you to Nima for this interview

Their PA profile is here and their homepage is here