California-based SPIRITS BURNING is a worldwide space rock collective headed by U.S. composer/producer Don Falcone (keyboards, bass, vocals). Originally established as a San Francisco band in 1986, Spirits Burning arose from a group called 'Kameleon'. In 1994, Falcone left Melting Euphoria to concentrate on other projects, one of which was resurrecting SPIRITS BURNING. Over the ensuing years, Falcone and the new SPIRITS BURNING began to collaborate with a myriad of talented musicians, most notably Gong's Daevid Allen and several members of Hawkwind.
Many albums has followed. I got in touch with Don Falcone for the story.
#####################################################################################
Your biography has been covered in your ProgArchives profile so let's bypass the biography details. But which bands were you influenced by and why did you choose that name?
When I first started playing rock, I was a bass guitarist and influenced by bands with strong, driving bass players (such as Deep Purple, Black Sabbath, and Hawkwind). When I switched to keyboards, there was an opportunity to play with the wonderful sounds and concepts I heard in Vangelis, Eno, and Tangerine Dream, and on the rock side, everything from Deep Purple to Genesis to the Stranglers. As I began to concentrate on lyrics, I drew from my love of the words and vocal interpretations of Peter Hammill, Bob Calvert, Ian Anderson, Peter Gabriel, and Kate Bush. By the time I resurrected Spirits Burning in the mid-90s, I was listening intently to various aspects of ambient and electronica too. Since then, I've found myself becoming more intrigued with individual songs, instead of bands. Think Nick Cave's "Mercy Seat," Godflesh You Black Emperor's "Moya," and Universal Totem Orchestra's cover of Hawkwind's Alien (I Am)."
"Spirits Burning" is the name of a song I wrote in the 80s. It's about the creative and spiritual fires that brew as you're growing up, watching TV late at night while your parents sleep, trees mysteriously blowing outside, and then you go to sleep and begin to dream. When we were looking for a band name to capture a sense of creativity and mystery, it seemed more than appropriate.
There's an alternate, very progressive version, titled "One Spirit Burning. It's included as a bonus track on the Melting Euphoria "From the Madness We Began" CD, which Mellow Records has in their release queue.
You have been working with and are still working with a myriad of well-known musicians like Daevid Allen, Steven Wilson and members of Hawkwind. All this over internet and seldom face to face. How does this work?
It usually starts with an invite, either directly or via a friend. I go through periods where I'm actively looking for musicians who can help keep the music and crew list intriguing.
Most of the early Spirits Burning recording sessions were done at my home studio. There is a large pool of Bay Area musicians, as well as musicians visiting San Francisco, who have participated. Daevid would make stops in San Francisco for many years; Cyrille Verdeaux was here in both 2009 and 2010. Bridget Wishart's home in the U.K. has also become a Spirits Burning hub, where she has recorded parts by her and her husband Martin, Hawkwind's Richard Chadwick, and others.
Over time, it has become easier to do most of the music dialogs over the internet. More and more musicians have their own recording setups. They usually prefer to record themselves at their own pace, whether they are local or not. Once they are ready for a song, I upload the current version online and they grab it at their convenience. I give them lots of freedom to do what they feel would make the piece more interesting unless they prefer some guidance.
For the most part, the goal is to capture what I experienced when I was in a live band –- musicians listening to each other and developing parts in a practice studio, then recording the song. The challenge is to create and manage this atmosphere for each person involved, including me, so that our eyes and ears are virtually in the same room.
This is an archive based interview also intended for the fans you get well after both you and I have passed away so let's go straight to your albums. Please tell us more about.....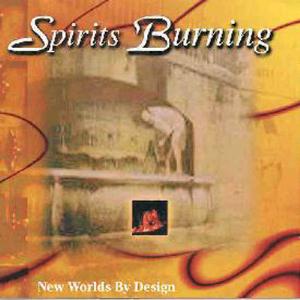 New Worlds by Design from 1999
I wanted to create a full-out space rock experience and avoid sounding like Hawkwind. I wanted to develop the genre, not be grounded by its past. What better way to do this than to invite 30 or so talented musicians and ask them to help celebrate all the possibilities.
Steven Wilson's guitar work on "The Ticking of Science" is haunting, exceptional, and helps make the track timeless. Recording Daevid at my studio was inspirational. I got to see him improvise gliss and lead guitar lines, as well as vocal parts, up close, and in real time. When he picked up my college thesis and began reading my poetry, weaving it into the music, it was beyond my wildest dreams.
Two of the songs on this CD, "By Design," and "Snakebite Serum," were great live pieces, having last been performed a few years earlier at the Spirits Burning vs. Spaceship Eyes gig, opening for Belgium's Present. Here, they get a great studio workout.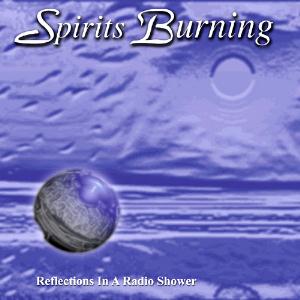 Reflections in a Radio Shower from 2002
With one CD under my belt, I had some new confidence in reaching out to people and unlikely possibilities. Especially when it came to voice samples
There was the search for a piece of Hawkwind history –- the legendary Isle of Wight line 'to the cat right there with the silver face." I was put in touch with a local radio DJ who had a huge collection of Jimi Hendrix performances. He checked the gig, confirmed the existence of the line, and gave me a copy of it. Another piece of Hawkwind history came from a sci-fi radio show I had taped in college. It included an interview with Mike Moorcock, where he talked about how Hawkwind got their name.
I followed a different path in terms of Bob Calvert, who had died in 1988. Roger Neville-Neil put me in touch with his wife, Jill, who gave me approval and access to a full suite of Bob's readings. I chose to use a couple of lines from one poem, plus the entire "Centigrade 232" poem. The first result was the opening track, where samples of Bob and Mike, along with the Isle of Wight sample, were weaved into the music. The second result was the up-tempo "Drive-By Poetry," where Bob, Thom the World Poet, and Daevid reciting a haiku by Roger are each given a "shot."
Looking back, I wish I would have asked Jill for use of more of Bob's readings. Many of them were later used by Dave Brock for a full CD.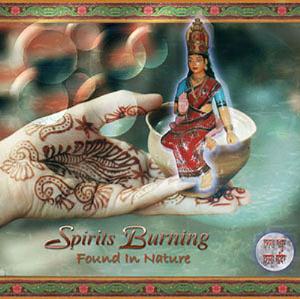 Found In Nature from 2006
Excluding the poetry experiment at the tail end of the CD, "Found in Nature" had a singular directive from day one: Do an all-instrumental space rock CD.
This CD achieved a cleaner, wider sound that had eluded me for previous large ensemble mixes. Perhaps, this was due to the focus on instrumentals. Maybe I was getting better with the tools and process. Maybe the reoccurring crew members were also getting more attuned to working in a virtual band, and working with me.
Most of the performances were once again recorded in my home studio. Violinist Graham Clark recorded so much material over one weekend that he would appear on this CD, three future Spirits Burning ones, and on a Quiet Celebration song too.
This CD was also my introduction to Mellow Records. It began a relationship that led to Spirits Burning covering songs by various prog artists (such as Yes, Steve Hackett, The Moody Blues, Pink Floyd, and Santana) for possible tribute CDs.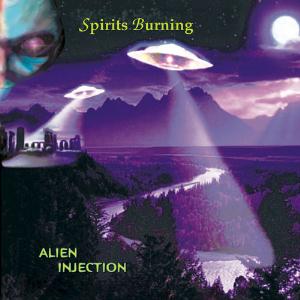 Alien Injection from 2007
This was released by Black Widow Records, both as a CD and as a very cool double LP. There was a strong effort to make contact with former members of Hawkwind. This resulted in great contributions from Bridget (Wishart), Mike (Moorcock), Adrian Shaw, and Steve Taylor.
There was a theme… actually, there's always a theme… For this one, it was a simple idea: We need change; we need an injection from somewhere new, because the old ways don't seem to be working. In the title track, the 'she' refers to mother earth. She's described as dying and "It's an alien injection, that's what she needs."
When I say there's always a theme, this applies even more to the music from CD start to CD finish. With Alien Injection, we have an old genre, and the opportunity for musicians to inject it with new ideas. Sometimes that's a mix of older and younger musicians. Sometimes it's a mix of musicians from space rock with musicians of other styles. A little bit of Eno's happy accidents. Or, even an injection of literally, older, existing music. For example, I got permission to use some of Mike's Deep Fix sessions from his post-New Worlds Fair years, cleaned them up, and then had a crop of musicians add new parts to them.
Massimo, the owner of Black Widow, affected this CD and the future of Spirits Burning on a couple of fronts. After I had completed a track with Bridget, Massimo suggested I invite her for another, which I did (and this led to many future collaborations with Bridget). Massimo suggested that I use lots of mellotron, which I did (and this led to me borrowing the mellotron for many future CDs). Finally, he suggested I drop a couple of tracks. One of them was this clean space rock tune with music started by Dark Sun and lyrics by me. After I beefed it up a bit –- with distorted rhythm bass, Lemmy-style backing vocals, and some leads and spacey effects –- I sent the new tune to Massimo. He now said it was the best track on the CD and should be the title track. That tune: "Alien Injection."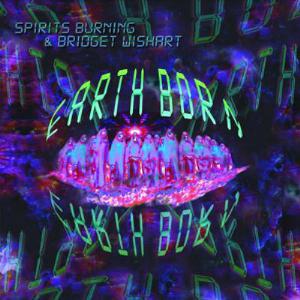 Earth Born from 2008
This was the first Spirits Burning & Bridget Wishart CD. It continued to build on getting attention from Hawkwind fans. Bridget was able to bring in some of her former Hawkwind bandmates (like Alan Davey, Simon House, and Jerry Richards). We also got Steve Swindells onboard.
In the 80s, I had been part of a number of bands with female singers and I had amassed a collection of songs that were more in the Peter Gabriel/Kate Bush realm. Almost none of these had ever been recorded to CD and released. I wanted to give them a new home. Meanwhile, Bridget really liked the results of our collaboration for the "Salome" track on "Alien Injection," and she was ready to continue her re-entry into the world of music in a bigger way. We decided to team up for a full CD.
This was the first Spirits Burning CD that I really had an ongoing partner. Bridget and I were in touch almost daily and it made for a great experience. There is plenty of info on the making of this CD online, at
http://www.earthborn.org.uk/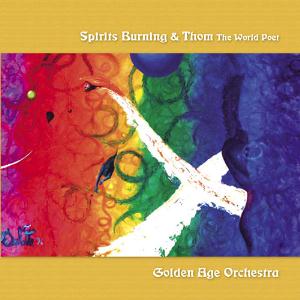 Golden Age Orchestra from 2009
This was a fun left turn and the closest I've ever come to pure filk (for those that know about that genre). This was also the first Spirits Burning CD that didn't include Daevid.
Thom (the World Poet) was visiting the Bay Area. I think he was staying at guitarist Jay Radford's house. They had planned a jam session, invited me, my laptop, and a small Pro Tools system. I recorded the full session, took the best parts, added keys later, and we had a CD's worth of great material.
This was a wonderful weekend of music.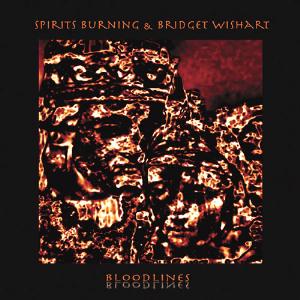 Bloodlines from 2009
This was the second Spirits Burning & Bridget Wishart CD. The theme this time was famous people in history. Lyrically, we dipped into real history, as well as legend and myth. Many of the crew members from "Earthborn" were invited to contribute again. The new crew list also included Harvey Bainbridge, Van Der Graaf's Nic Potter, and Banco De Gaia.
One of my favorite tracks is "Heavens Hide." It's a great example of how a song can develop. I asked my friend Jerry Jeter to think Ritchie Havens and do an acoustic guitar performance over some chord progressions I had worked out. Bridget added vocals, weaving in lyrics based on material she had used for Hawkwind live shows. While we were working on "Heavens," I was given the opportunity to store a friend's mellotron in my home studio. So, I recorded some heavenly mellotron.
All of this was on top of a Strike electronic drum sequence. For rock songs, I typically like acoustic drums, or even a mix of acoustic and electronic, but the basic Strike pulse that had been the initial timekeeper for "Heavens" seemed perfect, so Bridget and I decided to keep it. However, it did need something to give it a live, organic feel. Scotty Smith, who had played with Giraffe, and was a friend of a friend, was happy to provide tambourine and shaker.
There was still room for synth spices too. Harvey had sent us multiple synthesizer performances and some of it fit "Heavens" perfectly. For bass, I had made contact with Nic (Potter). He was definitely interested in the Spirits Burning concept and liked the song, but was not set up to record himself at that time. I put the word out to some of my U.K. connections. Jaime Cortinas of The Starfighters was able to get me in touch with Aaron Phillips, his band mate in London, who lived close by to Nic. Aaron volunteered and recorded Nic –- who had worked out a very melodic bass part. Add all of this together and you get a wonderful song. These types of twists and turns aren't limited to just this song. It's quite common. It's a fun challenge too!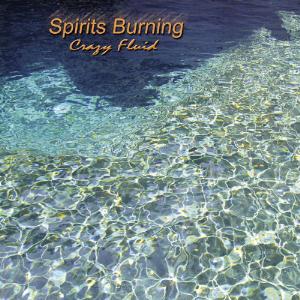 Crazy Fluid from 2010
This CD focused on instrumentals. I wanted to do a space rock version of Rock In Opposition. Looking back, I did well to include some special prog/RIO musicians, such as Daevid, Graham Clark, William Kopecky, Richard from Karda Estra, and members of Cartoon. There are some great performances here.
Some days I listen to this and I'm happy with the risks, experimentation, and occasional wild sonic adventures. Other times I listen and feel that I didn't really get anywhere near bands like Magma… given that my real goal was to see if I could create a Magma meets Hawkwind sound. "Crazy Fluid" does have a nice mix of craziness. I suspect it won't be the last time I visit this theme.
The CD ends with a vocal song originally meant for a compilation. There had been specific instructions –- use early 70's prog instruments and musical concepts. So… we created a long 4-part song with tempo changes and a large prog rock ensemble, featuring Daevid. While the song is about the life of Luana Borgia, I embedded a couple of my music philosophies in the lyrics. I tend to concentrate on sound, structure, lyrics, and passion. When you listen to a song, can you feel that the musicians care? The music doesn't have to be about playing lots of notes and playing fast. When you listen to a song, does it intrigue you, take you somewhere special? If it does, then something electric has occurred for both you and the musicians. The experience doesn't have to be about fame, or judged by the level of fame achieved in popular culture. The lyrics in Luana go… "It's not about art, or note-ability… we just want to leave a mark on society."
Behold the Action Man from 2011
Space rock meets film noir. The concept was inspired by Roger Neville-Neil's Action Man character. In real life, Roger goes to gigs in Oregon clubs and provides a detective's view of the proceedings. His stories and photographs are then shared with us in the Aural Innovations online music zine.
Lyrically (and in the CD artwork), we mixed aliens with crime and detective imagery. There's a story or two that the songs connect to suggest… but we really kept it loose for interpretation. Musically, there are space and prog elements, even some plays on Peter Gunn.
This might be the best "rock" CD from Spirits Burning. The CD starts with a bang and doesn't let up for the first 6 songs. There are a lot of good lyrical hooks. There is more Daevid Allen guitar than ever before. He's on the majority of tracks. Lots of great guitar crunchiness, including a spirited performance by Joe Diehl on "Real Time." Joe used to play in one of the original 80s versions of Spirits Burning. In fact, two of the singers from the 80s bands were featured on songs here.
One highlight is "Internal Detective," an instrumental featuring original Blue Oyster Cult member Albert Bouchard on acoustic guitar and drums, Daevid on electric guitar, and former Hawkwind member Alan Davey on synths. Some of the fun of Spirits Burning is bringing musicians together. Another great find are tracks with members of The Upsidedown, a band that Roger had photographed and written about. Their drummer, Bob Mild, is on two tracks, including "Underworld Messiah," the first track to get a video interpretation. Lead singer Jsun Atoms is on the dark "This Mark You Make." Jsun was another case of ready-to-record, but no recording equipment. This time, I enlisted a former Spirits Burning crewmember from Oregon, Rich Landar, to do the recording session.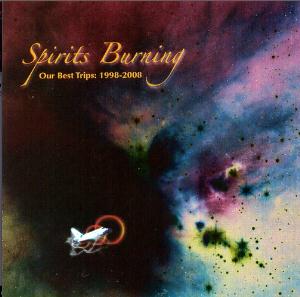 and the compilation album Our Best Trips: 1998-2008 from 2009
This was an unexpected idea by Rob Ayling, of Voiceprint, to help promote the new Spirits Burning CDs his label was about to release.
A few years before this, Voiceprint had released Glissando Grooves, by daevid allen & don falcone, as part of Daevid's Bananamoon Obscura series. That one was essentially a best of Daevid in Spirits Burning (with material from the first three Spirits Burning CDs).
"Our Best Trips" covered ten years and the first five Spirits Burning CDs. It provided a chance to spotlight many of the tracks I've mentioned in this interview: "The Ticking Of Science" with Steven Wilson; two prior live songs captured with studio versions; "Salome," the song that really brought Bridget back into the world of music; two songs with Bob Calvert, including the one with historical Hawkwind connections; one of the Mike Moorcock "Entropy Tango" tracks; even a track with Acid Mothers Temple.
This CD was also a chance to unveil some unreleased tracks: a cover of Planet Gong's "Opium For The People" for a tribute that never got released, a sweet instrumental started by Nigel Potter that didn't seem to fit into previous releases, and "Strafed By A UFO," a song that would be on a future CD named "Behold The Action Man."
How is the availability of these albums? What is the economics of this since you are probably not able to tour and gig with your band?
Almost all of the albums are readily available from the labels that released them, as well as major sellers like Amazon. Each label has lots of places that they normally sell through. Many of the songs are available from iTunes too. The first CD, "New Worlds By Design," sold out.
In terms of economics, the labels pay for the manufacturing cost, some advertising. Except for a couple of cases, I usually pay for the mastering. There really are no mixing costs as I handle this aspect at my home studio.
I would like to someday put together a live version of Spirits Burning for a special performance. I can envision a west coast version if Daevid is visiting. There could be a collection of bay area musicians for the main band and revolving instrumentation. It might be possible to do something like this in the U.K. someday too, with Bridget and others, and me as the visitor.
How would you describe your music and which bands would you compare yourself with?
Spirits Burning remains a celebration of space rock and all the music associated with space rock (including prog, German synth music, ambient, industrial, electronica). All the bands too: Hawkwind, Nektar, Can, Go, Arthur Brown's Kingdom Come, Pink Floyd, The Orb.
Part of my love for space rock is that it isn't tied down (or doesn't have to be tied down) like other genres. Hard rock really does have to be hard, right? Punk needs the attitude in the sound or the lyrics. Folk needs folk motifs. Sure, there can be mixtures of styles, but… Space rock kind of has more openings for more mixtures, more possibilities. It represents the entire universe, known, unknown. Outer space, inner space. Fiction, non-fiction. Poetry, prose. Complexity, simplicity too. It's really the same things that prog should represent… a plurality of possibilities.
I'm also a believer that the definition of space rock isn't limited to the music and lyrics. It's also the musicians and the musical choices they make –- their adventures from one band to another. So, yes, that means that Spirits Burning can always be a place for space rock musicians to gather in song, whether playing something that's easy to identify as space rock or something completely different.
How is the creative processes in your band from coming up with an idea to its being recorded?
For a given CD, there's typically a mix of new songs that I start, new songs that someone else starts, and a couple of tunes that I wrote long ago and am now resurrecting.
I'll sometimes ask a lyricist to write words over an early rhythm, or have one or two musicians start the music for a piece. Every now and then, pads, rhythms, and even odd sounds are sent to me to consider for future use. I'll also build pieces with "music holes" – a silence or a solo click track in the middle of a piece -- where a musician can begin a new idea.
For the Spirits Burning & Bridget Wishart CDs, Bridget and I really work heavily together on the songs from start to finish. We discuss which musicians and instruments to add. We discuss the paths the songs are taking structurally. For example, is the song too long, too short, does it need another section? We discuss the results of multiple mixes. Lots of emails!
In terms of recording, some musicians will send me multiple takes and let me decide which to use. Other musicians will provide one part. Most musicians are very flexible, and will even tell me upfront to use things however I want, even if means using snippets of their performance or moving parts around in the timeline.
The majority of crew members do not hear the final version until the CD is released and I send them a copy.
What is your current status and what is your plans for next year and beyond?
I usually work on multiple Spirits Burning CDs at the same time. 2012 and beyond includes the following:
Spirits Burning & Clearlight "Healthy Music In Large Doses"
This is a mostly-instrumental CD. I started 10 or so tracks with organ motifs, most having of a 60s groove feel, maybe leftover ideas in my head from the "Behold The Action Man" noir theme. Then again, one song has a Cajun rhythm and chord pattern (influenced by a project Mike Moorcock is working on), another is a waltz, and there's one track where I played layers of orchestral strings. I did consciously decide to play mostly organ for a CD and leave the synths to Paul Hayles, Bridget (via her EWI), and others.
It was around this time that Cyrille Verdeaux of Clearlight visited the Bay Area. We had been in touch on Facebook, and worked out having him come to my studio. Cyrille played on the majority of the songs, mostly piano and organ via my K2000 and Virtual Instrument plug-ins, plus my old Juno 60 on one track. We later discussed calling this a Spirits Burning & Clearlight CD and he thought it was a good idea.
This CD is quite global in its musical reach. Besides Daevid from Australia, and the frequent U.S. and U.K. input, there are performances from Italy (members of Universal Totem Orchestra and guitarist G. C. Neri) and South America (Cyrille living in Brazil now, guitarist Fabio Golfetti, and bassist Steve York). Some new faces from Europe include former High Tide bassist Pete Pavli and violinist Stella Ferguson from Flutatious.
Spirits Burning & Bridget Wishart "Make Believe It Real"
This is the third collaboration by Bridget and me. The title track about dragons was first released on the Hawklords Friends & Relations "30th Anniversary" compilation; the song features Hawkwind family members Dan Thompson, Harvey Bainbridge, Simon House, Paul Hayles, and Bridget.
Lyrically, the theme of the CD is fiction, fantasy, possibilities. Musically, it is built on a heavier sound.
Spirits Burning "Starhawk"
This is a musical interpretation of Mack Maloney's first Starhawk book. The songs follow the timeline of Hawk Hunter's introduction to the far future and a world of cloud puffing, slo-wine, and a very different earth.
A music theme of sorts, at least in terms of process, is that almost all of the songs were conceived with MIDI, using Pro Tools virtual instruments triggered by an Edirol MIDI controller, along with electronic drums that will be replaced (or mixed) with acoustic drums.
To wrap up this interview, is there anything you want to add to this interview?
Thank you to those who have taken the time to listen to Spirits Burning and the other music that all of the crew members of Spirit Burning have created over the years. I hope you find the adventures intriguing.
Thank you Torodd and all the Prog Archives community for the opportunity to discuss Spirits Burning.
Thank you to Don Falcone for this very interview