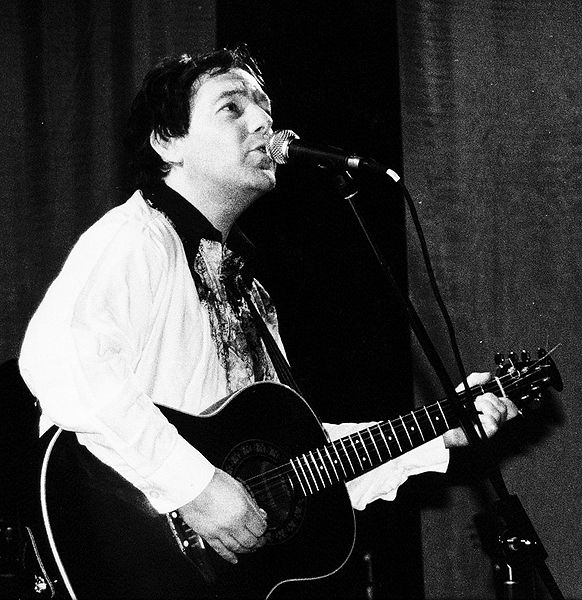 German based UK author, composer and musician Paul ROLAND was born back in 1959, and at the age of 20 he made his official debut as a recording artist with the 7 single Oscar Automobile. An extensive set of releases would follow from the first full length effort The Werewolf in London in 1980 until he decided to concentrate on his author career in 1997. Record deals with a variety of labels in Europe, Japan and USA made his musical exploits in those years widely available.
Paul Roland also has released some bestselling books too. A full list of these books can be found on his homepage and in all respectable book stores.
I got in touch with Paul for the past, present & future.
###############################################################################
Your biography has been covered in your ProgArchives profile so let's bypass the biography details. But what made you take up music?
"When I was 13 or 14 I visited a friend whose brother had a collection of guitars hanging on his bedroom wall. I thought it might be fun to mess around with them and see what sounds we could make. I made tiny bongos from the bottoms of wine bottles with plastic bags for the skins held in place by rubber bands(!) and drummed on them with pencils while singing a Lord of the Rings styled poem that I'd written inspired by reading Marc Bolan's book of poetry 'The Warlock of Love' which was full of evocative imagery of fairies and wizards and dark woods. We were changing from children into teenagers so it was initially just a new game we were playing, but my friend was a bass player and another friend who was with us that day knew a few chords so they actually helped me put together something resembling a song. The realisation that I could make 'real music' electrified me. I knew I had found something with limitless possibilities. It was obvious to me that I should buy a guitar and learn a few chords so that I could write songs on my own.
The other inspiring event was watching the movie 'Stardust' in 1974 staring David Essex as a rock star on the rise. The fact that he died from a drug overdose at the end didn't put me off wanting to do the same!"
You are though more famous as an author of books like The Nuremberg Trials, The Nazis and the Occult plus many other books. Please tell us more about your interest in history and why you have written those books.
I began as a writer of short stories at the age of 9 and then poetry when I discovered Bolan's music and his book of verse a few years later, so when I was introduced to the possibilities of combining music with verse it seemed like a logical development. But until recently I never considered myself a musician because I couldn't read music or play an instrument with any proficiency. I was self-taught and intuitive which is fine, but it can be limiting. So I have always thought of myself as a writer and I enjoy telling stories, whether fictional or non-fiction. When I write a history book or a true crime title I am always looking for human interest or, in the case of paranormal subjects, I am looking for sensational 'copy', whether it is true or not. Some of the myths about the Third Reich and their alleged obsession with the occult (such as the supposed search for the Spear of Destiny) were too good to leave out just because they were so obviously untrue. So I write about such things in a wryly humorous way and trust that the reader will sense that I am being ironic.
The more serious work, such as the Nuremberg Trials, was written to give a voice to the victims who I felt had been unjustly sidelined by other writers who focussed on the Nazi criminals and so dominated some but not all of the other books on the subject. I wanted to show what despicable individuals these thugs were. That is why the book opens with a scene in a concentration camp and describes the experience of one of the survivors and the psychological effect Nazi barbarity had on their lives long after their liberation.
The 'Crimes of Jack The Ripper' also gave me the chance to humanise the victims, although of course, I was as fascinated by the image of the top hatted murderer stalking the fog bound streets as fascinating as everyone else. So sometimes I chose to write a book because I want to have my say on the subject and sometimes simply because I find the subject entertaining and enjoyable to write about. Sometimes I also feel that I have taken a university degree in that subject if it's a subject that I had little knowledge of when I began and became something of an expert in by the time I finished."
You also have written a lot of books on occultism and the Kabbalah sect (??) within Judaism. The artist Madonna, an avid user and sometimes contributor to ProgArchives, is a follower of the Kabbalah. What is Kabbalah and why your own interest in it?
"I have the impression that the version of Kabbalah that some celebrities have adopted is more of a cult or lifestyle choice and that it bears little resemblance to the spiritual tradition of practical magic and creative visualisation that I follow. To summarise it simply, Kabbalah offers a means of accessing the inner and higher worlds by means of meditation and of understanding your own attitudes and personality and the world around you by exploring symbolic landscapes of the psyche using the glyph known as the Tree of Life. My own experiences led me to create the Kabbalah Cards which act as a visual aid to help people get to grips with the principles of the tradition and find meaning in the apparently random events of their life.
The attraction of esoteric traditions comes partly from my own out of body experiences, which revealed to me that this material world is only one aspect of a greater reality, and partly from having developed my imagination as a writer and artist. I think that the most intuitive and imaginative artists are, by nature, psychic."
Do you regard yourself as a musician or an author? What relations is it between your writings and your music?
"I think I have already answered that one. Prose and verse are one element of my songs. Music is the other, but I have to be able to concentrate on one and then the other. I can't write lyrics immediately after writing the music as many songwriters do. I write a lot of music for several weeks until I feel that I have exhausted that stream of inspiration and then I spend weeks writing nothing but lyrics. And again, I invariably have to get into a receptive frame of mind or mood before the good stuff comes, then I can write reams of good stuff, but initially it is like teasing a shy animal out of its nest."
This is an archive based interview also intended for the fans you get well after both you and I have passed away so let's go straight to your releases. Please tell us more about.....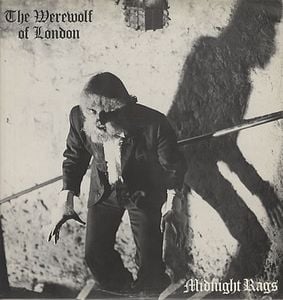 The Werewolf of London from 1980
"The author of a biography of the band Bauhaus stated that Bauhaus and I were responsible for introducing Goth rock to Britain, which is extremely flattering, but in my case I can't accept that as being true. This album was not widely reviewed or played (although John Peel played the opening track 'Blades of Battenburg') so I can't see how it could have influenced anyone. But it was one of the first to combine horror with rock in a serious musical setting as opposed to 'Monster Mash' and other novelty hits of the 60s. I was obsessed by horror movies and comics at the time and still am, so that was the dominant theme and I was extremely fortunate in having the opportunity to work with some very proficient musicians who took my simple songs and made them more interesting by trying out different rhythms and adding keyboard parts that I couldn't have come up with at that time. But I feel now that I wasn't ready to record an album and should have waited until I had some stronger songs to replace the weaker ones, but I was 19 and impatient to get into a recording study and release a record."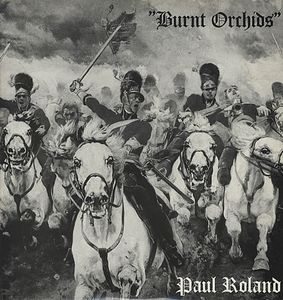 Burnt Orchids from 1985
When I returned to music in 1985 after a three year 'retirement', I compiled a mini album from the best tracks from what would have been the follow up to 'The Werewolf of London' ('Captain Blood', 'The Puppet Master', 'Ghost Ships' etc) and some new songs ('Cairo', 'Death Or Glory' etc). But the studio I used was so small that I was forced to use a drum machine for some of the new songs, though nobody seems to have minded too much. I was amazed how well this was reviewed and received especially in Europe and the fact that it led to a contract with German, Greek, Italian and French labels and my first European tours. I didn't have a specific theme or style in mind, just the attitude that I should be recording my own 'story' themed songs with baroque harpsichord and strings which no one else had done, though a few acts in the Sixties had used that instrumentation occasionally, but for songs with a modern theme or subject. Their use of harpsichord, strings and woodwind was purely ornamental, whereas I wanted to use that instrumentation to evoke a specific period in history. So this is the first album in which I used a specific selection of instruments and an arranger to consciously create the imaginary world that I wanted my fictional characters to inhabit.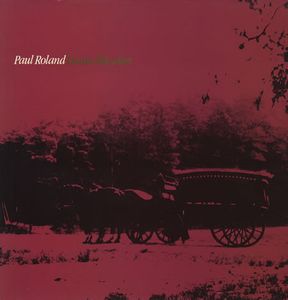 Danse Macabre from 1987
This was the first album I recorded with a band of my own ('The Werewolf of London' had featured session musicians and the new songs on 'Burnt Orchids' had been recorded with a string trio) which makes it a more consistent and confident sounding album. I knew that it was something special when I was writing it, although I remember asking the label's owner how long he thought "this sixties revival" would last! I had just toured with a mod band in Germany and thought that I was enjoying a short spell of success because I was being seen as a Sixties styled singer-songwriter and there were so many Germans coming to the gigs in Beatles haircuts and parkas. I really thought that interest in my music would die as soon as that movement faded. But then I began to get letters from people saying that they liked Sonic Youth and other indie bands as well as my music and I realised it was the quality of the songs and the baroque instrumentation which they liked, even if they didn't understand all the words because of the archaic language that I used to evoke a specific period. That is one of the oddest things about my music, the fact that it has appealed to Greek, French, German and Italians for whom English is a second language.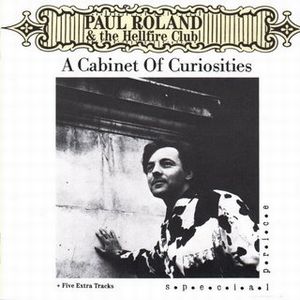 A Cabinet of Curiosities from 1987
I was so fired up by the success of the tours and meeting with fans that I felt I could write an album every month! Then I received an offer from French label New Rose who wanted to release something new. I wasn't ready to record an album of rock songs but I had a surplus of acoustic songs and at that time mini albums were fashionable so I thought I would indulge myself by writing an album of songs about the more idiosyncratic subjects that I loved even if there wasn't an audience for this kind of music or subject - Edwardian inventors ('Wyndham Hill'), little boys who set fire to their school ('Burn'), voodoo ('Jumbee'), carnivorous plants ('Stranger Than Strange') and an antiquarian with a most unusual specimen ('Demon In A Glass Case'). I also thought it might be fun to record a cover of 'Gary Gilmore's Eyes' with a Regency era chamber orchestra. Ironically, by doing something that was essentially for my own pleasure and amusement, I created something unique and appealing to an audience who were looking for something unusual and very English. The 80s were an awful time in pop music – all those coiffured Duran Duran type mannequins playing around with drum machines and nasty sounding keyboards – so I guess I offered an alternative.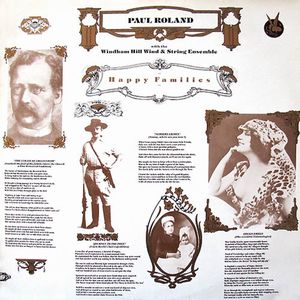 Happy Families from 1988
Much the same could be said about this mini album which was inspired by the lives of real English eccentrics. But for once I wrote the lyrics first because the stories were so funny the words just flowed out of me. I would be mowing the lawn or jogging down the street and have to stop to write down a new verse that had just dribbled into my brain. It was so easy writing that album and such fun recording it in just five days with classical players who came in and played straight off the score so that the track would grow from acoustic guitar backing track to finished recording in the space of a couple of hours. That was the most fun album to make and one that I still have a lot of affection for because it is all 'me'. I could indulge my black sense of humour and the words just bubbled out of me. Plus the baroque chamber instrumentation (including bassoons) was one that I had always wanted to have on my records but wouldn't have worked on a rock album.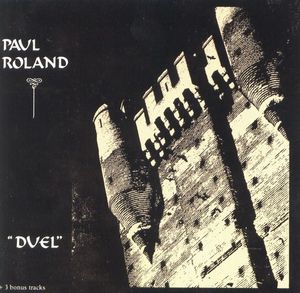 Duel from 1989
After the two acoustic mini albums I was ready to record another rock album and I didn't just want to make a collection of songs so I thought it would be a challenge to write a suite exploring a single theme – a medieval kingdom in decline. But initially I couldn't get the juices flowing because the obvious clichés would come out. It was only when I thought of adopting a blackly humorous tone that the lyrics started to come. The opening track, 'Knights' was to be part of that suite ('The King Must Die'), but I needed a strong opener so I took it out and used it to open the album. This was the first album to be recorded with my regular band and it benefits greatly from being recorded as an album by the same core of musicians, whereas 'Burnt Orchids', 'Danse Macabre' and 'Cabinet of Curiosities' were recorded in different studios at different times with various combinations of musicians.
'Duel' also contains 'Nosferatu' which I hope goes beyond the conventional vampire character to suggest the sadness of a tormented soul.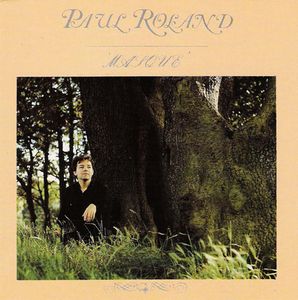 Masque from 1990
My folk rock period. I thought I would concentrate on the Regency period for the songs on this album, although I couldn't resist a couple of diversions into the Victorian world of the grotesque ('Triumphs Of A Taxidermist', 'The Ratcatcher's Daughter' and 'The Mind Of William Gaines' about two scientists who fall under the baleful influence of an executed criminal's brain). I also offer 'Dr Syn Is Riding Again' about the fictional smuggler who hid behind the respectable disguise of a clergyman, 'Pharaoh' sung by an Egyptian mummy whose tomb is being ransacked and 'Meet Mr Scratch' in which my alter ego does a deal with the devil.
There is some superb solo violin playing on this album by a musician who improvised according to my instructions (not playing from a written score) and who nailed the track first time most of the time.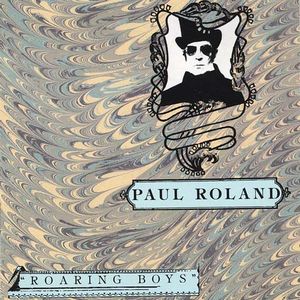 Roaring Boys from 1991
This was my baroque pop album which I must admit to being a bit disappointed with when I finished it (probably just exhausted by the fact that I had been pushing myself to produce an album a year, every year and by the touring commitments). But it was the one album of mine that I played for my own pleasure more than any other. In retrospect there were a couple of overly pop tracks that should have been dropped, but I didn't have any other songs to replace them at the time. It is only now that I have the opportunity to substitute these with a couple of unreleased tracks that are more in keeping with my style when I reissue it later in 2012.
'Come To The Sabbat' is one of a number of examples where I used another artist's song title (or a movie title) as the inspiration for one of my own songs because I thought it was too good a title to use only once!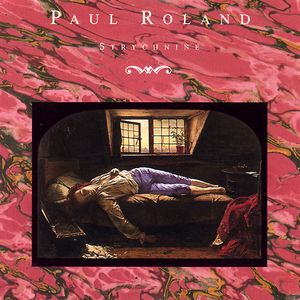 Strychnine from 1992
At the time I recorded this mini album of cover versions, such projects were very popular (and included the various artist 'Tribute' albums). I remember at the time thinking that it might not be wise for a songwriter to record an album made up exclusively of cover versions, but was persuaded that I should do it and I was amazed by the positive reaction (especially the improved retouched version later released on Italian label Black Widow). It was the only album of mine to be licensed to Japan and some of the comments posted on You Tube regarding my cover of 'Venus In Furs' and other songs were extremely satisfying, although I wouldn't record another and will probably never record a cover version again as I think my voice is only suited to singing my own songs. My criteria for choosing to cover a song was that if I could imagine improving the original in some way or reimagining it in a radically new setting, then I would feel justified in recording it. I saw no point in recording someone else's song with the same instrumentation as they used.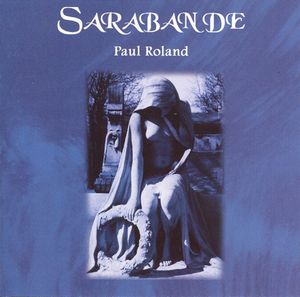 Sarabande from 1994
I had moved from my ancestral home of Roland Towers in Kent to another part of England when I wrote and recorded this album with a new band. I wasn't feeling too inspired I have to admit and in retrospect freely confess to having made a bad choice in covering The Kinks 'I'm Not Like Everybody Else' (which I had wanted to record as a medieval ballad) and a rather leaden version of Marc Bolan's unreleased song 'Meadows Of The Sea'. There were also a couple of substandard Roland songs which I will now have the satisfaction of replacing with stronger previously unreleased songs for the 2012 reissue, but that said, there are some tracks on here that I am very proud of such as 'Ophelia', 'Waltzing The Square Ring Again', 'A Thousand And One Nights' and 'Beyond The Realm of Sleep'. So all things considered I think this is what Orson Welles would grudgingly call 'a flawed masterpiece!'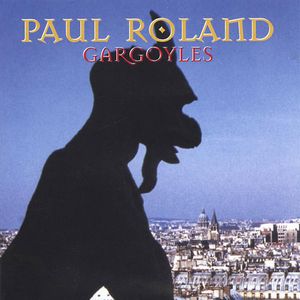 Gargoyles from 1996
I returned to Roland Towers and worked with my old band on this album, but I went to a state of the art 24 track studio so it sounds a lot less 'indie' than my earlier albums. I had also started demoing songs on a portastudio and playing around with a keyboard so a lot of the parts played by other instruments were actually the parts that I had worked out prior to recording and I'm very proud of that. 'Aleister Crowley', 'The Gathering Man', 'Atlantis' and 'Last Coach To The Borgo Pass' are virtually identical to my demos but played with more vigour! Instead of simply coming to rehearsals with finished songs and guiding the musicians into giving me what I heard in my head, I was now writing their parts before coming to the studio and teaching it to them. But of course I still gave them room to suggest ideas. I have always enjoyed collaborating with other musicians. That is part of the fun of recording. I could never understand artists who try to dominate their musicians and demand that they play what they are told to play. I directed my musicians to play what I wanted to hear, but I have always given them the freedom to make suggestions. You have to trust the people you work with and respect their abilities and experience.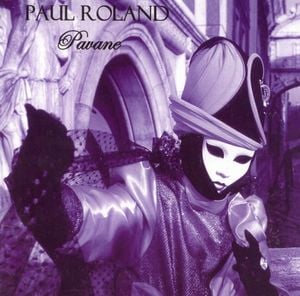 Pavane from 2004
I took seven years away from music to raise my two sons and I don't regret it. I just have to work at double the rate now to make up for 'lost time'! But when I returned to writing I had to learn to play the guitar all over again because I had forgotten so much and I had lost my feeling for music. My old labels like New Rose in France and Di Di Music in Greece, Diva in Italy and Pastell in Germany had closed down, or been sold to bigger companies and so I had lost touch with my audience in those countries. But one day I found a box of old fan letters and reviews and looked through them out of idle curiosity. It was as if I was reading about someone else's life and when I finally listened to the old albums which I hadn't heard for seven years or more, I could hear what people liked about my music but also what didn't really work. Shortly afterwards I was offered a concert in an old castle in Berlin as part of a goth festival and it was too tempting a setting to turn down. It was there that I met a German fan who offered to design my album booklets if I released anything new and that helped to convince me that I should make a new album, because I had rarely been satisfied with the cover artwork that myself or the labels had created for those albums. Here was another chance to get things right.
But when I went into the studio after that I must admit that I didn't know if I could restart my career or if anyone would show interest in my music. However, I recorded the acoustic backing tracks for this album in a couple of hours needing only one or two takes, so that gave me a lot of confidence.
I had given all my instruments and demo recording equipment away in 1997 so I had to get everything again and this time I worked very hard to write the parts for the other instruments and even wrote a prelude and outro in the style of my favourite composer Michael Nyman who had offered to work with me back in the late 80s. But I thought he might not like my music so I didn't take him up on his offer. 'Pavane' gave me the opportunity to write the short piece that I would've written for him and so I felt like I was being given a second chance. And I was determined to get things absolutely right this time so that there would be no need for re-recording old songs which I was forced to do in the past if I hadn't got a good drum sound the first time round or some such. So this time I didn't master the album until I had each track just the way I wanted it.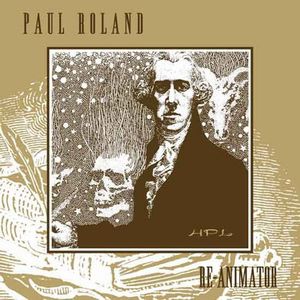 Re-Animator from 2006
By the time I came to record 'ReAnimator' all my old confidence had returned and I had been reunited with my band plus the bass player and cellist/violinist of Canterbury rock band Caravan. I also decided that instead of recording a collection of individual songs I would try to find a unifying theme and plumbed for the stories of H.P.Lovecraft. In the end there were a few songs which wouldn't fit into Lovecraft's world but I had four that would ('Charles Dexter Ward', 'Arkham', 'Cthullu' and the title track) plus one Lovecraft inspired instrumental ('Abdul Alhazred') and one by Poe ('Valdemar') so it worked very well as a 'concept album' although the combined tracks didn't tell a single story (something I later did on 'Grimm' and will hopefully do again for the ghost stories of M.R.James sometime in the near future).
Incidentally, the addition of a mellotron on several tracks fulfilled a long held ambition of mine (none were to be found in the 80s or 90s) and gave those tracks a suitably dark-infinite-regions-of-space sound, making the album one of my personal favourites.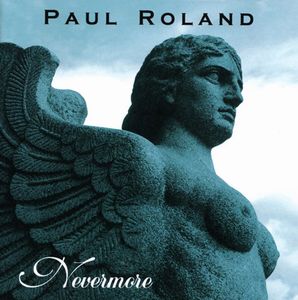 Nevermore from 2008
By 2006 I had emigrated to Germany in the hope of collaborating with new musicians and finding a live club and festival scene that would welcome me, but just before I went I recorded 'Nevermore'. It was finished in Germany thanks to the contribution of a very talented musician, Nico Steckleberg who added some very nice touches and also created the cinematic atmospheric instrumental 'The Last Voyage of the Nautilus' from the rough demo that I sent him and some detailed instructions. That experience of collaboration and the fact that I met other like-minded musicians in Germany gave me the idea to create a new soundtrack for a series of silent movies and release these on DVD, but unfortunately after a year working on a new soundtrack for 'Haxan – Witchcraft Through The Ages', the Swedish film institute who claimed to own the copyright to this Public Domain film blocked its release so we have a finished film with new inter-titles, narration and music all ready for release but no means of doing so!
Grimm from 2011
Rather than record another studio album I decided to record 'Grimm' on my own in my own studio and play all the parts myself as it didn't require drums. Also, this time all of the music fitted the chosen theme which was the fairy tales of the Brothers Grimm. The time constraints and space limitations of a three minute song prevented me from squeezing the plot of each story into a single song, but instead I think I managed to convey the essence of the story and also say something about human frailty and other traits which means that these are not merely songs on a fairy tale theme. They have other levels of meaning if you listen carefully.
How is the availabilities of your releases?
"Well, now I think it is fair to compare them to boxes of handmade chocolates for connoisseurs. I am an acquired taste, not your typical mainstream supermarket artist of the month! Those who know my music can find my CDs if they look hard and long enough, but the casual music buyer won't see them in their local music store as I am presently releasing them only on a small German independent label called Syborg Music, although I have plans to re-launch my own label Gaslight Records so people can find all my albums easily in their improved, re-touched form. But the individual tracks are available for download on Amazon, the American download site CDbaby as well as AppleiTunes, Spotify etc etc so those who like my music can find them and compile their own CDs, but to introduce new people to my music I have made complete songs available as free downloads on my Facebook page. If you're not performing live, you have to be active on the web to draw new people in and offer them something to tempt them to explore further."
How would you describe your music and which bands would you compare yourself with?
"I think baroque psychpop is a fair description although there are also elements of dark folk and goth rock and even occasionally prog, although I don't go in for 20 minute keyboard solos! But I grew up with Yes and early King Crimson and would like to think that the quality of the music I make and the literary character of the lyrics qualifies a lot of it as progressive in the truest sense of the term.
I have been compared with Syd Barrett and Al Stewart, but I don't see myself as a singer-songwriter in the traditional sense. Most of my albums have myself and my band supplemented by classical strings, woodwind, harpsichord and the occasional mellotron.I think early T.Rex combined with early King Crimson and a touch of sixties band the Left Banke might be a fair summing up of my sound."
How is your creative processes from coming up with an idea to it's being recorded?
"I used to be inspired by reading something (sometimes just holding a book was enough), watching a movie or hearing another artist's song and wanting to use that rhythm or 'feel' or theme in my own song. I'd sit and play the acoustic guitar and sing the first thing that popped out and if that was strong with just an acoustic guitar accompaniment then it would pass my 'old grey whistle test'. But now I tend to use a drum pattern to stimulate ideas. I play along with each drum pattern in turn, working patiently and methodically through the bank of styles in turn and find that I write things that I wouldn't have written if I had relied on my own internal rhythms which tended to be typically 4/4 and 2/4 and occasionally 3/4. But after I've been through all the patterns and feel that I have exhausted every possibility, I'll finish by listening to other artist's songs in the style that I would like to mimic and see what that inspires. Then I'll be hyper critical of all the ideas and raw material that I have taped and delete anything that is too conventional or obvious. Finally, I'll go through what is left and see if I can put together the best bits with a similar rhythm to make one stronger song rather than two separate songs. That's one of my trade secrets – putting two or more songs together so that each part (Verse, Chorus, Middle 8 and Coda) is equally appealing."
What have you been up to since the release of Grimm? What is your current status and what is your plans for this year and beyond? What is your own book release plans for 2012 and beyond?
"I wrote an album's worth of Voodoo chants earlier this year (2011) to create a new soundtrack for the early Bela Lugosi film 'White Zombie' and I have now sent the best of these to a composer in Italy who has offered to collaborate with me on this project. Creating those chants was an amazing experience for me as I conjured them up like a shaman without a musical instrument to accompany me, just listening to a tribal percussion pattern and opening up to the spirit that moved me. I realised at the end that this would have been the way our ancestors created their ritual songs and the earliest form of music before the invention of chromatic harmony and stringed instruments. It was very powerful and exhilarating writing like that, but these are not songs in the conventional sense with lyrics, so we will have to see if they can be worked into listenable pieces or whether they are merely atmospheric chants to accompany scenes in the film.
I have also been finishing a new batch of songs which were originally intended to be recorded with several members of The Velvet Underground who had agreed to work with me around the time they released 'VU', but which we didn't get around to recording as I 'retired' shortly after and put the project in a drawer.
And I have recently been asked to write songs for a Brazilian thrash metal band(!) who like my music. So that should be a lot of fun especially as I am now going to work with my youngest son Joshua who is a pretty good bass player and well into that style of music.
I must also find time to finish retouching the next re-issue which will be both 'Sarabande' and 'Roaring Boys' on one CD with five previously unreleased songs to replace the two cover versions and three weaker originals on the original releases. The reissue will be a real 'Director's Cut' and will make those albums much stronger.
Book wise, there might be a sequel of sorts to 'Nazis and the Occult' exploring some of the more outrageous ideas (Nazi UFOs for example!) and a book on the KGB."
There are a lot of us here in PA who want to become authors. Most of our users are bitter, frustrated wanna be million selling authors & respected pillars of the society. What is your advice to all budding authors from writing to getting published?
"I think my best advice would be to read what I said about this on my author site www.paulroland.net
In a nutshell, the best advice I can give is to relax into a receptive frame of mind and write the first interesting thing that comes into your mind then just follow that as if it was a trail through the forest and don't analyse or worry about what you are writing, but just keep going until you are physically exhausted and need to take a break. But then don't read what you have written. At the next session simply pick up the story where you left off and keep going. The worst thing you can do is analyse and edit before the whole story is finished. Don't worry about plot, just follow your intuition. Trust it to take you on an interesting journey. You just keep your hands on the steering wheel and enjoy the ride. The same applies whether you are writing fiction or non fiction, lyrics, criticism or poetry. But obviously with reviews or nonfiction you have to read the source material first and then find a hook that initiates your journey. If it feels like work, then you are doing something wrong."
To wrap up this interview, is there anything you want to add to this interview?
"Only to thank you for your interest and the opportunity to address your fellow connoisseurs of class rock music."
Thank you to Paul Roland for this interview

His PA profile is here and his homepage here