Legendary Swedish heavy-progressive who released 6 albums between 1974 and 1992 (plus a retrospective in 1996) and who plan to release a new album in fall 2003. However, the only addition to the normal guitar, bass and drums instrumentation is some mellotron here and there. It´s musical excellence with plenty of extended gratuitous guitar jams and very intricate lyrics. I´d like to recommend this band to everyone but since the lyrics are in swedish and such a big part of the music perhaps some might not understand it. In several ways, TRETTIOARIGA KRIGET ("The 30-year War" in English) can be compare to ANGLAGARD and LANDBERK to sense their influence.
I got in touch with Stefan and here is their story.
###################################################################################
Your biography has been covered in your ProgArchives profile so let's bypass the biography details. But which bands were you influenced by and why did you choose that name and which war does your band name refers to ?

Founder guitarist, Pocke Öhrström, and I were in the same class in high school. After a history lesson covering Trettioåriga kriget(Thirty Years War) we both found that this name was perfect for the band. The reason was that it sounded both powerful and Swedish. Which is how we wanted the band to sound. It took some time to convince the other members but in the end they agreed. Trettioåriga kriget was big war in Europe in the 17th century when Sweden was at it´s height of European power having a large portion of Europe under it´s control. Of course that war meant that Sweden lost lot of it´s control but that´s another story…

From the start I would say that we were heavily influenced by the obscure American proto-prog band "Touch" and King Crimson´s first album. But also by Deep Purple, Pink Floyd and to some extent some American west coast bands like the "Grateful Dead" and "Mothers of Invention". Both of those bands had two drummers which we used in our first lineup.

When you appeared onto the scene, the music scene in Sweden was sharply divided into the progg movement around MNW/Hoola Bandoola Band and the commercial folkpark and the ABBA scene. Where did you fit into this picture ?

The Swedish progg movement should not be mixed up with the international prog movement with one g!! The Swedish progg movement was heavy politicized and didn´t have so much to do with with expanding and developing music though it started in the late sixties with more musical bands like "Hansson & Karlsson", "Mecki Mark Men" "Träd, Gräs och Stenar". In the 70s though it got very dogmatic criticizing bands like us and Kaipa for putting too much emphasis on the music and having too poetic lyrics!! It´s almost unbelievable now how it could be like this!
We were in a way in the middle of these two movements. Or maybe didn´t belong to any of them. We were of course recording on a big multinational record label (Sony) but on the other hand shared some of the values of the progg movement.
We played gigs both in the more commercial Folkparks and discos but also on the more non-commercial progg venues often called "Musikforum". Though some of these venues banned us for not being political enough in our lyrics!!!

This is an archive based interview also intended for the fans you get well after both you and I have passed away so let's go straight to your albums. Please tell us more about.....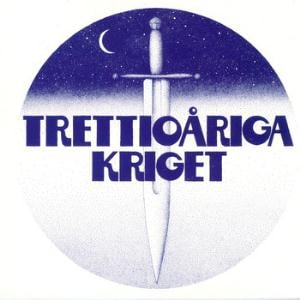 Trettioåriga Kriget from 1974

As with many debutalbums the songs had been played and tested live before the recording many times except for the second track "Röster från minus till plus" which I and Olle wroite just before the recording sessions because we didn´t have enough material. We had signed with CBS (now Sony) and they provided us with a producer who we all felt was not necessary but more in the way. The first and last time we used a producer. The album was very well received and gave us the opportunity to start touring in Scandinavia. I think it has stood the test time of time very well and I still like it except for maybe the bad sound and production. Some critics has named it the first Swedish hard rock or progmetal album!!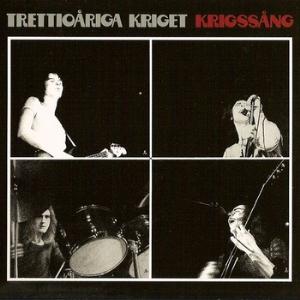 Krigssång from 1976

By many regarded as our "masterpiece". It contains what I regard as mine and TKs best song "Krigssång". Covered by among others the Swedish prog band "Änglagård". A few months before the recording was due to start only half of of the album was written. I remember getting the idea of the long suite "Krigssång II" and working very hard with writing it in the months before the recording was due to start..
The recording went very smoothly. We recorded in the summer and it was very hot in Stockholm I remember.
The album holds up very very well today and still sounds incredibly good which has to be credited to our engineer, Peter In de Betou". This was the first album that reached beyond Sweden and was released in England where it got a super review in Melody Maker, the number one music paper in the 70s. Later I also learned that it was played on American college radio to some extent. Something we knew nothing about in the 70s!!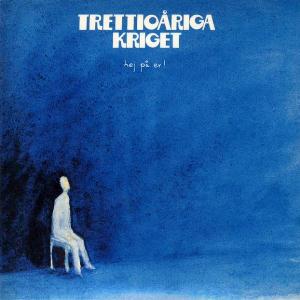 Hej På Er from 1978

End of 1976 we were back home from a highly successful English tour only to find we we got the boot from CBS. So suddenly we were with out record deal In the end we signed with a small Swedish indie label, "Mistlur".
Recording took place in the summer of 1978 in our rehearsal room in Saltsjöbaden using a mobile recording equipment/bus. The songs on this album were shorter since I felt I could not go any further with long songs after "Krigssång II".
It contains many live favorites like "En kväll hos X", "Hej på er", "Dagspress" and the two instrumentals "Moln på marken" and "Andra sidan" which recently has been sampled by American hip hop artist "DJ Shadow" with our permission,.
The titletrack also almost made it into the Swedish Top Ten which felt unreal at the time.
Also our best selling album in the 70s.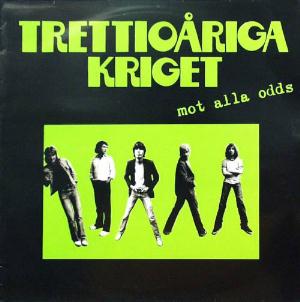 Mot Alla Odds from 1979

In my view almost a complete failure. Some fractions inside the band wanted a more "new wave" approach which I and Chris strongly opposed. I was also opposed to the "democratic" idea that all of the others should get one song each on the album
no matter the quality.
I have to admit though that also many of my songs are not up to standard. The album does not sound good either. Badly produced.
Hardly any overdubs on it. I remember we used one week only to get the drum sound right….I think the album sounds dated and the songwriting is below standard.. In my view the worst album from TK and one which I deeply regret.
Even the cover is awful since Johan (TK artwork) was having a depression and could´t do it.
To our defense it could be added that the record label after the success with "Hej på er" was pushing us very much for a quick follow up. To which we obviously were not ready only a year after "Hej på er" was recorded.
It contains a few good tracks though like "Hur står det till" and the title track.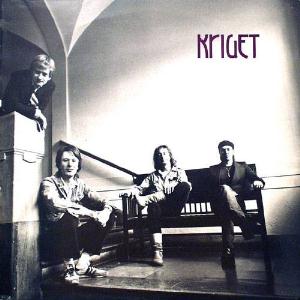 Kriget from 1981

After the "Mot alla odds" tour spirit int the band was low. The tour saw audiences getting smaller and the album was poorly received. During a band meeting Robert decided he wanted to leave. This meant I had to take over all the vocals for the forthcoming album "Kriget". By no means a perfect album but still a kind of back to form album..
Contains some very strong songs like "Europa" and "Som förut" which we have been playing live even recently.
Though by some strange reason two of the best songs "Om Kriget kommer" and "Höghus" were left out of the album.
Though later released on the compilation "War memories".

Then you took a very long break. Why this long break and what were the band members up to during this break ?

In 1981 after the "Kriget" album tour we actually split. Dag didn´t wanna continue and the rest of us felt we couldn´t continue without him being a founder member. The last tour didn´t feel so good either and I think basically we had run out of steam after a very intense 7 years with extensive touring and five albums.
During the break I released a solo album and some singles under the name "Fredin Comp".
Dag worked a lot in his studio both as an engineer and producer for many Swedish artists.
Chris recorded a single with a group called "George T. Rolin Band" and also toured with them. Then of course he stopped playing for some years devoting his time to computers,
Robert made an album with Roine Stolt from Kaipa called "Fantasia". Then formed his own cover band..
Mats formed a duo with founder TK guitarist Pocke Öhrstöm called "Tredje Mannen". They released 3 albums and toured Sweden during the 80s.
I cannot give the reason for the long break really. There were discussions during the years obviously.
One big reason for not reforming earlier of course was that Chris had stopped playing for some years.

You returned again around the new millenium. Why did you reform again and how was it to get together again ?

It was a gradual process. In 1992 to coincide with the release of "Krigssång" on CD, I, Dag and Robert did and acoustic gig in Stockholm. Chris had not started playing again then so Reine Fiske (Landberk, Dungen) was sitting in for him.
In 1996 we did 2 reunion shows in Sweden but did not follow them up.
In 2001 I, Dag and Chris started to rehearse again trying our new material thinking we we could could use one or two new songs on a forthcoming compilation album. Then of course finding out that we actually were working on a new TK album.
In the studio we of course called Robert and Mats in again.

Over to the new albums again. Please tell us more about...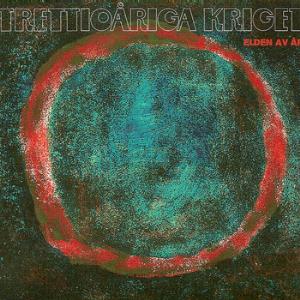 Elden Av År from 2004


Originally we were only intending to record two songs for a compilation album but in the studio found out that we actually were working on a new album. Especially since we found a few unfinished songs from the 70s which we completed and recorded again (the "Elden av år suite).
The main songs like "Lång historiia, "Ljuset" and Gnistor were written during the recording of the album though. I think I have to mention Johan Gullbergs fantasic cover too which really reflects the mood of the music and time.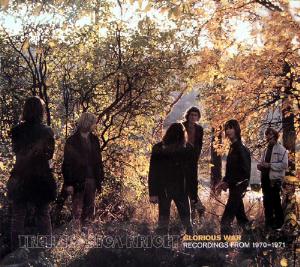 Glorious War from 2004

Recorded in 1970- 71 by the original line up of TK but not released until 2004.
We actually didn´t do any editing or change in the original master, except for the usual mastering of course.
Despite it´s flaws I think the album has a strong atmosphere all the way through.
I also have to credit Stefan Dimle on Mellotronen for convincing us to release the album.
We were very sceptic in the beginning feeling the album was not up to standard. I mean…. we were only between 16- 18 years old when we did the album on a 2-track Revox recorder.
Now I feel of course that we took the right decision to release it.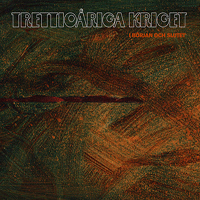 I Början Och Slutet from 2007

I wanted to do a concept album with shorter tracks/songs linked together by common atmosphere both in music and lyric. Olle agreed on the idea since we had never tried this format before.
We worked a lot really on the songwriting and getting the flow and atmosphere right.
I personally think it´s a very strong TK album including 2 of our best songs ever; "Benke" and the title track"I början och slutet".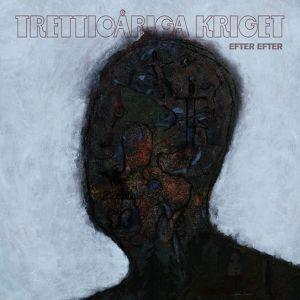 And your new album Efter Efter

The third and last album in the trilogy starting with "Elden av år" and "I början och slutet"
Not a concept album like "I början och slutet" but more 8 different songs forming an unity.
It´s also nice that both Dag and Chris for the first time since the 70s each contributed a new song. I think it contains some strong tracks like "Barnet" and the instrumental "The Dance", though maybe the album still is too new to have the right perspective on it.

How would you describe your music and which bands would you compare yourself with ?

Difficult….of course it is progressive rock…maybe with a heavy edge. Sometimes you could say it´s prog- metal.
The bands that influenced us in the beginning were bands like King Crimson, Pink Floyd, Led Zeppelin, Deep Purple, Yes but also for me earlier American psychedelic bands like Jefferson Airplane, Love, Grateful Dead, Spirit, Moby Grape , Touch, Doors, Frank Zappa etc.

Your vocals are in Swedish. It seems to be a bias towards English and US bands in the scene now. Do you feel that the Swedish lyrics and your nationality been a problem for your career or has it been an advantage for you ? How difficult is it for a non English/US band to break into the scene ?

Being a Swedish or a non English/ US band is clearly a disadvantage in terms of reaching an audience, Singing in Swedish is of of course also a minus factor though I personally prefer bands singing in their mother tongue than in some bad English, Being progressive rock of course also means that a lot of the music is instrumental anyway. We also have English translations of the lyrics in the covers of our albums.
But it´s also that the English and US bands have all this music business infrastructure built up during decades. If you make it big in US/ UK you make it big all over the world. This is not the case if you make it in Sweden or Romania or whatever….this is not fair of course.It also means that a lot of great music gets lost to a wider audience. In the progressive world right now I think many European bands are much more interesting than their English counterparts. Bands like "Lazuli" (France), "After Crying" (Hungary) and "Kotebel" (Spain) decerves much bigger attention I think.
For us having toured UK in the 70s and having especially the "Krigssång" album being played on US college radio in the 70s it has not been so much of a problem. We have played several times in the US in the last 6 years and have many fans both in the UK and especially US.



How is the creative processes in your band from coming up with an idea to it's being recorded ?

Being the main songwriter I usually present a song or an idea to Olle (lyricist). If he gets off on the idea and the melody he takes it home to work on the lyric. It can happen that I get the lyric first but most often I present the music first.
I then take the song to the band who comes up with suggestions for arrangements.
When we rehearse new material it´s only myself, Dag and Chris present (guitar, bass and drums).
Robert and Mats comes in at later stage when we have done the basic arranging/ recording.

What is your current status and what is your plans for this year and beyond ?

2011 has been very intense with both a new album and doing shows in different parts of the world. At the moment (January 2012) we are having a break.
In the pipeline for 2012 is probably some shows in the fall which yet has to be confirmed.
We are also planning a DVD though it will not be released until 2013/14.
2014 is the 40th anniversary of our selftitled debutalbum so we hope to do some special things during that year. And who knows….maybe a new album further down the line……
I am also planning a soloalbum for release sometime 2012/13.

To wrap up this interview, is there anything you want to add to this interview ?

I wanna thank all our fans and friends around the world for the fantastic support through the years!! This has meant everything to us!!!
When we started recording "Elden av år" in 2003 we honestly didn´t know if anyone would
be interested . But this trip through the years with TK has been really amazing and
especially this last part after the reunion. Thanks so much all of you!

Thank you to Stefan for this interview

Their PA profile is here and their homepage is here



Edited by toroddfuglesteg - January 07 2012 at 12:54