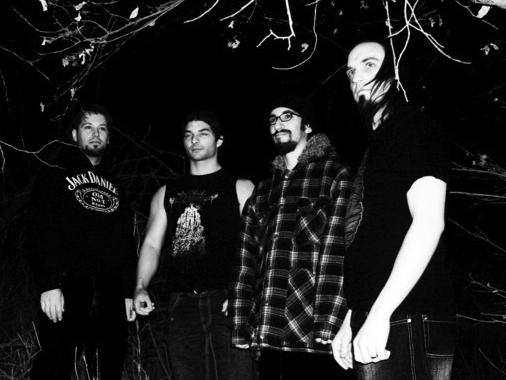 The Reptilians are:
Viktor "Bob" Wilt: Guitars/Vocals
Steve "Jesus" McMichael: Drums/Percussion
Joey "The Hulk" Labato: Lead Guitars
Chet "305" Lanes: Basses

The Reptilians are a quirky American post-metal band from Idaho. Although Isis may be the first thing people think of when hearing this group, there are liberal portions of humour a la Residents or Frank Zappa that gives this band a unique angle. I was able to catch up to frontman Viktor Wilt and drummer McMichael for a pretty off-the-wall interview. Enjoy!

First, what can you say about your band's name; The Reptilians? How did you choose such an interesting title?
Steve: It has to do with the "reptile" like alien race that have invaded dimensions.
Viktor: Yeah, back in the day I was heavily into conspiracy theories, reading a lot of books by David Icke and the name just clicked. It doesn't represent any part of our ideology or anything like that, it just works. We also liked the idea of having a classic band name that started with the word "The".
A question I ask everyone; how would you describe your sound to someone who has never heard you before?
Steve: The only way that we've accurately been able to describe our music is Applecore Meatal.
Viktor: There are definitely elements from many different influences, we tend to utilize a lot of weird time structures and about half of our songs are really long compositions. The names that seem to get dropped a lot when comparing our sound to well-known artists are bands like Isis, Mastodon, Tool and Opeth, though I think we do a good job of creating a unique sound that is our own.
Your sound crosses me as a mix of Isis and the tongue-in-cheek wit of The Residents. Do you feel that 'weirdness' or even humour is an important part of what you do?
Steve: Important no, fun as f**k, yes. To my knowledge I've never heard The Residents. But humour seems to work for us. Especially offensive humor. It might not work for the audience at times but it works for us.
Viktor: We've always had a bit of humor in our music, take a look at "The Taber Mallet Massacre" from another band some of our members are involved in called "Dr. Seuss is Dead". We don't really set out to do humorous things, they just seem to manifest during the writing process, most especially in the studio. Throwing in little funny bits to lighten the load between tracks and the like. We just entered The Aedicule Studio to begin tracking two new albums; one that will be more serious like The Mentalist, the other a much more light-hearted collection of songs with more humor than we've ever put into any of our previous material. One track in particular, "Britney Spears Sex Riot", has received a tremendous response from those who have heard it and is certainly our most humor-driven track to date. A big thanks to Chag Kroeger and modern pop-rock for all of the inspiration on that one, lol. I am a huge fan of standup comedy and I think when you listen to as much of it as I do you can't help but incorporate humor into any sort of creative work you have going on.
On your 2010 EP 'The Mentalist', you piece together a half hour composition. It makes me wonder; how is this music composed? Is there a particular method you use to get the music together and written?
Steve: The method we have used is pretty simple. Viktor comes up with the guitar riffage of one guitar usually 90% done. Then I just usually jam on it over and over and over till it clicks. Not all of it clicks at once though, so I'll keep creating new elements big or small as far as drums go anyway. The Hulk then learns the guitar part and makes his own 2nd part; the bass is kind of created as practicing goes along. Lyrics, if any, at somepoint come together.
Viktor: Steve nailed it pretty good. I work on the main structure of the song until I feel that we can run through it start to finish, then present it to him to start working on. A song like The Mentalist might take a year or more to compose, constantly being tweaked. That song was originally around 13 minutes in length but the new riffs I was coming up with at the time made a better addition to that track than as stand-alone songs so we incorporated them in. I certainly can't imagine the song any differently now. But we don't set out to write 26 minute songs, they just manifest sometimes.
Your music seems to be largely instrumental, and when there are vocals, they are often ambient. What do The Reptilians write lyrics about, are there any concepts behind your music?
Viktor: The lyrics are pretty much always the last part of the songs to come into play, if at all. As far as content they can be inspired by any number of things. A lot of what the lyrics are about come from the general feel of the song itself. The Britney song I mentioned earlier was written musically as a spoof on radio rock, so the lyrics were easily composed within that theme. Other songs have lyrically been inspired by psychedelic experiences, social issues, or simply inside jokes amongst our group of friends among other things. The Mentalist for example was a concept based the fact that no matter how much of a realist you consider youself to be, you likely still likely suffer from some type of delusion in life. But we can jump right from that to a newer track called "Trippel Jenkem Rainbow" which is inspired by a concotion of fermented sewage and various other internet memes.
The band's music is distributed via Spacnum Records, which is run by the band. What advantages (or disadvantages) does this provide you as a musician?
Steve: It allows us total freedom of where to market and distribute. We don't have to pay a big company any percentage of anything. We can also say who else gets to be on the label.
Viktor: It certainly allows us to release exactly what we want, and we can offer it free of charge to the world without having the worry of being under contract to repay a large debt. The disadvantages are basically not having the clout of a known label promoting your releases, making it difficult to get news out to large amounts of people. Many news sources don't seem interested in press releases from little-known acts or new independent labels, so it takes a lot of extra effort to get the word out to large numbers of listeners. Our best distribution networks are torrent sites like Demonoid, we upload our releases for download ourselves and certainly don't regret doing so. We are much more concerned with people getting to hear the music we create than making a profit from it, nice as that would be of course.
Any bands or artists you have been listening to lately?
Yob, Scale The Summit, Devin Townsend, Steven Wilson, Mastodon, Queens of the Stone Age, Elder, Cult of Luna, The Atomic Bitchwax, Dark Castle, Late of the Pier, Smashing Pumkins, Tool, Dax Riggs, Opeth, Psychedelic Sex Organ, Bjork, Mogwai, Isis, BoSoGa, Neckbrace.
What are your views on sites like Prog Archives, MetalMusicArchives, and legions of other user-run music sites out there on the web?
Steve: They are great. Most people can always use another avenue of exposure. It would be great if some of the bigger music industry peeps would promote these "little guys". I don't know how popular that activity is at the moment.
Viktor: They are certainly great to see and I've discovered a lot of great bands directly from user-created content on sites such as these. The underground seems to be booming with great new music and you don't see a lot of these bands like Elder being promoted on the bigger music sites, which is a shame. Also, with the decline of MySpace, and Facebook being such a poor platform for both finding and promoting new music I think listeners are going to sites like these and music blogs to find new bands.
Lastly, do you like cheeseburgers?
Viktor: We love the almighty beef and cheese. However it will take a lot of work to utilize that meme like we used to now that Devin Townsend has unleashed the greatest song about beef ever written, "Deconstruction". You just can't top that kind of masterpiece, even if we've been raving about beef and cheese for years!
Steve: Nom nom nom.