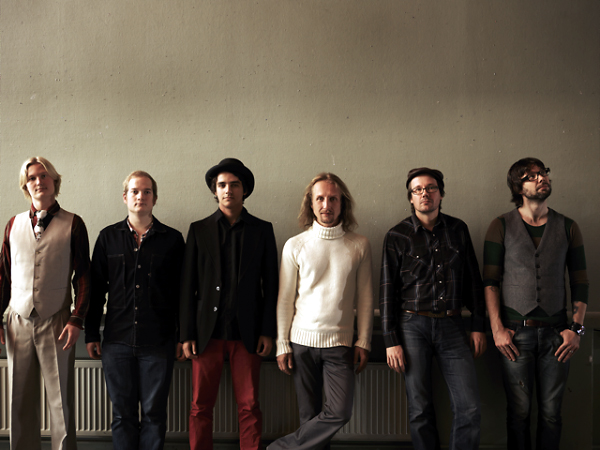 Finnish band CLUB MERANO was formed by veteran composer and musician Harpov around 2010, following years of tenures in bands exploring rather different subsets of rock music, progressive rock included. Along with his son Sebastian Bisso Mifflin (bass) and Jussi Jaakonaho (guitars), Sami Kuoppamäki (drums), Abdissa Assefa (percussion), Juuso Saarinen (organ, moog, piano) and Leevi Lydecken (trombone) a full album's worth of material is recorded on various locations around the globe, and in 2011 the final product is released as Club Merano's debut album High Road.
I got in touch with the band and Harri Väyrynen answered my questions.
########################################################################################
You have a long history in music before you started up Club Merano. Please tell us more about how it all started and what you have been up to before starting Club Merano.

In the early 80s my uncle showed me a couple of chords and I started playing guitar in the age of eleven. After exploring my parents vinyl albums I discovered Elvis Presley, The Beatles and other 50s and 60s music.
Pretty soon after that I got connected to classic rock bands and artists like Led Zeppelin, Jimi Hendrix, Black Sabbath, Rainbow, Deep Purple, Van Halen, etc.
I guess being an enthusiastic young musician the natural route after classic rock leads to
progressive rock and jazz-fusion while I was learning more about music and playing it. Legendary groups like Pink Floyd, Genesis, Yes, Rush, Kate Bush, Gentle Giant, PFM, Brand X, David Bowie, etc, are close to my heart as well are the masters of cinematic scores Ennio Morricone, Nino Rota, Kurt Weill and more...

The Finnish prog scene had a strong impact on me too with groups like Wigwam, Pekka Pohjola Group, Kingston Wall and Tasavallan Presidentti. Later on funk & soul stuff like Sly Stone, Stevie Wonder, Nina Simone, D' Angelo, etc. Nowadays, I enjoy all good stuff from Nat King Cole to Squarepusher, from Yma Sumac to Slayer, Sigur Ross to Tom Waits. All music, love & life is the source of inspiration.

In 1983 we formed a progressive rock band called Angel Dust with the drummer Sami
Kuoppamäki, guitarist Ezan Codio "Juju" Ecarè & keyboardist Leri Leskinen who are as well appearing on the Club Merano's High Road album. We played gigs in Finland and Denmark.
Unfortunately no recordings were done except a lo-fi live-recording C-cassette from Aalborgs Ungdomsringen Festival in Denmark.
Later on continued with Leri Leskinen in Mindhard group releasing the album "Drive".
In the early 90s Heads & Bodies group was formed together with my brother, bass player Mika "Palmeri" Väyrynen and cousin, guitarist producer Lacce "Accu" Väyrynen releasing an EP-"5 1/2" (1993) and the album "Greetings" (1995).
Heads & Bodies played in Sevilla, world expo ´92 and loads of steamy & funky club gigs in Finland & Europe.
In the 90s electronic music invasion took over Finland and the new technology changed music making. The tapes turned into softwares and we continued with my cousin Lacce creating the music for the electronic funk disco group ACCU, releasing 2 albums "Accu" & "Lasso" (Exogenic Breaks)
Performing in London Cargo club, Amsterdam Paradiso, Barcelona Sonar festival, Moscow and St.Petersburg, etc. Of course nothing can separate the family so ACCU & Heads & Bodies are still active behind the curtain recording new material.

Now that I look back in years progressive rock has been an influence in all the groups I have been involved with, even though the music styles vary greatly in these groups.
Club Merano was formed in 2010 together with my son Sebastian Bisso Mifflin while having a kind of a "reset retreat" in the Himalayan Mountains in Nepal.
We started to explore the ideas and compositions with sitar, tablas and acoustic guitars and found the connection.
We came back to Finland, built up a studio in an old pighouse of a countryside farm and started to record the tracks for the Club Merano´s High Road album with old reliable musician friends.

Why did you choose the Club Merano name for this band?


In those early teenage years when I started with music I used to often go to see movies in a
theatre called Merano, located in front of my family house in Helsinki. In there I had my first
audiovisual experiences experiencing all the classic movies like Pink Floyd The Wall, Clockwork Orange, Space Odyssey 2001 and so on for several times and through them the soul was filled up with sound & images. The theatre was closed in 1986 and after that having an idea to take over the place and turn it into a music club for innovative bands to perform. One night I had a dream of playing in that movie theatre with a psychedelic rock band, and the minute I woke up I knew the name for the band. Unfortunately the place is occupied for now by a real-estate dealer so we have to keep our Club Merano show as a "mobile event". Maybe one day we have an opportunity to perform in that beautiful Merano theatre.

Your son is also a member of Club Merano. How is it to be in a band with your son?

My son Sebastian has always been the greatest inspiration. I feel great joy and pride to be able to share the experience of creating together with him. There is a certain kind of deeper understanding between us that helps to keep it all clear and together. It´s been a trip and a pleasure to see the offspring learning all the instruments from bass, drums to guitar and now studying audio in Helsinki to become a producer.
We made the demos of the High Road album together when we didn´t have a drummer yet.
Sebastian played the drums on the album demos and we composed together the track no. 10 "Thamel" on the High Road album. It´s the vibe that was experienced on our trip to Nepal.
We are simply musician friends and collages in the band, and a father and a son at home base. Sharing the same passion.

How is the music scene in your area and where does your band fit into this scene?

Helsinki is a vivid music city. Finnish people are open minded to all kind of music even though the mainstream appears to be leaning on the metal & pop music side according to the albums sales.
However we have a strong culture of musicianship & art, and as long as the quality of performance is in proper form there is an audience for everything. There are no others exactly like Club Merano so we fit in very well for all scenes hungry for something little bit different.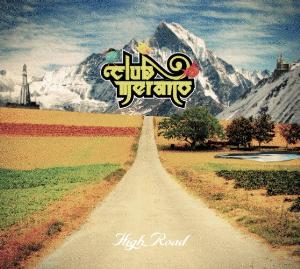 Your debut album High Road was released some time ago. Please tell us more about this album.

Club Merano High Road album has just recently been released in November 23rd, 2011 by
Exogenic Music Group.
Consisting in 11 tracks recorded & produced by me, Harpov, in Kirkkonummi by the lakeside in Finland, mixed by James Spectrum & mastered in Chartmakers, Helsinki by Svante Forsbäck.
Jussi Jaakonaho assisted in drum mic setups and recording the guitars.
The primary objective was to let the music happen by itself without any kind of analyzing or preplanning.
The aim was in the seventies sound with the songs i`ve been writing during the years.
There was a certain kind of energy present in the recording process and I felt being more like a vessel letting the stuff pour through and fall in it´s place. Allowing humor to be present in the making process is necessary because quite often music starts to sound and feel too serious specially in progressive rock if one "tries too much". On the album there are vibes from prog, psych, folk, country, rock, oriental, fusion, jazz, spagetti western, soul...the list goes on!
I wrote all the tracks partly in Finland, Portugal and Nepal, except track no. 10 "Thamel" together with my son.
For me and Sebastian it was important to find the right kind of musicians in the lineup like the guitarist Jussi Jaakonaho, rythmatists Mamba Assefa and Sami Kuoppamäki, Juuso Saarinen on keyboards and Leevi Lydecken on trombone to understand the 70s aim of the project and to create the right vibe and athmosphere for Club Merano music. As well the essential key was to get connected with James Spectrum (producer-recordmaker-popwizard of Pepe Deluxè) to mix the album in the right way, honoring the sound of the seventies and the original compositions.
Spectrum has a unique way of creating dimensions in the sound and he´s capable of bringing ancient elements in the updated form. A true wizard.
High Road album is a journey to the maker musical roots and the trip has just begun. Listen
without prejudice. Quality headphones recommended. Bon Voyage!

From where can this album be purchased?

You can find Club Merano`s High Road album from all the major online stores: cdon.com,
amazon.com, itunes, etc. plus of course you can order it straight from exogenic.com on our label´s Exogenic Music Group cybershop.

For those of us unfamiliar with your music; how would you describe your music?

Categorizing music is difficult and perhaps even unnecessery as music appears as constantly changing stream of energy and cannot be labeled as one style. Club Merano music is a combination of progressive rock & psychedelic pop with influences from oriental music and spaghetti western. Cinematic pop / crossover prog made with pure love and passion for music.

What have you been up to since the release of High Road, what is your current status and what is your plans for next year?

At the moment we are getting ready for the upcoming live shows in Helsinki, Finland. Planning for the music video and a vinyl special edition of High Road album to be released in spring 2012, as well as looking for cooperation and associates to help us get over the waters to be able to perform in mainland Europe and other countries all over the world. To connect with all the music lovers, generate and share the energy of music is our mission.

To wrap up this interview, is there anything you want to add to this interview?

2012 is the year of new beginning, a better world is manifesting for us all. Let´s share it together in peace, harmony and PROGRESS!
For more info: [email protected] http://www.facebook.com/clubmerano
Contact: clubmeranoband [@] gmail.com
Thank you to Harri Väyrynen for this interview
The PA profile is here and the homepage is here