Metal Mind Productions is proud to announce the exclusive reissue of "Garden of Unearthly Delights", the eighth studio album by the legendary doom metal band – Cathedral. Anyone who is even slightly familiar with the term "doom metal" must have heard about this group. Throughout the last 21 years, not only did Cathedral manage to forge a style of their own, but they also helped shape the entire doom metal scene, both in Europe and the US. This exclusive digipack reissue of the band's eighth opus brings back Cathedral at its finest, a truly exceptional album for all those enchanted by the heaviness and melancholy of doom metal...
Cathedral was founded in Coventry, England in 1989 after vocalist Lee Dorian (formerly performing with grindcore pioneers Napalm Death) met with bassist Mark "Griff" Griffiths (who at that time worked as a roadie for Carcass) and the two discussed their mutual love for doom acts such as Trouble, Pentagram, Candlemass and Witchfinder. After recruiting guitarists Garry "Gaz" Jennings and Adam Lehan (both ex-Acid Reign) and drummer Mike Smail, the group started working on their debut album – "Forest of Equilibrium" – which saw the light of day in 1991 via Earache Records. Throughout the following years the band released eight more albums along with six EPs and a live album called "Anniversary". "Garden of Unearthly Delights", Cathedral's eighth LP, hit the stores on September 26th, 2005. The album took the listeners by surprise, offering some of the harshest and heaviest songs ever composed by the band. Tracks like "Oro the Manslayer", "Tree of Life and Death" and "Upon Azrael's Wings" showcased attitude never heard in Cathedral's music before. Apart from the rougher cuts, "Garden of Unearthly Delights" brought also the trademark Cathedral sound in such songs as "North Berwick Witch Trials", the Sabbath-influenced instrumental "Fields of Zagara" or the nearly 27-minute epic title track (full of beautiful, melancholic passages coupled with brilliantly varied riffs). Cathedral released their ninth studio album entitled "The Guessing Game" in March, 2010. In February, 2011, the band announced that Cathedral's next album will be their last and that the group will disband in 2012 after releasing their final LP – "The Last Spire". As Lee Dorian explained: "It's simply time for us to bow out. Twenty one years is a very long time and it's almost a miracle that we managed to come this far!"
"Garden of Unearthly Delights" remains one of the most breathtaking doom metal releases of all times and definitely deserves a place among Cathedral's finest albums. This doom masterpiece is one psychedelic trip you don't want to miss out on! New digipak edition of the album is limited to numbered 2000 copies. The album is remastered using tube technology, digitally edited on a golden disc. The release date is scheduled for March, 6th in Europe and May, 8th in USA (via MVD).
Cathedral
The Garden of Unearthly Delights (remastered)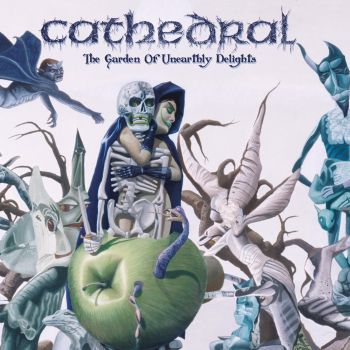 Label: Metal Mind Records
Cat. No.: MASS CD 1459 DG
Barcode: 5907785037403
Format: CD Digipak (limited edition of 2000 numbered copies)
Genre: Doom Metal
Release date: 06.03.2012 Europe / 08.05.2012 USA
Tracklist:
1. Dearth AD
2. Tree of Life & Death
3. North Berwick Witch Trials
4. Upon Azrael's Wings
5. Corpsecycle
6. Fields of Zagara
7. Oro the Manslayer
8. Beneath a Funeral Sun
9. The Garden