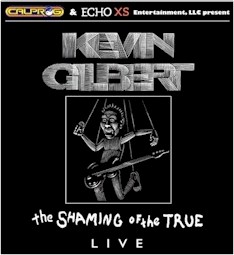 CalProg is honored to announce the only show of the epic rock opera by the brilliantly twisted late, great Kevin Gilbert called "The Shaming of the True". This full-scale theatrical production is being directed by Mark Hornsby (Rewiring Genesis) and Nick D'Virgilio who also is featured in the starring role as Johnny Virgil. The band is comprised of musicians that all performed with Kevin at some point in his career. They are:
Stan Cotey - Guitar (Giraffe)
Dave Kerzner - Keys (Thud)
Paul Ill - Bass (Kaviar)
Brian MacLeod - Drums - (Toy Matinee, Tuesday Night Music Club, Thud, Shaming, Kaviar)
Plus Special Surprise Guests
"Shaming" was something that Kevin worked on off and on for years throughout his career. NDV who had been intimately involved in many aspects of the project decided to complete it for him following his untimely tragic passing, and the finished product was this brilliant piece of work. It was performed live only once in 2002 at ProgWest. It had been recorded for a live release, but due to glitches in the recording it was never released. This time it will be recorded digitally for a DVD/CD production, and there will be no "glitches"!
Shaming of the True Live
Saturday June 2, 2012 - 8:00pm
The Shannon Center for the Performing Arts at Whittier College (seats 400)
Tickets on sale now only at http://www.calprog.com (do not call the theater)

THE STORY
The album follows the career of a singer/musician named Johnny Virgil, which follows an arc common to many big rock and roll bands/stars. It starts out promisingly, but he is lured into the common trap of record-company exploitation and seduced by fame and drugs/alcohol. He becomes more and more burned out and withdrawn as his career becomes larger than life, feeling like he's losing touch with his humanity, until the whole thing culminates in a breakdown. He goes through a period of disillusionment and depression but eventually makes peace with himself. A number of clues (last song title, lyric "End of a long days life," reprise of train whistle in distance, etc..) may also indicate that Johnny dies penniless on the street or takes his own life.
(Wikipedia)