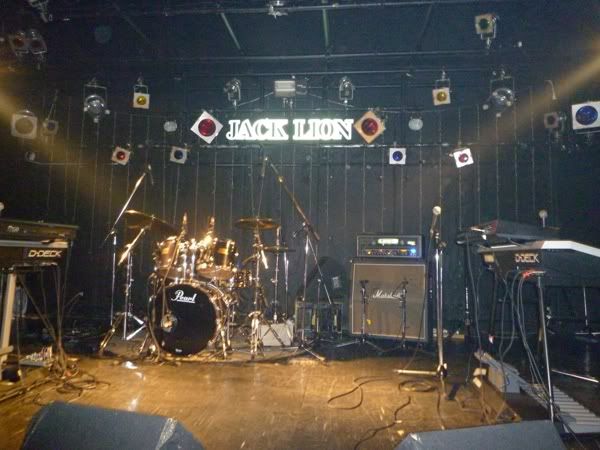 Ibaraki Jack Lion (Osaka, Japan)April 29, 2012
... It was a bit hot for the end of April indeed, but Ibaraki Jack Lion (Osaka, Japan) was much more filled with the audience and their hotter passion. Yes, lots of
Zonk Monk
freaks had been waiting for the moment they came in. (I was waiting for their stage with Takehiko Fukuda, the keyboardist of Djamra.)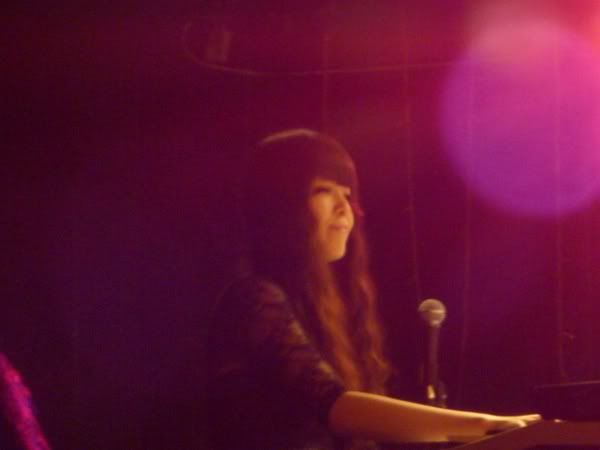 Ai OHNUMA (keyboards, bass pedals)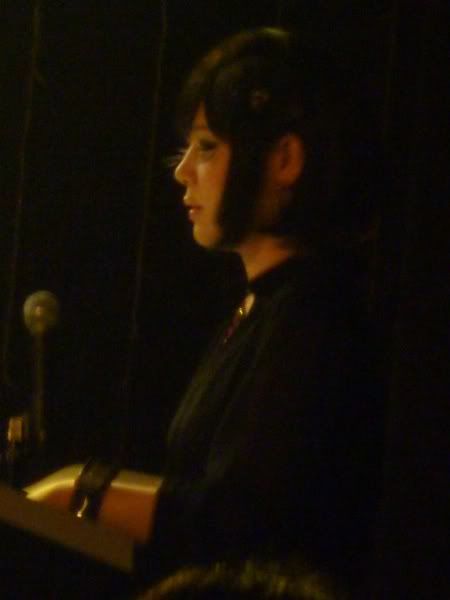 Shoko NAGASAKI (keyboards, bass pedals)
Keigo "Kegoi" TAKADA (drums, percussion)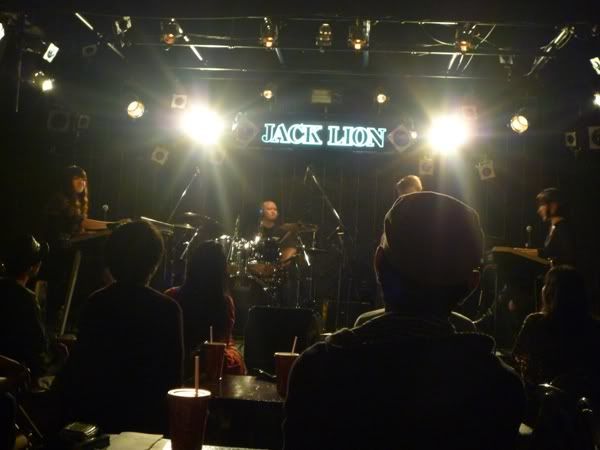 With a melodious, enthusiastic tune titled "Eclipse", they showed sound explosion finally.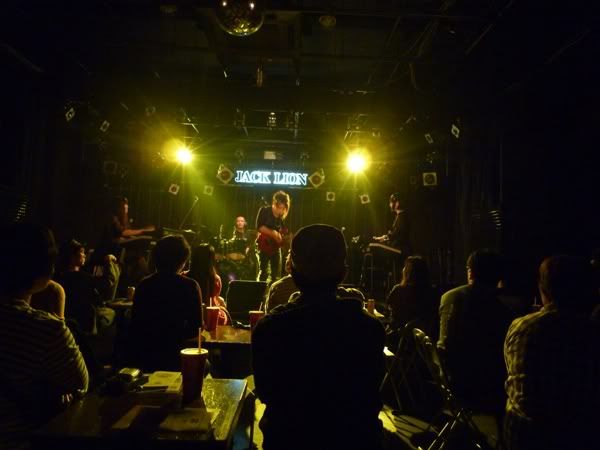 They launched every gem they had created intentionally for over three years, including all tracks in their first EP "Disorder".
(Shoko is cool and steady, sometimes explosive ... her eyelashes are "wings", recommended by Kiyomi Otaka ... oh pretty!)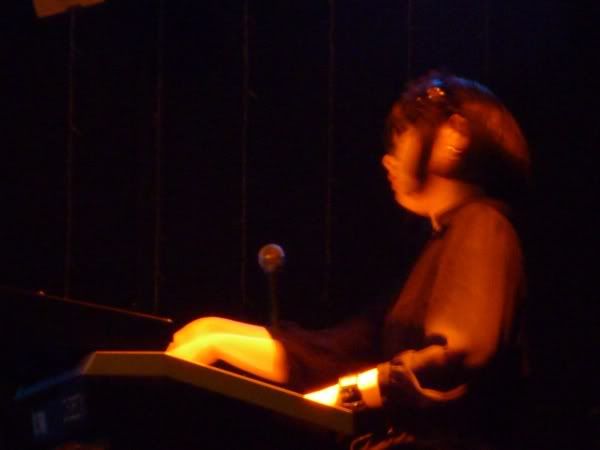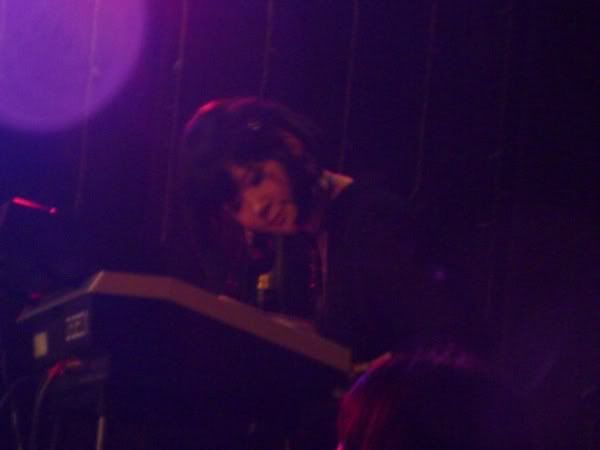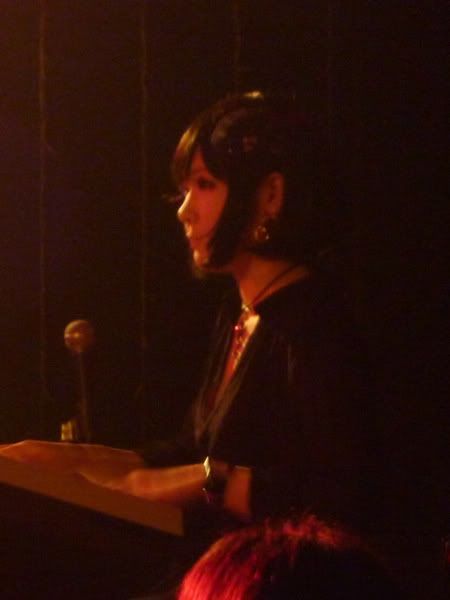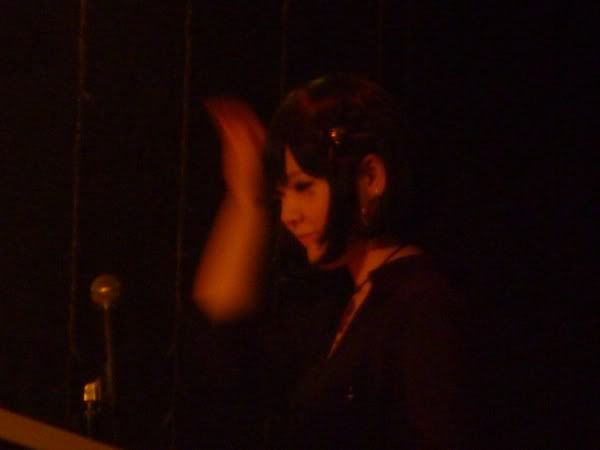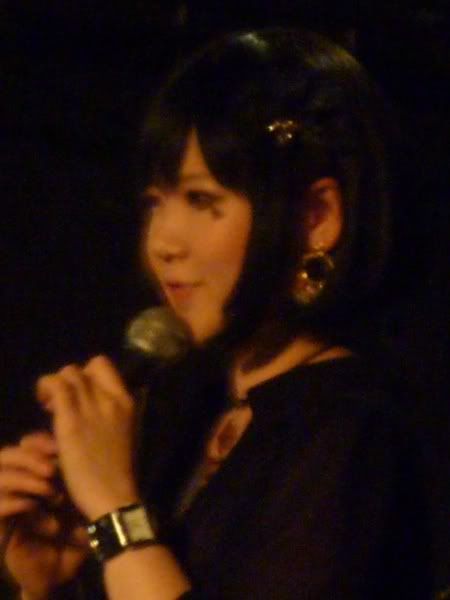 The three zonkers had usually completed their soundscape with strict riffs created by precise foot bass shots by two keyboard princesses plus Kegoi's heavy drumming, and amazingly a guitar darkkilla ISAO could season more and more sharp-edged / painful-burned spice with his loud, superb guitar sounds ... very cool really!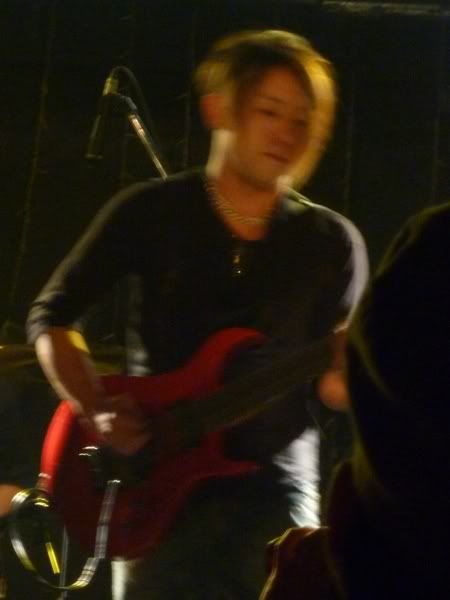 Isao FUJITA (guitars)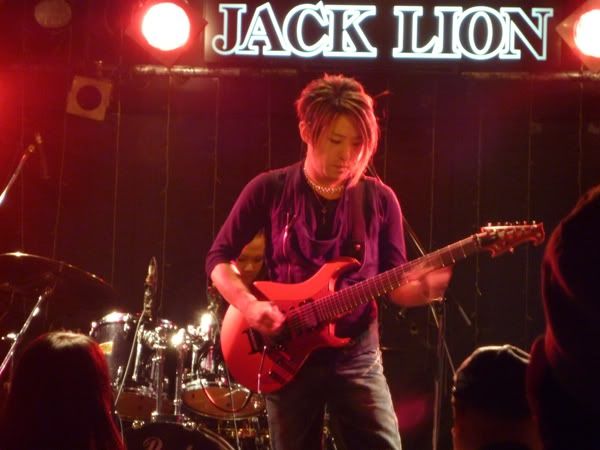 Cool indeed, as three zonkers say.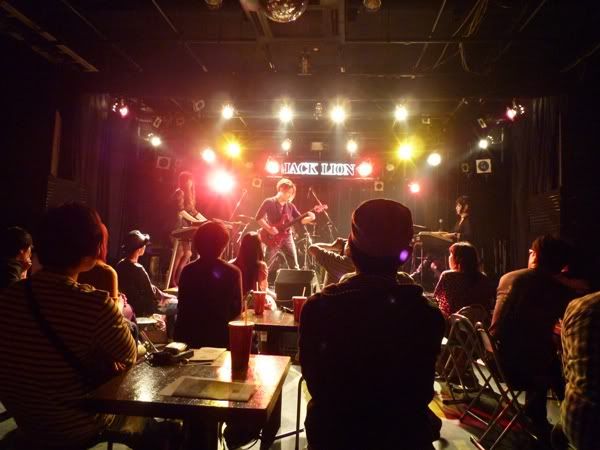 As usual, MCs of two mademoiselles were eccentrically progressive, and we heard something of manzai (Osakan skit) in talk battles between Kegoi and Isao ... very funny really. :P
Anyway, Ibaraki Jack Lion is Zonk Monk's homeground I've heard, and they played flexibly and yes, pleasantly there. Sadly Ainunn will leave Osaka for getting still more music skill and constructing her world up, but they could try "all the best" with their mate Isao.
(Ai is always enthusiastic and very attractive, look at her variety of appearance, and especially her legs (sorry Ainunn :P).)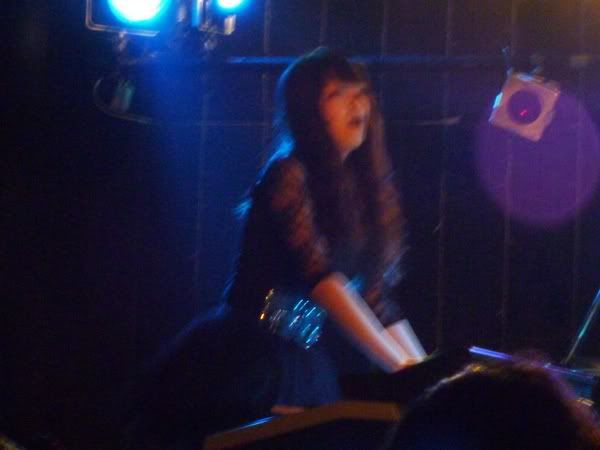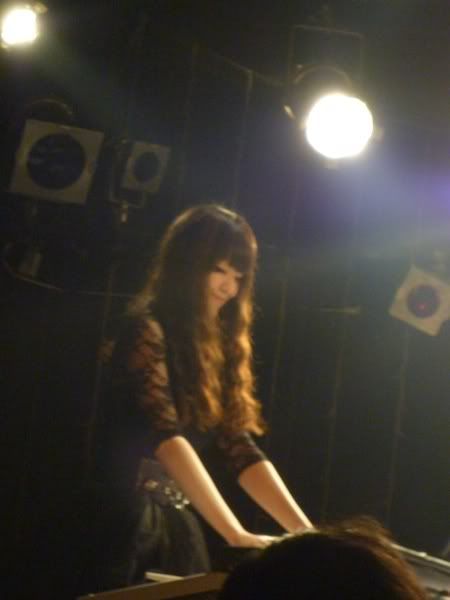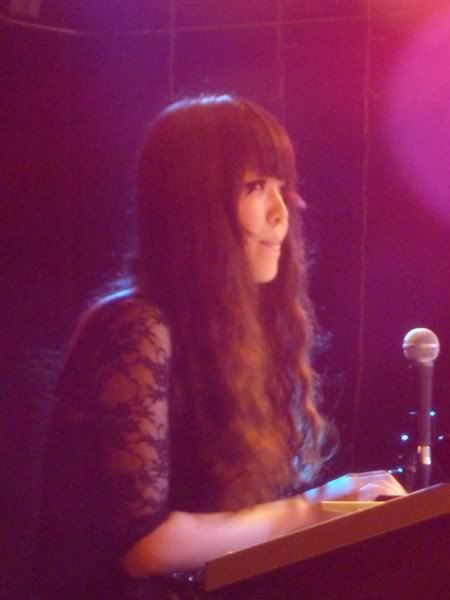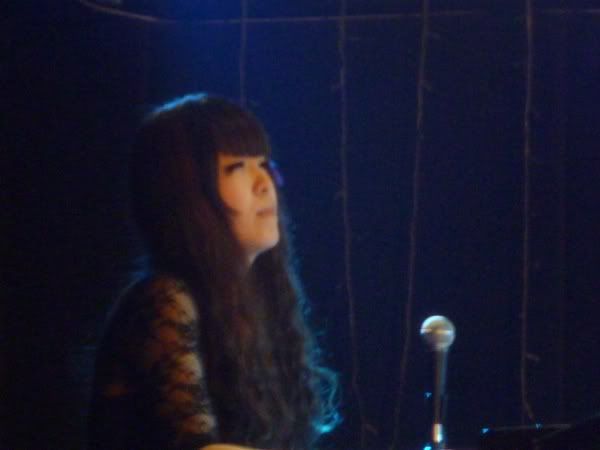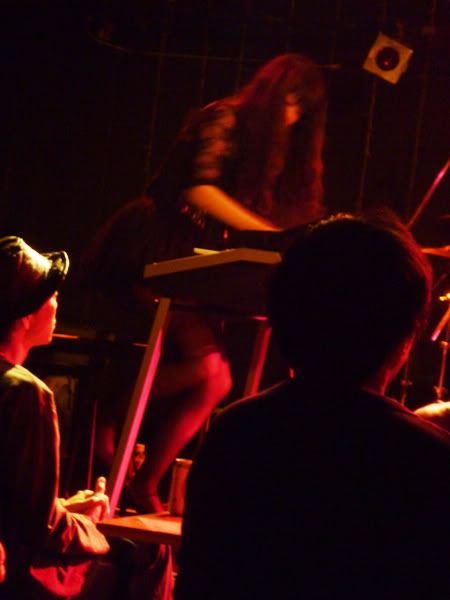 Ah yea, of course they will continue their activity also in future! Look at Kegoi's assertive appearance, and especially the beautiful keyboard sun and moon.
(Kegoi's powerful drumming was ... beyond expression and ... very influential upon "middle-aged" guys!)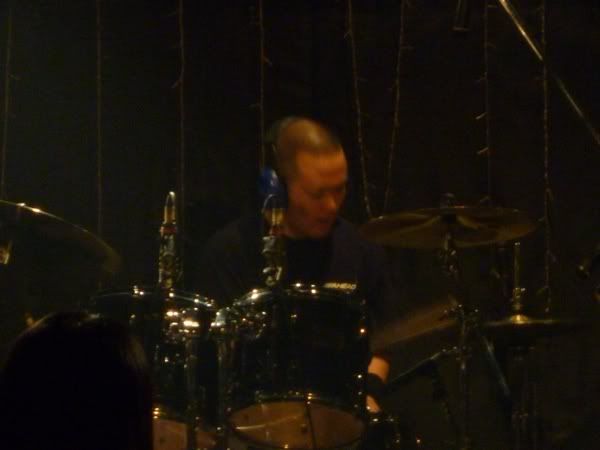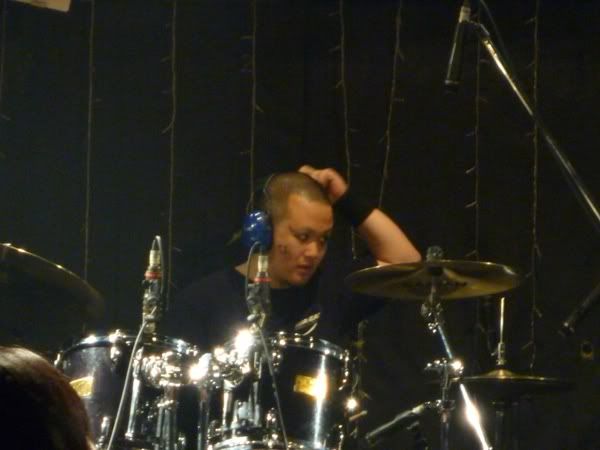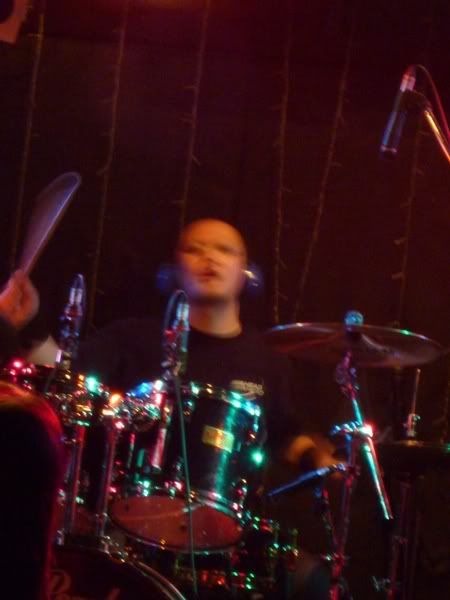 The last highlight, their masterpiece "Disorder", which Isao said that playing this tune is always his pleasure, could give us fantastic dream and brilliant future (despite of the song title).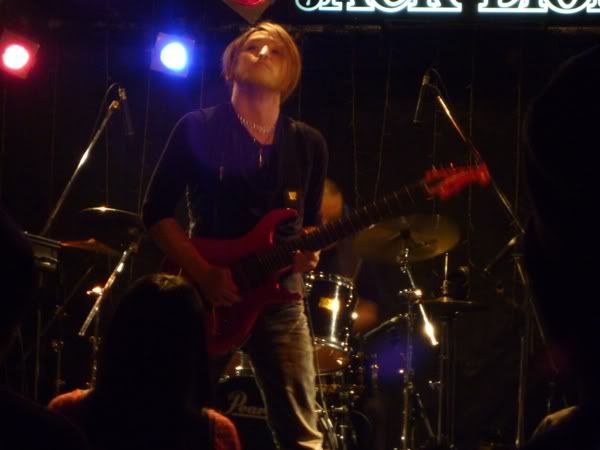 Upon encore, they played an insert song of an adventure game "Final Famtasy XIII", that I'd listened to in my first Zonk Monk gig ... one of my memorial songs of them, actually. All (not only ZM but also the audience) had got immersed deeply into Final Zonktasy World.
After the perfect gig, I could take pics with them (thanks to Takehiko for taking our pics, a happiness!) and get their signatures upon their EP sleeve (another happiness!). Thanks to Shoko, Ai, Kegoi, and Isao for your fantasia!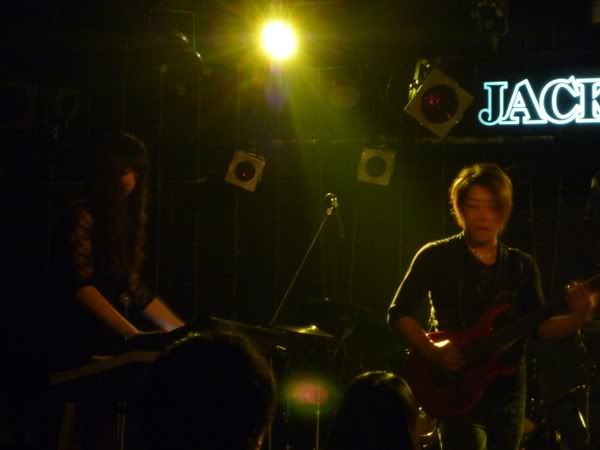 Ai and Isao ... dark king and angel exactly.
EDIT: They performed songs as follows on the stage (thanks to Ai for your providing the list);

1. Eclipse
2. U.T. - A Hole In Danger -
3. Kaleidoscope
4. Pudding Busters
5. Going Up
6. Cube-Ray
7. ISAO Solo
8. Into The Green World
9. The Burning Mission
10. Air
11. Gain The Day
12. Disorder - Out Of The Cosmos -
13. Clash On The Big Bridge (Encore)
Thank you for reading my live performance review of ZONK MONK w/ ISAO. ٩(̾●̮̮̃̾•̃̾)۶


Edited by DamoXt7942 - May 01 2012 at 08:57