Foxtrot (Eiving Fivelsdal) interview
by Torodd Fuglesteg
13/12/2010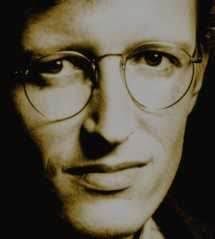 Just to kick things off, please tell us a bit more about your background and why you took up music.
I started out playing the piano at the age of six. My mother had bought us a piano, it started more or less with me crying out loud in demand of getting lessons as well as she. I did eventually regret it because I hate practising. However Ė after finishing high-school/upper secondary school I took a couple more extra years changing my topics from natural science into music. I graduated from ōstlandets musikkonservatorium with something that I think must be one of the very first exams on synthesizer in this country.
My first band experience I got when JÝrun BÝgeberg (bass player in various bands) talked me into joining him and Totto Hansen (drummer in various bands) as a band for a local T-sing choir (late 70ís). It was quite fun being an atheist in a setting like that. JÝrun and Totto left, and I took upon the responsibility of forming a new band for the choir before leaving it myself. At that point I had just started writing music. To cut a long story short, basically we liked my first prog-rock tune so much that we decided to form a band. This was later to be named
Scandinavia
Ė which at an even later point was renamed
Foxtrot
(due to the fact that a silent period had made way for a group playing Swedish country-dance music using that very same name). I didnít think of it as being much of a problem until later years. I simply cannot talk about my musical history without having to bring up that horrific band that plays music I loathe, due to the confusion with the band name.
Your name is not a household name (even in your own household

), but I recognise the bands you have played in. Please tell us more about your most well known bands Small Affairs and Yellow Pages.
After
Scandinavia
(our band) won the Oslo finals of the Norwegian Championship in Rock back in 1980 we got a record offer that I turned down. A decision I have regretted ever since. I thought something better would turn up. It didnít. I wanted to make records (thatís what we all wanted back then Ė and I reckon itís the same now, apart from the fact that there is no money left in the industry). We did a lot of nice gigging with Scandinavia, with quite elaborate shows using theatrics and various stage erections.
However Ė in 1985 I was asked to join an 80ís synth-pop band called
Boys Donít Cry
, with Giert Clausen and Svein Harfjeld. They offered a recording deal with EMI.
Boys Donít Cry
was changed into
Small Affairs
, when our first album was due to be released in 1986 (also to avoid name confusions with other bands). It was a fun period. We got into a lot of nice studios (including Ridge Farm, Surrey England) and the film director Hans Petter Moland made a nice video for us. I didnít write much music on that album, but my contribution
Good and Evil
made was released as the bands first single. A tune that was sort of like a cross over between progrock and synth-pop.
However, the second single
Starship
written by Giert Clausen made it into the charts. Itís a nice pop ballad and was also the tune we made the video for.
With
Small Affairs
we then made a second album. For me that was a very important album. I got more of my songs included, and we learned lots and lots about recording and studio tech during the production. We talked EMI into giving us the production money. For that money we bought more studio gear and turned Gierts flat into more of a studio than a home. Thing is, our new demos for that album actually sounded better than our earlier results from the overpriced studios we used for the first album. This mainly due to Giert and his growing skills on tweakiní audio.
I should also mention that even if EMI paid some for our first music video, we did also pay for it by making music and sound design for Norsk Film Studios. And Ė at the same time we got ourselves a portfolio we could use to get more commercial work. Our idea was to use the surplus from a commercial company to finance our own music productions. We founded Fersk Lyd AS (Ltd). A firm that exist to this date.
My old friend Giert Clausen is now a prominent producer, sound engineer and mastering-expert, with the studio Fersk Lyd as his base. As a part of the release of our second album
No reason to feel blue
we also went on a tour covering most parts of Norway. The band Giert Clausen, guitars and vocals, Svein Harfjeld (drums) and me on keyboards and vocals, was extended with the hired hands of Rolf Graf (Lava) on bass, and Erik Damsgaard on guitars. The album didnít sell very much, but not it wasnít all that bad either. Especially when compared to what albums sell these days. It contains songs that I still like. Among them,
Xmasgifts
Ė a rather bizarre tune about Christmas that originally was a 7/4 prog rock tune. The band werenít too keen on odd time signatures so it ended up in 4/4. On my site however, youíll find a demo of the song converted back to 7/4 and itís original pompous madness.
Before we started working on our third album (that was later to become
Yellow Pages
), we lost our drummer Svein Harfjeld to the shipping business. Eivind Aarseth who played most of the guitars at our second album suggested we tried out Hallgrim Bratberg for the guitars. Heís a skilled and prominent guitar player and absolutely added new things to our sound. The back bone of
Small Affairs
was still Giert and myself thoí. As time went by we discovered that our sound was becoming more mature, less of the 80ís synthpop Ė actually it had more references to 70ís pop (10CC/Wings etc.). We decided to re-brand our collaboration Ė and
Yellow Pages
was born, with the hit-single
Perfect Situation
topping the Norwegian radio play lists for several weeks during the summer of í93.
The catalyst for this interview is the band/project Foxtrot which released the A Shadow Of The Past album in 1990. Please tell us more about Foxtrot and this album, released on the small, legendary Pan record label.
The album was derived from a demo we made some years earlier. The demo itself was made possible when Harald Lytomt joined the band, some year or so before I left. Harald had a nice little studio in his barn (Flexy studio). We went there for some weekends (66 km outside Oslo), recorded and drank shedloads of beer. It was all fun. At the beginning of the synthpop/prog tune
The Crowd
Ė thereís a party. Actually itís the drummer Jan-HŚkon and me Ė some beer, and lots of overdubs. The yell that starts off the tune came out almost Pink Floydish.. Die-hard synth fanatics will like to know that the sequencer used on
The Crowd
is actually the rather quirky internal sequencer on the legendary PPG Wave 2.2 synthesizer.
Then Harald did some tweaks and most of his guitar work alone, later joined by the rest of the band for mixing it all down. The band used the demo also after I left, erm.. and at some point they were approached by this guy who owned the tiny Pan-label. He wanted to publish the demo as it were.
I didnít agree to it at first, but then again I didnít want to be an obstacle to my former bands success. I did however demand to write new lyrics for the title track Ė quite simply because Iíd originally used verses from Tolkien. I remembered talking to Anders Lind at Silence studios (Sweden), when making the first
Small Affairs
album. He had worked on Bo Hansson's
Lord of the Rings
-album and he told me that the Tolkien family was extremely difficult to deal with regarding use of Mr. Tolkiens work. There was no way Iíd get the necessary permissions to use those lyrics.
I solved the problem by writing new lyrics. Instead of the title track being a compressed version of LOTR, I tried to change it to a more narrative story about reading it. Itís not by far great lyrics, but they compute somehow. We went to Haralds studio and recorded new vocals. At the time I thought of my English as being above the Norwegian average. Later in life Iíve realized that I suck when it comes to writing English lyrics Ė Iím just as bad as the rest of us. Anyone who listens to
Here come the nuclear warheads
will hear that I sing ďHere comes!ĒÖ Pity really, I think the melody is a rather good one.
The only tune on the album that is
Foxtrot
Ė and not the old
Scandinavia
-tapes is
Monsoon
, an instrumental made on sequencers and synths by the drummer Jan-HŚkon Skarpsno. Itís also proof of his writing capabilities. I think itís a pity that he stopped making music when
Foxtrot
disbanded.
I never made any money on the album
Foxtrot
Ė A shadow of the past. Absolutely nothing. Still itís an album that has found its way all around the globe. I find it in online stores and downloadable via illegal hosting sites etc. I guess it lives its own life out there.
The cover art on the album is a short story in itself. Itís an old antique mirror weíve got in our living room. It didnít come out quite like I wanted it on the album, but Iíve kept on using bits and pieces of the ornaments for my website Ė and I will probably always use elements from that mirror on future work.
Is there any chance you will release a new Foxtrot album ?
I donít think so. The band is long gone. The first guitarist Werner Grini, Per Nordengen and I did however make a short appearance quite recently when Werner turned 50. With no drummer and bass player we ended up doing a small gig using computer for those parts. We also played
A shadow of the past
. I copied just about every drum hit on the original recording into MIDI. A true programming nightmare Ė especially the end. The first verses were rearranged with an emphasis on acoustic guitars. Thinking of the fact that the song was made as a demo Ė I think itís about time I finish it.
Iím not finished with making music. Iíve got material for at least one or two progrock albums. And Iíve promised myself that I will at least make one.
Your latest adventure into progressive rock, that I am aware of, is the
Shoplifter demo. Please tell us more about this demo and any other projects you are involved in.
Haha! The
Shoplifter
is a fun tune. Silly lyrics with an emphasis on humour. Something I often try to do. I got some help from a friend of mine in Great Britain for that one. He did a splendid job correcting my obvious mistakes and also had a few suggestions of his own.
Itís a demo by all means, recorded in a corner of my children's bedroom some years back. I think it was one of the first tunes I completed at home, doing every single bit of recording and mixing all by myself. The song itself was written in the mid 80ís, although I made some more elaborate soloing on the current demo-version. There is a an ARP-synth solo at itís mid that Iím pretty satisfied with. On that particular solo I also did some cross-hand playing on the synths in the background Ė a technique that opens up for quite interesting rhythms.
In addition to trying to complete some of my older progressive tunes, Iíve also written some new ones. I hope to be able to complete them soon. Releasing stuff is pretty easy and straight forward these days, so the pressure is on me completing the damn stuff. As for collaborating with others I will probably work some more with my old mates from way back. And there will also be some pop-music released. Iíve been recording some with
Small Affairs
during the last years, but hey Ė weíre not doing that on a full-time basis. Weíre having fun.
Iíve also been participating in some collaboration projects. One with friends from the old Computer music forum Ė we spent some two years writing a song using the internet. It turned out to be progrock meeting up with rap-music. I reckon my contribution pushed the tune very much into a Yes-type thingy. Itís available for free on my website. Iíve also released some with the Swedish analog synth-nerd email-group SAS. One of my tunes is present on one of their CDís.. This is the very same group of people that managed to invite Bob Moog for their dinner when he was in Stockholm to receive the Polar Music Prize.. Ė these are guys that really do know their electronics thoí. My synth tune
Geek Lullaby
is available for free on numerous sites. Google is yer friend Ė easy to find.
Quite a lot of time has been spent on working my way into the quirky corners of the pipe-organ. The instrument got me really interested some years ago, and to be able to play it properly at home Ė albeit in a digital form Ė I started building a large organ console. Itís not finished, but is now playable. I will make use of pipe-organ sounds in a lot of my forthcoming progressive music. I also found that I have to rearrange and rebuild my studio to make room for the thing. Hopefully I will be able to improve on my room acoustics during that very same process.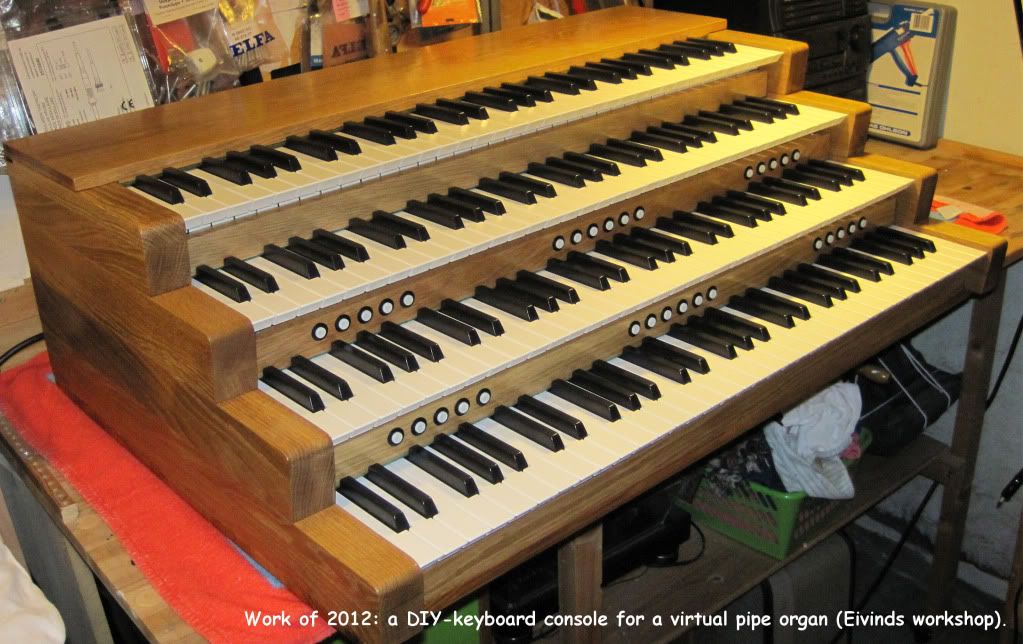 How is your writing and creative processes ?
The fact that Iíve got shedloads of material to finish Ė says the most I guess. Itís slow.. Getting ideas is easy Ė writing lyrics is hard. Recording, singing, mixing, playing and producing are the fun parts.
What are your plans for the next 12 months ?
I have no exact plans. But I think I will be able to release at least an EP, hopefully a whole album.
To wrap up this interview, is there anything you want to communicate to the followers of Prog Archives?
I have noticed that progressive rock is one the move again. A fact that I like a lot. I need that kinda push and inspiration to get my own projects back on track.
Foxtrot's PA page can be found here:
http://www.progarchives.com/artist.asp?id=1423


Edited by ExittheLemming - September 22 2012 at 01:38