I recently had the privilege of discovering the fine new album "Fanfare and fantasy" by Comedy of Errors . Jim Johnston of the band kindly agreed to the following exclusive interview for Progarchives. I am very grateful to Jim for his candid and informative responses.
PA - The new album "Fanfare and fantasy" was recently released and is already receiving positive feedback. Tell us a bit about the new album.
JJ - Encouraged by the response from 'Disobey', and with a lot of new material building up, 'Fanfare & Fantasy' was the next step in our 're-incarnation'. A lot had happened in my life personally and 'Fanfare & Fantasy' was in a large part an expression of this.
PA - What would you say are the main differences between the new album and the excellent "Disobey" released in 2011?
JJ - 'Disobey' has more 'unfinished business' from our first incarnation. In the intervening years the improvement and affordability in recording technology allowed us to realise sounds in a way we wouldn't have been able to do previously. Fanfare & Fantasy takes us as a band to where we are now and maybe points more to where we are going.
PA - The new album has a strong symphonic feel to it. Was this something you intended from the outset?
JJ - Never was the intent but the particular emotion expressed in the music and lyrics would always dictate the arrangement. I prefer music to have a strong narrative drive and try to avoid long passages of directionless meandering. That said, everything has it's place if it's appropriate to what you are trying to say.
PA - You wrote all the songs on the new album, how "complete" were they by the time you presented them to the band, and how much input did the other guys have to the final product?
JJ - The arrangement, structure and thematic material are usually in place and in demo form by the time the band gets to it. The parts I intend the rest of the band should play are usually on the demo in 'guide' form. Then after discussion and various trial takes , usually starting with drums, the nitpicking sessions start. As the guys stray in varying degrees from the guide I provide, I find that often that some bits have been much improved by their creative input (and some bits less so!) Together after much blood being spilled, we settle and agree on what is most effective (and practical) and can start building the recording. Sometimes as the recording takes shape I will tweak the arrangement a little here and there. I pre- mix the tracks and get it to a good balance with level adjustments and panning. Then Rob Aubrey of Aubitt studios works especially on drums and gets us to tidy up things before mastering various mixes which again are nitpicked to everyones satisfaction. The only cost is to our sanity.
PA - Presumably the material that appeared on "Disobey" was nurtured and accumulated over a number of years. Were all of the songs on "Fanfare and fantasy" written since "Disobey" was released, or do some go back before that?
JJ - Fanfare & Fantasy contains vastly more 'new' material written since Disobey but there are also bits of thematic material included which I had written much earlier, parts of which appeared in some unreleased songs. These earlier ideas have now been re-written and developed in other ways. I have piles of notes with musical ideas that I have built up over the years which I'll probably never use.
PA - You have released the new album independently of any record label support. What was the reasoning behind this? Can bands such as Comedy of Errors actually make a living from music these days, or is it more of a hobby supported by regular day jobs?
JJ - We don't have the luxury of a label to promote and finance the album for us. However doing it ourselves means I can write what I want and the band can retain creative control. That is worth more than anything. The internet has allowed us to gather together many friends from many countries, who are into our music, and who together comprise a considerable worldwide following. It has become very clear that followers of our type of music are more passionate about it than other genres. Music tends to be more an essential part of their lives. I am privileged to write music that may have more of an emotional impact for our listeners than others who may be more passive about it . I put every spare moment into it as do the rest of the band. We spend so much time and money on it that we certainly don't make a living at it. After an initial float, one album can serve to finance the next. We put everything into it, emotionally and irrespective of what we can afford, just to get it the way we want. So it is far more than a hobby.
PA - What are the logistics of touring in support of the new album?
We are still very much a 'live' band and are keen to tour the album. In our formative years we used to gig incessantly. We've rehearsed a set with songs off Disobey and Fanfare & Fantasy, and are looking forward to the coming gigs. I'm told things in the current financial climate are not so great for lesser-known bands on tour. However although venues are fewer these days, in the light of Fanfare & Fantasy's release we are being offered more gigs and festivals. . Currently we have the following booked but hope to include many more this year and into next.........
20 April 2013 - The Wesley Centre, Maltby, Nr Rotherham
Tickets are on sale now from the Classic Rock Society Website at £12 or £10 for members.
4 May 2013 - The Electric Garden Prog Festival 2013
Details TBD - Check Electric Garden Website for information as it becomes available
Also hoping to soon confirm a summer gig locally in Glasgow as we look to fill up our schedule.
Later in the year we are playing Sun 29th September 2013 't Blok – Nieuwerkerk a/d IJssel in the Netherlands. Around the same time we should confirm some more gigs in the Netherlands , Belgium and possibly Germany.
Should be able to confirm soon a UK festival in November. We'll keep things updated on our website comedyoferrors.org
PA - Looking more closely at the new album, the track "Time's motet and Galliard" combines an instrumental and a quasi-folk piece. The motet section is noted as being "after Talilis". Is this a tribute to Tallis, inspired by his music or based on a Tallis composition? Tell us a bit about how the "Galliard" part came about.
JJ - I have always been fascinated by renaissance polyphony. Thomas Tallis in particular wrote many beautiful motets and the motet in this track is a 'take' on one them using themes which appear in Spem in alium, a 40 part motet written around 1570. The Galliard is a pastiche on that type of 'dance' tune from the late renaissance. I like using the sort of chord progressions and syncopations they used in those days and giving it the 'COE' treatment.
PA - "The cause" appears to be a stark condemnation of religious intolerance, especially of the type that still blights the west of Scotland and Northern Ireland. The theme can of course be extended to religious bigotry the world over. Is this an issue you feel particularly strongly about?
JJ - 'The Cause' is a meditation on the same troubles which appear in different guises all over. The world is such an idiot.
PA - The three founding members (Joe, Jim and Mark) are playing and singing as if you have been performing regularly together for many years. Are you surprised at how well you have come together after such a long time and by the quality of music you are now making?
JJ - We all get on so well. With Bruce and now John , we all feel we have known each other for many years . A dry Glasgow sense of humour of the absurd has served us well. We also have a total lack of reserve in offering our opinion. A common interest and purpose in the music has forged a camaraderie in the blood spilled in recording an album !
PA - The sleeve image was conceived by yourself and realised by Joe James. Tell us a bit about the inspiration behind it.
JJ - At first , the graphic designer came up with many different sleeves all which would have served well for any album . The problem was that though the designs were all slick, polished and professional, they were empty of meaning for our specific album. The sleeve is such an important part of the creation that like the music and lyrics, the cover too should have a strong relevant unifying connection ( whether subliminal or otherwise) . Many hours were spent working on the symbolism, the colours and the layout just right. Everything on the album sleeve means something. For me what this album 'means' is too personal to go into in great detail here, but of course the whole point is that everyone can draw their own parallels and meaning of their own .
PA - John Fitzgerald is credited as contributing backing vocals. Tell us a bit about his place in the band now.
JJ - We had been helped out by Hew Montgomery playing bass for live gigs while we didn't yet have a bass player. Mark Spalding our lead guitarist had recorded bass on both the Disobey and Fanfare & Fantasy albums because John Fitzgerald had joined too late to do all but backing vocals for F&F . However on the vinyl edition, John plays bass on the bonus track, a new version of 'Time There Was'. He lives around the Glasgow area and being a great bass player and all round good chap he ticked all the boxes.
PA - I know you have misgivings about the the early albums credited to the band that appear on this site. Would you like to put the record straight about these albums? How do you feel now about the music they contain? Have you any thoughts about compiling some of them into an official release?
JJ - We had recorded some demos in the eighties......you know.... the ones done to fruitlessly send to record companies. Not great quality. We had then progressed to a vinyl minialbum to give us some 'credibility'. The master tape for this was lost. A French company ( I'm not sure if they are still in existence), cobbled together a release from these early cassette demos and a recorded tape made from playing the vinyl minialbum. Some nice wee melodic ideas are there but we certainly do not regard this as an official, sanctioned and authorised release. Still regard Disobey as our debut album and Fanfare & Fantasy as our second.
PA - What is the future for the band? Can we look forward to a third album in say another two years?
I would hope it would be sooner than that. I have gathered together a lot of material which will be the basis of the third album ,the centrepiece of which will be a very long epic track. It'll take a fair bit of working out and getting the band to work on it, but that's the best part of being in a band. Meanwhile we can't wait to get gigging and getting the word out about the new Fanfare & Fanfare album. The early reviews on Prog Archives have been better than we could ever have hoped and for that we are very grateful .
PA – Many thanks for a very interesting and informative interview Jim, good luck with the fine new album!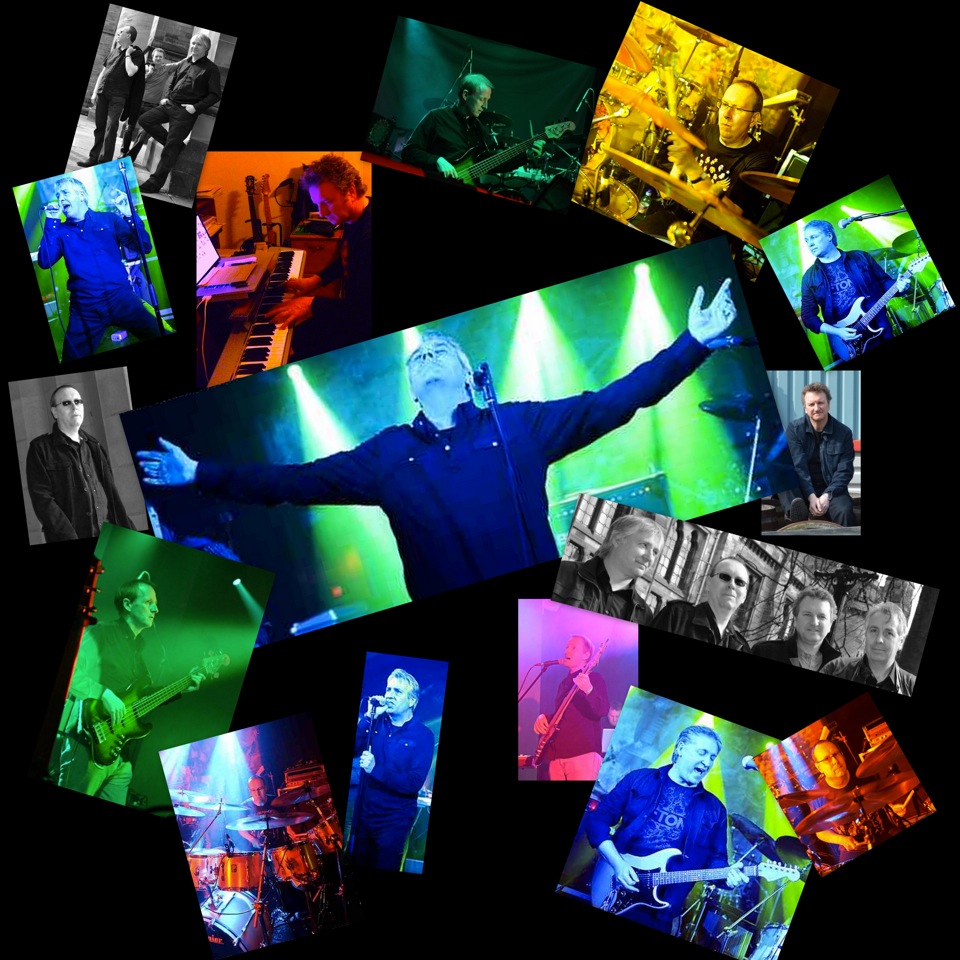 Photo collage created by Jim Johnston from photos taken by:
- All photos of John (bass player) are by Sam Holt.
- Black and White photos are by Steve Moffitt.
- All other colour photos are Billy Hepburn/MusicPro (UK)
Official website - http://comedyoferrors.org/
Interview by Bob McBeath (Easy livin), March 2013


Edited by Easy Livin - March 25 2013 at 04:29