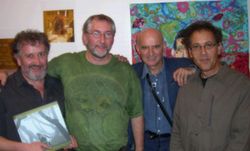 SEVEN REIZH, a French duo from Brittany. Claude Mignon (composer) and Gérard Le Dortz (writer) have been working for years to create this magic story. This album is a concept telling the story of a female stonecutter called Enora - who is able to instill life into the stone she uses to build cathedrals - and her journey to the city of Ys.

On "Strinkadenn", the music is an original blend of Symphonic Progressive and Gothic Rock with the elements of Celtic music. A bunch of famous musicians are to be found here, the Mevel brothers (Kad, Tri Yann) and a splendid female vocalist, Bleunwenn (Glaz, Tri-yann). Interestingly, the lyrics are sung in the rather obscure French Breton dialect.
I got in touch with the band for their story. Claude from the band answered in French and their answers was translated into English by Lucas.
###################################################################################


Your biography has been covered in your ProgArchives profile so let's bypass the biography details. But why did you choose that name and which bands were you influenced by ?

Seven Reizh is a pun in Breton, «seven» meaning «polite, suitable», and «reizh» meaning «correct, right», «equilateral» but also «sex»... Together it can be translated as «sexually correct» or «politely sexual» etc. But as you can imagine, this expression with different meanings allows for all euphemisms... «Strinkadenn» means splashes, spurting or ejaculation (!), etc. «Strinkadenn'Ys» is what remains to Enora after her dreams, splashes, scraps of what she would like her life tobe. Ys is the city of all harmonies, of all confluences, it is located in Brittany but it could be in Ecuador or in Japan... (There is obviously a sexual or psychoanalytical meaning behind all that... «Strinkadenn» can be understood differently, for desire or not at all...)

Of course, our music is crossed by many influences, even if I don't like this word, which meaning, to my mind, is too close to "submission" or "external pressure". I prefer the word «resonance» which, beyond its musical meaning, expresses best the link between what we receive from the outside and what we are in the inside... I would then say that the universality of Pink Floyd, the sensitivity of Andy Latimer, the magnificence of Genesis (before 1980), the positivity of Yes (also before1980...), the genius of Oldfield, but also the subtlety of Pat Metheny, the open-mindedness of Stivell, the chaos of King Crimson, the voices of Lorenna Mac Kennitt, Sinead O'Connor, Mary Fahl (October Project), Tori Amos or Kate Bush move me... Of course, the list is far from being exhaustive , because I could have added some classical music or many bands of the current so-called "progressive" scene... I first need to be moved emotionally by what I hear and I hope that those who listen to Strinkadenn will be as well... Fed with all these resonances and impregnated with the lyrics of Gérard, I could then compose the music of Strinkadenn. This story, given the emotions and the images that rise from it, allowed me to express myself like in the screenplay of a movie...

How was the music scene in your local area when you started ?

Stivell remains a reference to us (listening to Brian Boru or the Celtic Symphony is strongly recommended) and his approach as «citizen of the world» is also ours. We also appreciate a lot the musical opening of Denez Prigent, and the concert Live Holl a-gevret! or Sarac'h are true references. I don't believe that the Celtic scene is slowing down, it's probably just that the mass audience is less interested in it because trends come and go, but Brittany goes on its way with or without trends. There is a lot of excellent artists like Red Cardell, Soig Sibéril, who, by the way, is one of the best guitarists I know, often very close to Gordon Giltrap's play, whom some of you must know very well. Also other musicians like Didier Squiban or like Jacques Pellen who is very influenced by one of my other favourite guitarists, Pat Metheny. And then we love vocalists like Loreena Mac Kennitt if we want to cross the Manche...

As in the case of the music so-called progressive, I don't think the solution is to copy or follow an example. It happened too often in prog, all those bands that play again «Supper's Ready», maybe sometimes even better than the original, however never with the expected sales...I think it's important to try and develop one's own approach and improve continuously one's vision. But it's a vain wish, and certainly not that obvious when it comes to keep the pot boiling ! Many artists in Celtic or progressive music try obviously to marry both aspects : successful receipts and originality, but I don't have a solution. Regarding Seven Reizh it's more simple because we don't wait for success to live... However, we will quickly have to face reality, if one day we cannot sell our records. It's in fact the biggest danger that is watching out for us and that could prevent us from carrying on...

You are implementing traditional celtic folk music into your sound. But that is celtic music from Breton area in France. What is the difference between your sound and the British & Irish prog bands who implement celtic folk music in their sound ?

To be honest, those are questions that I don't really ask myself. I live in Brittany and try to use the breton instruments outside of their traditional context. What I am interested in, is in fact to borrow the traditional instruments whichever they are, in order to place them in different sonic landscapes.
For example, in the second album "Samsara", there is one track with duduk (Armenian oboe), but also Kabylian chant, and other various musical influences, what I am really interested in is to blend the genres while keeping an overall unit, a link between all songs, as different as they can be.
We are Breton and proud of it, but this postulate has a meaning only if it allows to share with others, whatever their nationality. It is therefore important, to my mind, to develop one's own roots by feeding them with exchanges and "rubbings"... I hope we perform today the traditional music of tomorrow. In my opinion, music has no boundaries. I don't really understand the labels, even if things must be named. The 'celtic sphere', as you say, is very rich musically speaking, that's true, but it cannot be self-sufficient. It must be radiant, but it must also be open to all influences, in order for it to live and «progress». The freedom of expression, we have it, whether we play Breton or progressive music... What counts, is that it « sounds » and communicates emotions to as many people as possible...
Being famously unknown, we feel included in none of the spheres, thus our freedom of expression is entire. The choice of using at times Breton instruments in our music is linked to our heart, to our roots. The Breton language is very beautiful and rich in images, it helped us going out of the British/American standardizing pattern and to propose a music anchored in Armorican culture and open to the world...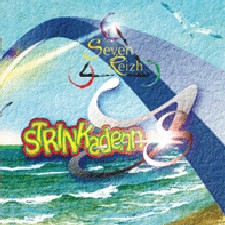 Over to your two albums. Your debut album was Strinkadenn Ys from 2001. Please tell us more about this album.


It's the first album, so everything I haven't yet expressed was an "exorcism" of my influences as a fan of progressive rock bands. For this reason, this album is without a doubt more progressive, as we can understand it in the 'traditional" way, but I think that Samsara is also.
That's how I think of progressive music today, influenced by many various sources. From world music to classical music, or rock. The first track composed for Strinkadenn was Hyb'Ys, therefore I have a soft spot for this track.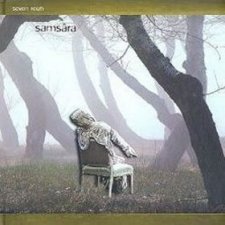 Your second album was Samsara from 2006. Please tell us more about this album.

It's the album of some maturity then, after the exorcism I explained in answer to your previous question.
I find it difficult to speak truly about the two albums, it's those who listen to them who speak the best about them.

What is the availability of these two albums ? Where can they be purchased from ?

The two albums, albeit the second only in a digipack version, are available on our website and myspace
The link is http://www.seven-reizh.com/
The first album is available in crystal box, the digipack is sold out

What have you been up since 2006, what is your current status and plans for this year and beyond ?

I am a specialist educator and work with families encountering social difficulties.
We are currently preparing the last part of the trilogy...

To wrap up this interview, is there anything you want to add to this interview ?

First of all, thanks a lot for your request for an interview, it helps us spreading the word to a wider audience.
Music remains the most incredible language and means of communication to spread emotions.
That's what I will continue to do as long as we have means to do it.
Thank you and sorry not be able to answer in english.

Kénavo (good bye in Breton)
Thank you to Claude for this interview & to Lucas for the translations

Their PA profile is here and the homepage is here