The band leader of this month's featured ProgArchives artist, James Schoen, sits down with us to discuss his musical career and everything that went into making Edensong's debut album, The Fallen Fruit, as well as his own musical influences.
-----------------------------------------------------------------------------------------------------------------------------------------------------
ProgArchives: So how did you and your band mates get together?
James Schoen: Alright, well that's a story still very much in progress since the current line-up of the band is actually quite new. Probably the longest relationship in the current band is with my keyboardist, Stephan. Who is a recent addition to the band, maybe within the last 6 months or so, but we've kept in contact for years. We probably met… back in 2002 I guess, and have always wanted to play together, but it was never the right time. He was in school, I was in school – in different places. Then he was off in Germany and now he's back in New York! So the time is right and he didn't play anything on "The Fruit Fallen", unfortunately, but he's on board for the next one and will be a mainstay of the Edensong live set, for sure. Then yeah! The rest of the band is brand new.
PA: Exactly how long has the album been in the works then?
JS: Oh man… a very long time! Probably almost a decade, if you count that the first song I wrote for the album – which wasn't for this album at the time, it was before this album was even a thought – but "Reflection" I actually wrote for my highschool graduation, and that was in 1999… wait… 2000, I wrote it and 2001 I performed it at my graduation. So that's going back quite a while. The next earliest song is probably "The Sixth Day" which I wrote in 2002, but I started recording the album in summer of '04, and that's been pretty much in constant production ever since. Then it was mastered last October… but it was a long road, for sure, and hopefully the next one won't take quite as long.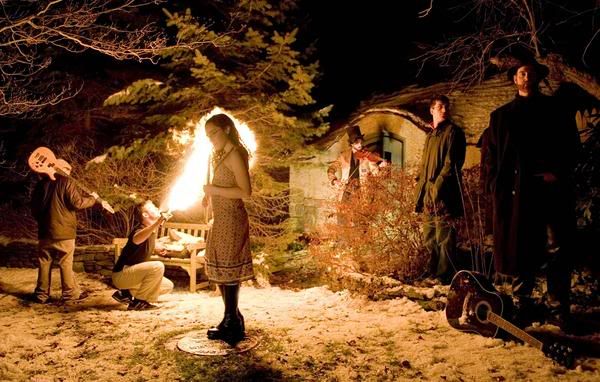 PA: What do you think of the reactions to the album so far?
JS: I love it! I think it's great! I think most people are really getting what I was trying to do, so that makes me feel great. The feedback that I get that isn't positive feedback is great to hear as well, because I always feel that I'm a work in progress musically, so I'm always looking to improve my songwriting, my playing, my singing, whatever else, so… I'm certainly a humble musician and I like to take criticism, and even the bad stuff is good, I'm just glad that the music is getting out there and people are liking it.
PA: You're going to be playing the Three Rivers Prog festival next year, do you have any show scheduled before that happens?
JS: I certainly hope so! The last time the band officially played live, which was with a different line-up, was in the tail end of '06, so yeah, it's definitely time to start playing live again. I'm hoping to have shows in early '09 when this line-up starts working out, and yeah, start playing shows again! I hope we have a lot of shows under our belt by Three Rivers.
PA: Good, and do you think there will be any new material for people to hear at that time?
JS: That's a good question. I've learned my lesson about promising things with deadlines, so… I hope! But yeah, I'm not going to say anything. There will be some material that is not on "The Fruit Fallen", I'll promise that – and whether it's new or old, I cannot say.
PA: So where does the band name come from? Edensong – is there a story behind that?
JS: Um, well, let's see… it's obviously a biblical reference, but not necessarily meant biblically. What do I mean by that? Well, I wanted a name that I felt captured the essence of the group and of the music I was trying to create and to me that was something "Epic". I wanted the music to be epic and I wanted the name to have this sort of epic feel to it, and nothing is more epic than the bible, right? The band is certainly not a Christian rock band. I deal with a lot of religious themes musically, but they're often questioning of religion and especially organized religion. Edensong was taking into account the fact that there are religious themes that pop up, it's epic – the Bible is a great mythology – and yeah! It's sort of serene, the idea of "Edensong", so yeah, all those things.
PA: Was it hard to break out of the New York scene as a Christian flavored progressive rock band?
JS: Well, I don't know. Yes, people shy away from the idea of discussing religion because it's a very polarizing topic. And my material… it was a subject that inspired me, because I see a lot of hypocrisy in the world and especially where organized religion is concerned, there's a lot of "not seeing eye to eye" and "not understanding each other's views" and I wanted to write about that. Getting back to your original question, was it difficult… well, mentioning God or Jesus in a song is going to be a turn off for some people, no matter how the names are used, so I suppose it deters some people. But I haven't heard too much about it, I don't know any of those people.
PA: As the guitar player and vocalist for the band, are you the one who writes the most material?
JS: Yeah, well, "The Fruit Fallen" I wrote the entire thing… so yes! Let's see… I didn't write a drum parts, and I didn't write a majority of the bass parts, but everything else, the orchestral instrumentation and orchestration, I did all that, and all the basic song structures. So yes is the answer.
PA: And now with a solid line-up do you see potential for collaborations?
JS: Yeah, absolutely! The fact that it was all me was just a product of where I was at the time. I didn't have musicians that I felt I could collaborate with, I wanted to write what was coming to me, and The Fruit Fallen is very much a reflection of that and my own personal musical thoughts. But yes, moving forward, Stephan and I have actually started to work on new ideas and I'm hoping to involve the rest of the band in that process as much as they're willing to be involved!
PA: Who designed the cover art for the album?
JS: It was a bit of a collaboration. My friend from college, Alex Muller, very talented artist – he has these crazy kind of sketches that he does and he used to design these cards for my birthday and they used to have these crazy creatures on them, and he just made me think, "Well, that's an interesting idea! I want these crazy creatures to be on my crazy album." So I spoke to Alex and he basically designed a scene for each song with these crazy bird-cat things. So that's where that element of the album art comes from. He also designed the cover image and the fruit-guitar thing. The layout was done by Scott, my webdesigner, who does the website and did the album art layout and has done various print work for me. He does a lot of stuff and the artwork is just one of them.
PA: For yourself as a writer I've noticed in your bio that you seem to have a thing for fantasy themes in the books and movies you take interest in, is that something you try to work into your lyrics?
JS: It's epic, whether I call it fantasy is up for debate. It's not an elves and dragons type album [laughs], but it does treat the normal and ordinary things in life in an epic way, I guess - A little melodramatic. For example, "The Baptism" which is a normal break-up song about a relationship back in highschool is turned into this monster, epic battle scene epic from an adventure movie or something. Something like "Nocturne", which is about this washed up, female lounge singer becomes epic just in how the subjects are treated. It's rooted… the stories themselves are rooted in reality, but they go elsewhere. But not in an "elves and dragons" way.
PA: Is there anything tying the songs on the album together like a concept or theme?
JS: There's definitely themes running through the album. A lot of death, because I experienced a lot of death in those years while I was writing the album. It's a critical look on religion, for sure. The idea of questioning Christianity and religion comes up throughout the album, for sure. There are themes that come up throughout the album as well, but I would definitely not say that it was planned as a concept album. You would know if I planned it as a concept album, I think. I hope to work on some concept albums in the future, I've got some ideas, but this was not that.
PA: Are there any of those ideas that you'd like to share or leak at this time?
JS: I don't think so right now. That's the whole keeping promises thing, because if I say it, I have to do it and I don't want to be tied to an idea that is just a mere idea.
PA: Could you tell us a bit about the songs, the stories behind them and the songwriting process?
JS: Yeah, are there any that you're particularly interested in?
PA: Yeah, the first one I was wondering about was "Water Run"
JS: Okay, Water Run is sort of a song about general complacency. Just taking what life deals us, and let that be that. It has a bit of an environmental theme to it - we're just using our world's resources without replenishing them and we don't let this impact ours lives and we're just complacent in how were using and abusing the planet. So, that's pretty much the gist of "Water Run".
PA: "The Sixth Day"?
JS: The Sixth Day is definitely that anti-religious, or questioning of religion, I don't consider myself an intolerant person. I think religion can be a great thing, but I also think it can be a deadly thing. So many wars in the history of the world have been caused by religion, and people not able to reconcile their differences. The Sixth Day is sort of a song about investigating why people look to god. "On the sixth day man created God to help see things we can't explain, to use his laws to pass our blame and to wage our battles in his name." That's pretty much that.
PA: This one gets a lot of attention from reviewers, "Reunion"
JS: Reunion is a pretty personal song in that it was written for a friend of mine who died in a car accident. So again, it's treating this awful element of life – being death – and it's treating it in an epic way, and lyrically it's sort of about reuniting with those on Earth… while he's no longer here, the people who knew him and loved him can come together and share their grief and be there for each other. That's what it's basically about, and then it's just this epic setting of that.
PA: and here comes the obligatory question, what genres or bands would you consider as your main influences?
JS: Oh man, all over the place. My earliest musical influences were Michael Jackson, The Beatles, Billy Joel. But then I moved into some heavier rock, I was a bit Metallica fan and I still am. I'm a huge Jethro Tull fan, Genesis, all those great, classic prog bands, Yes. I'm a huge Dream Theater fan, then I like some lighter folkier stuff like Simon and Garfunkle, Cat Stevens, it's really all over the place. Then I like a lot of classical music, so my influences range.
PA: Is there any particular album that you would consider to be your "desert island disc"?
JS: I thought Desert Islands allowed 5 discs… isn't that how the question goes?
PA: [laughs] sure, take 5, it's a friendly desert island.
JS: Okay, cool. Well, if there really only had to be one I think it would be Dream Theater's "A Change Of Seasons". But if I could take 5, I would take that along with Jethro Tull's "A Passion Play", in the same classic feel, Cat Stevens – yes, it's a good one – "Teaser and the Fire Cat" and then some newer stuff, "Amputechture" by Mars Volta, I love and Coheed and Cambria's "In Keeping Secrets" I just think is a phenomenal album that I always find myself going back to.
PA: We're coming to my last question now: What was the last cd you listened to?
JS: Uh, well, in my car I just listened to Dredg, "Catch Without Arms", which is their third album I believe. I hear they're coming out with a new one soon, but I just think that is a rocking album.
-----------------------------------------------------------------------------------------------------------------------------------------------------
Special thanks to James who took the time to set up this interview and answer my questions. Edensong's debut album, The Fallen Fruit is now availible. Best of luck to James and his band members in their future projects!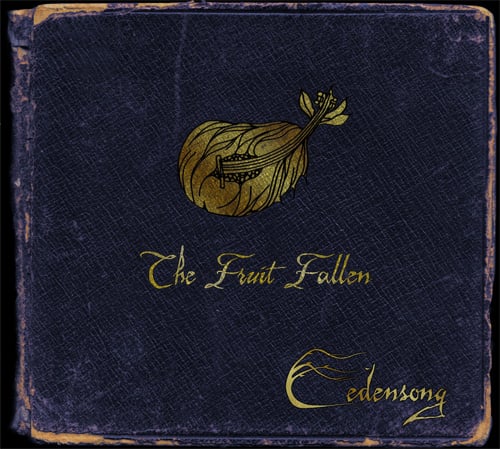 Links:
Official EDENSONG Website
EDENSONG on Myspace
EDENSONG PA's page


Edited by King By-Tor - November 10 2008 at 17:22