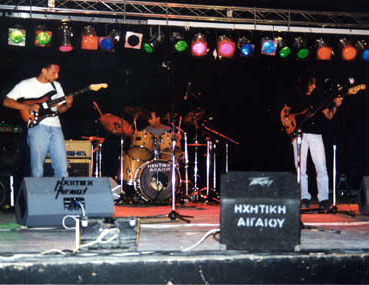 Greek band Esagil was formed in Lesvos by Theodoros Kotzabourounis (bass, vocals) and Michael Kostas (drums) in 1995. One year later the duo, who had started to work on thematic ideas for compositions, were joined by Bill Kouzinoglou (guitars) and Bill Chatzigiannis (guitars). During the next two years they started fleshing out ther songs to more complete efforts, and started gigging in their local scene, performing covers as well as their own songs.
Two releases followed. I got in touch with them and Theodoros answered my questions.
######################################################################
When, where and by whom was Esagil formed ? Did any of you have backgrounds from other bands ? Which bands were you influenced and/or inspired by ?
Esagil formed in Mytilini of Lesvos island  (January of 1995) by T.Kotzampourounis.- bass,vocals and Michali Kosta -drums.
Before Esagil Michalis and I start playing (1987) in a dark metal band called Mortals Fate.
Esagil inspired mostly by the Canterbury scene,psychedelic sound and of course most from classic progressive rock bands .
Some of the bands we covered was: Camel,Caravan,Rush,Wishbone Ash,Genesis,Marillion,Dust,Magnum,Van Der Graaf Generator,King Crimson,Yes,Eloy.............
Please give me your (long or brief) thoughts and lowdowns on.......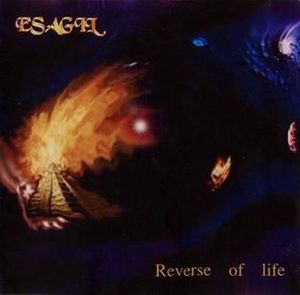 Reverse of Life from 1998
Reverse of life was almost a three years amateur work with the good and the bad of it. The bad things was that these days (and now unfortunate) there was no professional studio in the island and we got no money to record in some good studios in Athens.
We got a proposition from a Greek indie record brand but still need much money to rent a house in Athens and we lost our chance (This was the start of a lot of arguments between the members).
So we start recording with an old pc, a four channel recording pc card and all the microphones for the drums we could rent from a local store.
So we spend a lot o hours and thanks to my friend Mario Stergiou a peaceful guy and a good sound engineer we made our demo cd.
Good things? Our passion for the music without tradings and that in hard times you get deep knowledge of things and attitudes.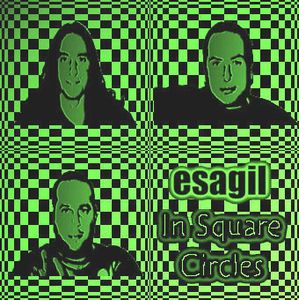 In Square Circles from 2004
In square circles is almost a fake single. Better saying a dream that never came true. We made this cover(you can see it in our website) for a '7 vinyl single but the person who was interesting, the last time turned down his offer. 
How was the creative and song writing processes in your band ?
All was starting from bass lines ,then I was searching the structure with the guitarists.
I was searching the vocals later and because the different language at last I wrote the lyrics.
Then with all the band (after a lot of rehearsals ) choose what we like and we was finishing a song like a book writer .All songs are flowing like stories.
Just to give those of us who are unknown with your band a bit of a reference point or two: How would you describe your music and which bands would you compare your music with ?
Our music is a fair trip in the later prog area with all those limitations of an amateur band. I know that our recording is far away from professional standarts but we are proud for our journey and the fact  that didn't try to emulate or copy any other band we love.
Esagil disbanded in 2004 if your homepage is correct. What is the members of Esagil doing now ?
The guitarists and the drummer almost quit from bands .I am playing with Petro katoudi(guitars) an old friend from Mortals Fate and George Simini(drummer) in a heavy rock band called Add-Art .
Also Im starting a progressive rock project with the name  PROMNISIA
How is the availability of your albums ?
Now with these days with the spreading of the Internet I got all our songs for full downloading in our web page.
How is life on the islands and the mainland Greece these days ?
Still quite and very peaceful on our island. A little bit more noise in town Mytilini but doesnt compare to the chaos of Athens . These days the things in GREECE are not good.
Unfortunate almost all our politicians are corrupt, legal thieves that the law can't touch them and bring our country to an economical end.

Anything you want to add to this interview ?
Just the title of  Journey song  DONT STOP BELIEVING and thanks for your interest and your great work.
Thank you to Theodoros for this interview

Their PA profile is here and their homepage here


Edited by toroddfuglesteg - September 30 2010 at 14:55