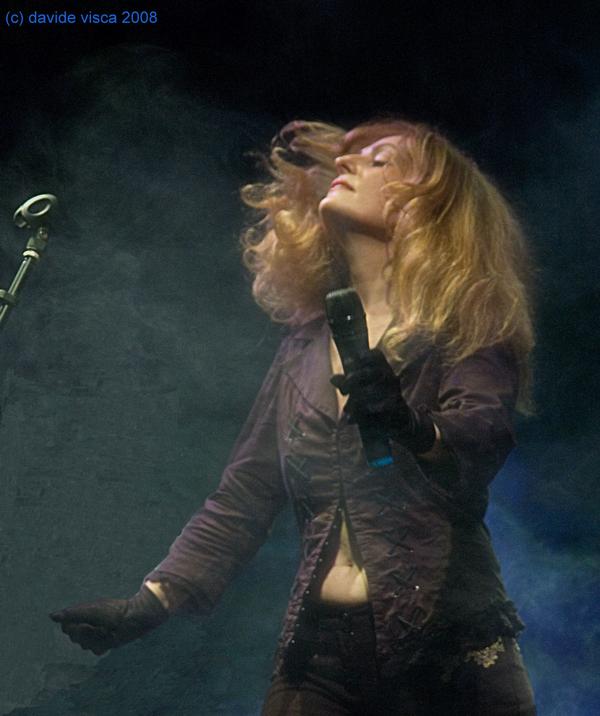 Sophya Baccini is one of the more unique female voices in progressive rock, let alone RPI. She sings using Italian, Neapolitan, French and English texts, and performed for years as an in-demand session musician. She became the lead vocalist for the dark progressive band PRESENCE, with whom she has until now recorded six albums. She continues to contribute to various projects, both as a solo musician (such as the 2003 Colossus project "Kalevala") and as a guest vocalist (the most prominent being the recent OSANNA album "Prog Family" and the 2009 DELIRIUM release, "Il Nome del Vento").

In 2009, Sophya completed her first solo album, "Aradìa," which is essentially a sixty minute operatic-styled suite completely composed, sung, and performed by Sophya with some guests. The style is dark progressive, very passionate and full of theatricality. She incorporates several elements of voice and electronic experimentation, including sampling, echoes, and "dissonant choirs." She blends many of the musical elements of Italy into a compelling work, one which the adventurous, open-minded listener will find much to enjoy.

I got in touch with Sophya for her story.
------------------------------------------------------------------------------------------------------------------------
To start with, where were you born, why did you get interested in music and what was the first album you ever bought ?
I was born in Naples, and I consider this a great fortune and great misfortune.. A great fortune, because it is tradition to children, in my home town, to study music, and there is no family, no person that there's not involved in music somehow. My father, in fact, was an Opera singer and put me on the piano when I was 5 years. And then a great misfortune, because in Naples you play and listen mainly Neapolitan music, you know, so is very hard to start from here if you want to do something else. I appreciate our tradition, which is beautiful, but I do not completely recognize myself in it. I feel Neapolitan to the core, but I always listened to some Rock, and Opera, and symphonic stuff, so my first steps into the professional world has been very slow, difficult and increasingly constrained. But I'm very stubborn.. I want to stay here, I got good life and good friends here, and I want to do my music here. Now it seems possible at least, 'cos the music scene begun to change, and become more international. That's beautiful for me, 'cos I admire very much the Anglo-Saxon culture..
The first time my father took me to the Opera, I was eleven, I heard the orchestra roll over me like a tsunami.. so I decided that music was my life.
First album I ever bought was "Relayer" of Yes.
Who was your first ever band you joined and where was your first ever concert ?
My first band was called Passo Carrabile (that means something like driveways) and my first concert was in a nightclub, here in Naples. We played some hard rock, and covers of an Italian band called Matia Bazar.
How was it for you as a female to enter a man's world; the Italian rock scene and the male patriarch dominated Italy ?
mm.. good question.. ever since I can remember, I was always the only woman, and is still so! It was very difficult at first to be taken seriously. I was the first female artist to break into the world of Metal, starting from Naples (Metal what?), and bringing elements of Dark music, Prog music and even Opera. All were very puzzled.. but my perseverance, my preparation and my passion have convinced everyone at the end. I mean, it is true that the Italian world is very patriarchal, but it is also true that if a woman is able to operate within it, and without compromises, becomes a role model, and wins a special place in people's hearts. It's up to you. Now, I feel surrounded by a great esteem, especially by a great affection and great respect for what I could do.
You joined Presence and recorded six albums (
see own interview
) with them. You also cooperated with Osanna on their Prog Family album and with Delirium on their Il Nome del Vento album. Please tell us more about these cooperations.
The adventure with Presence began in 1990 . We were three session players, already well known in the studios of Neapolitan area, and we had fun playing together a little hard rock, funk, prog and all that.. all genres that it seemed to be disappeared from the media. So we put together a little of original stuff, and we decided to print out an EP, with no specific purpose. We just wanted to do something good, to fix our ideas, bringing together the fantastic music of the 70s with the care for the arrangements of the 80s. We paid the recordings with sessions..
We sat in all our experiences: my passion for Opera, the Enrico's (the keyboards and percussion player) admiration for the great rock composers and for Stravinsky, and Sergio ( the guitarist) brought his technical skills acquired in America, where he graduated from MIT in L.A.
We tried to create something different, never heard, but very homogeneous in its essence.
We printed about 300 copies of this vinyl, always paying them with sessions, and then we sent it around, mainly to magazines, to see what effect did.
Keep in mind that Internet practically did not exist, there was no e-mail and even cell phones. We spent entire afternoons preparing packages and doing the queues at the post office.
When we saw the first article we could hardly believe.. the reception was enthusiastic!
Thanks to this work, we got in touch with the Black Widow of Genoa, and we realized with this label five studio albums and one live album, and the story still goes on. I hope so!
With Osanna, all begun by chance.. I knew Lino Vairetti, the Osanna's singer and leader, because he organizes every year a big Rock Festival called Afrakà, with many good artists of the international rock scene. Keith Emerson, Carl Palmer, Asia, Steve Hackett, Jorma Kaukonen, Mothers of Invention, Brian Auger and many others I can't remember now played there. An evening I was there to see Brian Auger, and after the gig I go to the backstage with my husband to greet Lino. I wanted to realize my first solo album, but it was still just an idea and nothing more. So, really don't know why, I asked Lino if he liked to appear as guest. I was prepared for a courteous no, thanks, and I thought a lot of reasons to convince him. Instead he said yes.. incredulous, I stared just with a stupid smile on my face.. imagine the scene.. I go home, and wrote the song for him in just one day. Then he sung in my record, and when he realized his Prog Family with Osanna he asked me to sing a part as soloist in "La Zingara" (The Gipsy), and as background vocalist in the other songs. One of that, was "Theme One" of Van Der Graf Generator, played at saxophone by David Jackson in person. That is been one of the most exiting moment of my career. I was thinkin' to all the times I listened to that song when I was teen.. Van Der Graf is one of my husband's favourite bands.. can't describe, many feelings and many emotions.
Then I played twice at Afrakà Rock Festival with Presence, and twice with Osanna&David Jackson, with Gianni Leone of Balletto di Bronzo as special guest too. Prog Family is a record full of big artists, as the title says.. David Jackson, Gianni Leone, David Cross of King Crimson, T.J. Stevens and Lello Brandi..To be involved in that project is been a big honour and a delightful experience.
With Delirium, the cooperation begun because Massimo, of Black Widow Record, is their producer, and BWR is their label. He asked to Martin Grice, their flute and saxophone player, to play something on my record, while he asked me to write two song for him. We got in touch, and a beautiful friendship begun. Martin always says to me: Sophy, you are British. And that's really what I feel.. than, just as Lino, he asked me to collaborate in their new album as vocalist, and as pianist in the song "Cuore sacro" (Sacred Heart). Even that happened by chance.. I was in studio with Delirium to do backing vocals, and while the sound engineer was preparing the headset and the microphone, I begun to play piano to pass the time.
Without telling me, Martin recorded what I was playing. After one mouth, he send me a song that they had built on that.. and with the participation of Ettore Vigo, their keyboards player. Hell of an English.. I owe to him if I have since found the courage to play piano professionally.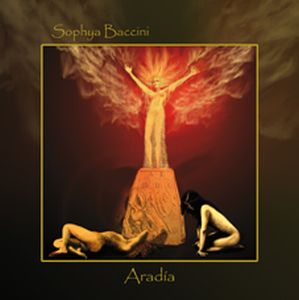 Over to your debut solo album Aradìa. Please give us your long or brief thoughts on this album. How would you describe your music and how big step was this album away from Presence ?
Between the fourth and fifth album of Presence, for reasons too numerous to mention, there was a period that lasted 7 years where we were standing still, and nothing made me think that we would continue to play together. Without music, I can stay not even one day, let alone 7 years..
That was when I pulled out of the drawer some song that I had shelved there waiting for better times, and the theme of "Aradìa" was among that.
I always wrote the lyrics with Presence, and this role I met in full and did not feel the need to write music too. But after all those years of making records, arranging songs, I missed all that. I thought maybe I was ready to venture into a work completely mine..
So I pulled out a part of me that I had left out because had nothing to do with the music of Presence, and I let myself go and write following my instinct. Starting from that theme, it came out something very symphonic, very intimate and melancholic, even if not too much slow or boring, I guess.. and as I went along, the more I was clear the road and the more I felt that I belonged. Less powered then Presence, but more Prog-like and less Metal. Maybe more female-like?   
I took it all like a vision, and I invented this female figure that moves among different moods and different times. It's a story of a physical and spiritual journey. That's why I used different languages – I sung in English, Italian, French - and different musical genres, Prog, Blues, Country, Rock, some Pop like Elton John songs (I hope so.. ) all tied together by symphonic arrangements.
In the end, Aradìa finds herself out thanks to the help of a friend, called Elide. So this became a record dedicated to female friendship. I chose to talk about this topic, 'cos I think this is a feeling that women are only now beginning to understand. In our times, it is no strange if a group of girls go out to take a bier on Saturday night, without feeling lost, you know.. this is a thing very normal for men, but for women this is an achievement, especially mental. We finally can appreciate that wonderful sense based on loyalty and trust, and I thought it is time to talk about it with music.
To close the circle, I used the song "Circle game" of my so much beloved Joni Mitchell, arranged for voices only, and accompanied by the sound of my sea.

How is your writing and creative processes ?
Music flows in many different ways.. sometimes I write the lyrics first, sometimes a melody turns me on my head, and I try to see what words could fit. Sometimes I dream a song, and the next morning I run to my piano not to forget.. 
When I start to write, I start with my acoustic piano, with a little idea I think is good. Then I turn on my infernal machines – I got a little home studio recording - to make the arrangement, and then the work proceeds in a very atypical way. I mean, the standard way could be to start with all the rhythm part, then putting the keyboards, the strings, and at least the background vocals and the solos.
I record for instance a minute instead, and that minute is all complete in all its parts. Then I go on with another minute.. it is as if the song took on its own life, and show me where to go till the end. I never know how a composition of mine will be, until I play the last note on my keyboard.
What is your plans for this and next year ?
To play live, to play live, to play live! I started this year with a performance as opener of an Osanna's concert, on January 4. I got a trio, formed by the violin/accordion player, the electric guitarist, and me at digital piano and voice. We played some stuff from Aradìa, and it's been wonderful, really! I was so terrified at first, it was my debut as pianist.. after twenty year and more passed on the stage, I still can feel that emotion, you know.. but after the first five minutes everything passed, and everything went well. The audience was so warm, and I did the best I can. Another gig is planned, next spring in Genoa, as opener of Delirium concert, and Lino Vairetti will be my guest. And I hope many others will follow.. 
Then with Massimo we're thinkin' about a new recording project, that will be very challenging but also very stimulating, and I can't say more for the moment..
To wrap up this interview, is there anything you want to add to this interview ?
I wanna thank you, and prog archives, for your support.. and I thank all the readers for their time. It is wonderful, for an artist, to feel the presence () of followers..
And then, listen to the Prog, men.. they say it's a genre old and obsolete, but never as now I see so many teens playing and appreciate it.. Maybe because they can unleash their creativity with it? I any case, this means that it will be the music of the future..  
Ciao!
Thank you to Sophya for this interview