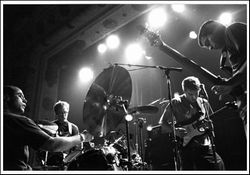 Volta Do Mar is a Californian band who has ceased to be many years ago. They left behind two albums and an EP which still have some loyal fans. A band dies, but the fans will always be there and in many cases; multiply to become a big fanbase. That to the amusement and puzzlement of the band members who in the meantime has got families, other bands and/or proper jobs as solicitors, brain surgeons or whatever. This is another example of the power of music. Just ask Philip Taylor from Volta Do Mar who out of the blue got an email from me. He answered my questions though and here is the Volta Do Mar story.
####################################################################################
Your biography has been covered in your ProgArchives profile so let's bypass the biography details. But why did you choose that name and which bands were you influenced by ?
It's a portuguese phrase for "turn of the sea" i liked the way it sounded. We had every mispelling imaginable whenever we played anywhere. it seemed like a description of what i imagined us sounding like. i read the phrase in a history book. so that's the name...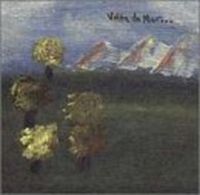 Over to your two albums and the one EP. The EP Volta Do Mar was released in 2001. Please tell us more about this EP.
The ep was the first songs we recorded a little earlier, towards 1998-1999.. the first drummer chris meyers who now plays in umphree's mcghee was in the band temporarily as a mercenary style musician. we re-recorded the songs with tony on the drums, for more band cohesion before pressing it. You know how it is, you have to get some music together to play some shows. So the ep was at the beginning. Us spending months to write one song as young chicklings wanting to blast some ears with some crazy new music.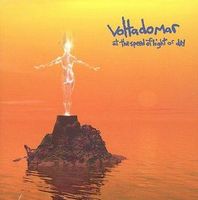 Your first album named At the Speed of Light or Day was released the same year. Please tell us more about this album.
That felt like the band at the peak of our creative energy, we recorded the album live to tape in a steel mill practice space we were using. it was scorching hot when we recorded. i remember that album being fun to make, us gelling as a group, sweating our asses off, getting live takes, kids busting out windows as we recorded.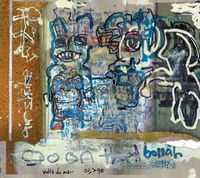 Your second album named 3>98 was released in 2005. Please tell us more about this album.
The idea of the album was a career retrospective, we had recorded new stuff, it seemed that the band was not going to continue, so it was kind of a bad business idea to release an album without any touring, so me and tony paid out of our own pockets and pressed the cd's, 03>98 were the years of the existence of the band. a five year run. It was clearly the end, and i wanted to get all the music organized for anyone remotely interested in what we were doing.
How would you describe your music and which bands would you compare yourself with ?
We seemed to labeled post-rock, being in the chicago music scene, with bands like tortoise casting such big shadows over us. we had a lot of influences: jazz, progressive rock, tony's polyrhythmic studies with hal russell. i was into philip glass, steve reich, ecm records, balkan folk music. we were trying to find our own path, but it wasn't much of a conscious decision to sound a certain way. It felt like we were always outside of a scene , we never seemed to fit in anywhere we played. old zappa fans seemed to really like the attention to detail we had with the music. it's fun to play challenging music and put a lot of energy into it. that was always my angle, i liked the diy aspect of the underground shows but wanted to bring something more dynamic. people seemed to appreciate our dedication to musicianship.
Volta Do Mar broke up ten years ago, according to an email I got from you. Why did your band break up and what has the band members been up to since then ?
Maybe all that conflicting energy in the world: smokers versus non smokers, anarchists versus centrists. who knows? a touring rock band is a pain in your life. it destroyed relationships with females, made me homeless. How as a struggling band can you go on tour for two months, come back home and try to get a job and work for two, go back out for two months, and continue like that? where as some people in the band were more stay at home types. Everyone sacrificed a lot to make it work. guys don't want to go out and tour for two months straight. which i understand, i was a travel enthusiast and street performing was the next logical step for me to take. Then i won a bike race that led me to california so it was over. at the time, it seemed like destiny we were all going different directions. We did it for 5 years. everyone gave a lot. it wasn't fun anymore, seemed to be the general state of the union, so we stopped before things get really ugly or nasty as far as inter-band relationships.
How is the availability of the Volta Do Mar releases now and is there any plans to do anything more with them or under the Volta Do Mar name ?
volta do mar is finished, so sleeping dogs will continue to sleep. no need for any more plastic cd's. it seems like people can find the music for free online, i'm happy for them to take it. the ascension of mars volta was the proverbial nail in the coffin with the name too. i've switched over to oso since 2005. now my oso street outreach is hitting people all over the world and i've been working harder then ever on music since in this post- volta do mar era of my life.
To wrap up this interview, is there anything you want to add to this interview ?
I'm amazed at the volta do mar fans spread out there in the world. i was in istanbul and someone had volta do mar on their itunes. i told them i was in that band and they were amazed. my years in volta do mar were a great experience in learning a lot. those guys are still some of my favorite musicians, and even though we all live in different places, and i haven't seen some of them in years. i still feel a lot of love in my heart for them.

Thank you to Philip for this interview