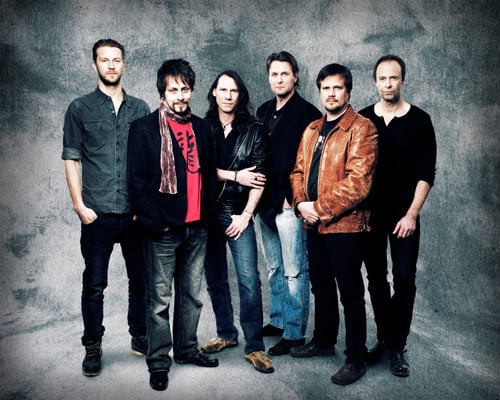 No introductions is really needed here..... so let me keep this short & sweet.

KARMAKANIC is a solo project from Sweden's finest bass player Jonas Reingold. He is also the bassist in THE FLOWER KINGS and the ex bassist in THE TANGENT.
Karmakanic has just released their new album In A Perfect World and I got in touch with Jonas Reingold for the Karmakanic story.

####################################################################################
Your biography has been covered in your ProgArchives profile so let's bypass the biography details. But which bands were you influenced by and why did you choose that slightly odd name ?
We had a hard time figure out a name for the band when we started back in 2002. So we had a competition on the Flower Kings website that all the fans could suggest a band name for us. We got about 200 suggestion from where I choosed 10 that I passed around to fellow bandmates, musicians etc. And the one that got most attention was Karmakanic. I thought it was great because I´m a big fan of "play on words" and Karmakanic could be different things, Car-Mechanic or Karma-kanic etc.
You are also a full time member of The Flower Kings in addition to Karmakanic. What is the main differences style wise and music wise between those two entities and how do you decide which new material goes where?
In the past I believe that Karmakanic had a Jazzier approach than The Flower Kings. The Flower Kings is maybe more about hard-core "vintage" classic symphonic rock influenced by the leading bands of the 70ies. E.g Yes, Genesis, King Crimson etc. Even though Karmakanic is considered symphonic prog you can also find some metal, fusion, Jazz, pop in our music. As much as we like the 70ies band we also let us be inspired of guys like Pat Metheny, Weather Report, Tom Petty, Jackson Browne, Dream Theather, Joni Mitchell but also modern bands like Coldplay, Foo Fighters etc.
Karmakanic is claimed to be a part of the Flower Kings family. If so, are you not a bit afraid of loosing Karmakanic's artistic identity and integrity ?
I´m never thinking in terms like that, In The Flower Kings my job is to make good music, in Karmakanic my Job is to make good music. They are simply two different platforms that will do the job for me. It´s just great to have different tools and the right condition to reach your goal.
You were also a part the English band The Tangent on some albums. As we all know; there are some cultural differences between quirky, slightly mad Englishmen and the more calm and collected Swedes. What is/was the differences between The Tangent and The Flower Kings, work wise ? Did you ever try to feed Andy Tillison and Guy Manning with elk or reindeer sausages ?
HaHa, the only dish we tried to serve was ice cold Moose Funk or Deer Swing, and it was never a sucsess. I would say that the diferense was not on a cultural level. It was more about musical background. All the guys in The Flower Kings has been living off music for several years while the guys in England been working on and off in the music bussines. But the whole experience playing with the guys in The Tangent was very educational and I have many fond memories from those years.
This is an archive based interview also intended for the fans you get well after both you and I have passed away so let's go straight to your albums. Please give us your long or brief views on your albums, starting with.......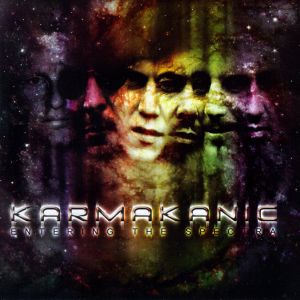 Entering the Spectra from 2002
The debut, some parts are good but I can tell that we where a bit un mature when we recorded it. We jump around in terms of styles and the lyrics good been better. But I like tracks like The Spirit Remains The Same and Is This It? The are quite well crafted songs that will stand the test of time.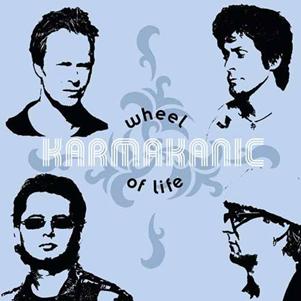 Wheel Of Life from 2004
This album is more coherent than the debut. There are several great tracks here and my favorites are When earth meets the sky, we have played that track on every gig since the start, It´s working really well in a live environment. Normally we strecth out the solo sections a bit and Jam on it so it´s always great fun to play that song live. Do U Tango is also one my favorites from WOL.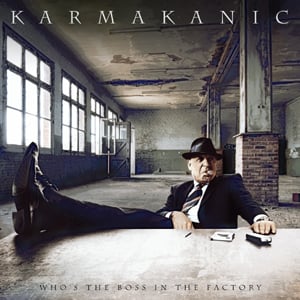 Who's The Boss In The Factory? From 2008
This is the best one so far in my book. I´m very proud of the production and the playing is great. I think the song "Send a message from the heart" put Karmakanic on the progressive map. Eternally is also a track that I´m very proud of, we went all the way on that one with real strings and I think Lelo Nika is doing one of the best overdubs in the progressive history with his wonderful accordion, and for the record, it´s a first take.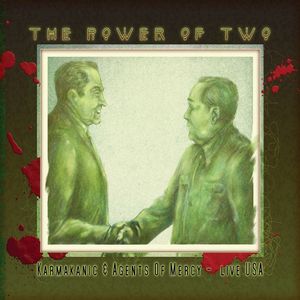 Karmakanic & The Agents of Mercy - The Power of Two from last year
This is a very great memory and documentation from our trip back in 2009. We recorded a few shows and thought is was so good that we could release it. Nick `d Virgillio was our guest drummer on this one and what a great job he did, a nice guy too.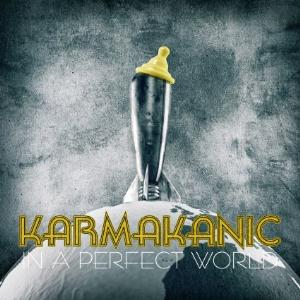 Your new album In A Perfect World has just been released. Please also tell us more about this album.
This is the fastest recorded album for us so far. We did it in only two month including the mix. But on the contrary I spend almost a year writing the songs. I spend a great deal of time with the lyrics I co wrote them with an American girl named Julia Olsson. It challanged me to be more subtile in terms of nuances, Idioms etc, It challenged me to dig a little deeper into the langwich. I´m a student of the game ya know. I always try to learn new things both musically and lyrically. Also a big change was that we had Nils Erikson on board singing some passages and playing some keys. He was also a big part in the mixing process. He´s a very talanted guy that has many hours in the producers chair, he´s been involved in top selling productions here in Sweden and has been nominated for two Grammy awards here in Sweden. It was also a blast to have my old buddy Marcus Liliequist back on the drum chair. He´s an uplifting spirit and a great musician.
How would you describe your musical development and style from Entering the Spectra to In A Perfect World?
I´m more serious about things now. Focusing on the important things like songwriting, expression etc. rather than production perfection. But I will of course always try to make a recording sound as good as possible and a mix to be as soulful as possible. But my main goals are the songs and the lyrical content.
Is there any chance we will get a Karmakanic live album and/or a DVD sometimes in the near future?
I hope so, I think we are in that stage right now, we have done 4 albums so we´re getting ready for a DVD. I hope that will happen within the nearest future.
Besides of your new album and the promo work associated with it, what is your current status, your plans for the rest of this year and beyond ?
I will keep on working with Reingold Records, keep on promoting The Flower Kings DVD "Tour Kaputt" We´ll start recording drums for Lalle Larssons new solo CD in August, there´s a few Agents of Mercy shows coming up this fall plus a new record. Nils Erikson and me has started to write for a new project that hopefully will be ready this fall. There´s been talk to maybe look into the possibilities to do a new Flower Kings record and of course write new material for Karmakanic.
To wrap up this interview, is there anything you want to add to this interview ?
Keep up this great forum for progressive music.
Thank you to Jonas for this interview

Their PA profile is here and their homepage is here