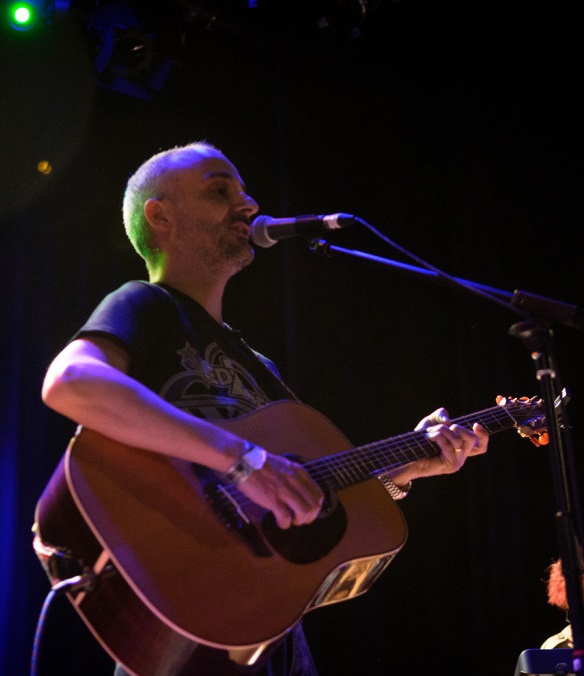 COSMOGRAF is a progressive rock project lead by Robin Armstrong, a multi instrumentalist musician from Waterlooville nr Portsmouth UK. The sound is rooted in 70s classic rock with a contemporary and progressive twist.
The band has been operating well below the radar on their first two albums. But signing with F2/Festival Records means better promotion and reviews in magazines like Classic Rock Present Prog where I became aware of them. Their brand new album When Age Has Done It's Duty is excellent and hopefully will give the band the exposure they so richly deserve. I got in touch with Robin for the story so far.
######################################################################################
When, where and by whom was your band born ? Did any of you, past and present members, play in any other bands before joining up in your band ? Which bands were you influenced by ?
Cosmograf started in 2007. It's really a solo project in essence but on the last album I experimented with incorporating the input of a number of guest performers to flesh out the sound and give it a more complete band feel. The band line up is therefore completely transient although you will see a few of the same collaborators turning up on each record. All of the guests have their own bands and musical projects but the nature of progressive rock is very incestuous in a good way and I've been very thrilled by the way busy musicians have been pleased to contribute to the project. Nearly all of the guest recordings were done remotely, only being assembled at the mixing stage in my own studio. From my point of view this way of working has been a complete success.
I played in a number of rock bands in my late teens and early twenties but almost gave up music completely before experimenting again with recording projects. The bands that influenced me growing up were the giants of the rock world world in the early 70s, Deep Purple, Led Zeppelin, Black Sabbath etc. but also Genesis, Yes, and Pink Floyd from the progressive rock world.
You and your band has been operating well under the radar, well at least our radar, for some years. Even though I live on the same island as you do, I only learnt about you through the review of your last album in Classic Rock Present Prog. How hard/easy was/is it to run a band and project these days, truly underground as you do ?
Well there was never an intention to run an underground project quite the reverse. I've been actively seeking publicity for some time but only since the release of When Age Has Done Its Duty has Cosmograf begun to be recognised in the progressive rock world. Although it's never been easier to produce and release a CD, it is now far more difficult to become recognised amongst the huge number of artists who are doing the same. This has been the source of much frustration on my part and I nearly gave up recording all together at the end of EOE, as although it had been critically acclaimed, by a few notable progressive rock writers, it had barely raised a ripple in the consciousness of the prog community. Thankfully the latest album and the promotion behind it is starting to change that.
You have just signed with F2/Festival Records (Manning etc etc). Besides of getting your albums reviewed in paper magazines now, what other changes does this means for you ? Any chance your two first albums will be re-released ?
Being signed to F2 has meant that the latest album is really reaching a much wider audience. It became clear to me at the end of the last album that it wasn't possible for me to individually market and distribute my album and that a third party was needed with the necessary experience and ability in this area. The result is far more interest in Cosmograf and lots more interviews and airplay which can only be a good thing. The first album Freed from the Anguish has been withdrawn but will be released at some stage. End of Ecclesia is still available to buy now from the Cosmograf website.
Over to your three albums. Please tell us about your debut album Freed from the Anguish from 2008.
Freed from the Anguish, was my first serious attempt at recording an album and was a concept based piece about a man's journey into war. A family relation was actively involved in the Normandy landings at D Day and the theme was really inspired by this event, but also about feelings of regret and loss which feature within the lyrics. Musically I was very pleased with it, but sadly the production values were not of the quality that are associated with the current release so I withdrew it from issue. I'm hoping to bring it back, maybe in an EP format featuring the best tracks and with better production.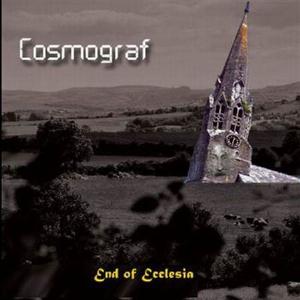 Please tell us about your second album End of Ecclesia from 2009
End of Ecclesia featured a real mix of musical styles from classical to metal with songs based around themes of Science and Religion. It could loosely be described as a concept album but there was never meant to be a literal story running through it in the same way as the latest album.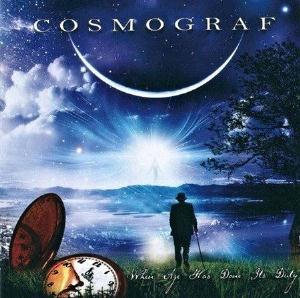 Your new album When Age Has Done Its Duty has just been released with some brilliant artwork. An LP version just for the artwork or even a screen saver or wall papers for computer monitors would be a good idea (hint, hint, guys). Please tell us more about this album.
The idea for the album really came about as a result of a death in the family and the history and emotions that these sort of traumatic events can unearth. I learned a lot about my family history and uncovered a lot of nostalgic memories about life as a boy visiting rural Shropshire to stay with relatives. Although some of the narrative to these family events is very specific in the lyrics, the overriding theme of the album is really about ageing, how it creates you, forms you, colours yours views, makes you nostalgic and then cripples you and then ultimately destroys you. I like to explore dark themes and don't get much enjoyment from writing happy tunes about teenage love I'm afraid!
The artwork was done by the very talented Graeme Bell also known as 'Twig'. Graeme has a 'method acting' approach to artwork and lives and breathes the music in order to shape what he produces on the digital canvas. Every single aspect of the CD artwork image has a specific relevance within the lyrics and concept of the album, an example is the subtle image of the cottage which creeps in on the side of the booklet. This was actually my Great Aunt's red brick timber framed cottage in Cleobury North, Shropshire where much of the theme of the album is based. I would love to release a luxury LP version with bigger artwork, but the viability will ultimately depend on how sales go. We could certainly look into some wallpaper or screensavers.
Your music is what I would label lush English symphonic prog. But how would you describe you music and which bands would you compare yourself with ?
If English Symphonic Prog works for you that's great, but personally I tend to reject attaching too many labels to music myself. Progressive rock comes in wide and varied forms and I personally don't see the need to sub divide it into endless sub genres. This creates boundaries that both musicians and fans are frightened to cross which is not a good scenario for music. If a track needs orchestration or lush strings then I add them, or it needs bare bones acoustic guitars likewise. A good musician should cross all boundaries and not be fearful of losing his audience along the way. If it's good music they should follow. It's one of the reasons I'm a huge fan of Steven Wilson. Musicians of his calibre are just as capable of composing a choral ensemble as a thundering metal track. Combining the two makes an even more intensive experience. My music has been compared in some recent reviews to his, which is a hugely flattering compliment for me. I've also been criticised for sound too Floyd'esque. I make no apologies for that though and there are far worse bands to be compared to.
What have you been up to since the finishing of the recording of the new album, what is your current status and what are your plans for this year and beyond ?
Since the release of When Age Has Done Its Duty I've been busy with interviews and press articles but I'm already working on a concept for a new Cosmograf album. I've recently upgraded my studio and I'm just starting to get moving on recording ideas again. I hope to have another album out in 2012.
To wrap up this interview, is there anything you want to add to this interview ?
No I think that covers most things. Thanks for opportunity to reach your audience and I hope they enjoy When Age Has Done Its Duty.

Thank you to Robin for this interview