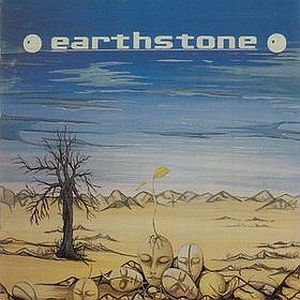 The Stealing the Fire story starts with the appearance of the band Earthstone in the UK scenes back in the early 1980s. The only Earthstone album to see the light of day is the Seed album from 1994. Please tell us more about this album.
Chris Bond: 'Seed' came about because we sent a demo tape of an unrecorded 'Silas' song to Larry Kolota of Kinesis and he offered Chris Phillips the chance to make an album as a result of what he'd heard. I'm not sure the final product was exactly what Larry was expecting since, by neccessity of it being a solo project by Chris, it became much more machine driven because of the programmed drums. That's something frequently commented on in reviews and, for me, the weakest aspect of the music. Chris asked me to help with the recording and I eventually ended up contributing a few elements to the music as well as being the engineer.
Given that it's a product of its time, I'm personally still proud of what we achieved with 'Seed'. We couldn't afford to go into a recording studio and the whole album was made on incredibly primitive equipment in what was literally a 'bedroom studio'. If the album was made today there's no doubt it would be of much higher quality. We were very lucky to have had the album mastered by one of the top mastering engineers in the States which no doubt knocked some of the rough edges off it.
Artistically and thematically 'Seed' was also very much a product of its time. We were very interested in Chaos Theory, Neo-Paganism and Science Fiction. For example; the UK press was full of articles about the Crop Circles, which were just beginning to appear, and we were fascinated to find out whether they were the products of pranksters and landscape artists or if there was less earthbound origin for them! This all tied in to the English 'art-underground' of the early 90's.
There was talk about a new album to be released in 2008. Please tell us more about this.
Tim Lane: Well here's the thing: we had every intention of cracking straight on with the next album (King of Shadows); Chris had lyrics written, I'd made some demos, we had two pieces we'd worked on in the studio, so we were ready to go. We worked up these ideas, got them down up to a point (including live drums from the entirely excellent Gary Wortley) and then stuff started happening and it all ground to a halt. Ultimately, much as we'd like things to be otherwise, we're not pro musicians and we have jobs and families and various difficulties resulted in the project getting shelved. Chris got on with Army of Mice, I pursued my interest in folk and country music and Stealing the Fire went into a kind of hibernation.
But weirdly, just a couple of weeks before you contacted us about this interview we'd started discussing getting it all under way again. The album (King of Shadows) is more than half done. Like "Hot Ice…" it's a mixture of songs and instrumentals and we like to think that we've kept the best features of the previous album - like the combination of classic prog and more modern influences and the dense, intricate textures - but we've learned so much in terms of musicianship, composition and production that the new album will be even better than the last.
For myself I think the next album will also reflect some other musical influences. My interest in Irish folk music can be heard coming through on some tracks, and there are hints of King Crimson and Gentle Giant in places. There's a proper prog epic as well!
Chris Bond : There have also been technical problems transferring the original recordings for 'King of Shadows' from digital multitrack tape to one computer recording system and then another. In some ways it would have been easier and quicker to start again. However some of the original recordings are really good and we wanted to keep them if we could. It's taken a while to work out how to transfer the recordings between systems but I've finally figured it our and am making good progress. So maybe 'King of Shadows' will be released in 2012. It'll certainly be a much higher quality recording that 'Hot Ice...' and artistically a step up as well.
Earthstone became Stealing The Fire. Why and how much of Earthstone did you bring over to Stealing the Fire ?
Chris Bond : Very little of Earthstone carried over to Stealing the Fire. The music of Earthstone was mainly created by Chris Phillips as it was initially his solo project and I was brought in mainly to work on the production side. My only contribution to the music was the occasional keyboard riff or pad and the inclusion of some of the samples and sound effect that can be heard. My main contribution outside of recording and production was in writing about half the lyrics. To some extent the themes explored in the lyrics of 'Seed' still interest me today and these have carried over into the lyrics of the StF tracks. I'd like to think my writing style has improved over the years and, although there are still references to those great prog standards of myths & legends, cosmology and magic, the lyrics (particularly on 'King of Shadows') are also about more everyday human interactions and emotions.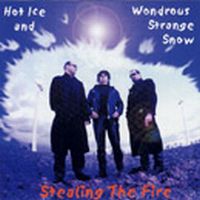 Your only album so far is the Hot Ice and Wondrous Strange Snow album from 1999. Please tell us more about this album.
Tim Lane : Chris' Bond and Phillips had worked together very closely on "Earthstone" and for whatever reason had decided to take a rest. This was about the time that Chris P had joined my comedy band Doomweasel and Chris B was became our sound engineer. Bondy was looking for someone to work with on a new album; I think he'd done a track with Neil McNabb who'd also been in Doomweasel but Neil moved away so I said I was interested. The first track I played on was the first track on the album "Stormwing" which Chris had more or less completed. I added some guitars, Chris liked it so we went on to do more together.
The second track we did was "Unknowing Angel" – but not the version on the album! Ultimately we did that song THREE times before we got it right! With most of the songs they were composed in the studio – one or other of us would come in with an idea and we'd develop it. Our modus operandi was to do all the composing and sequencing, then add the guitar and bass and finally the vocals – the icing on the cake!
"Sirius Rising", the most neo-prog track of the lot came out of a desire to do something in an "It Bites" sort of style with a big, big sound. Saff's singing on that track is just fantastic and utterly transformed the song. I'm particularly proud of the guitar and synth duet in the instrumental section on that song. "The Moriarty Cube" was initially Bondy's idea, that sort "snake-charmer" riff…
Looking back on the album I think we did an extraordinary job with what seems quite primitive gear to me now! Steinberg Pro-24! An Atari computer! A beaten-up old Squier Strat and a crappy transistor amp! But it sounds really good to me now.
For those of us unfamiliar with your music; how would you describe you music and which bands would you compare yourself with ?
Tim Lane : Ha! This'll be interesting! One of the things that makes STF interesting is the Ven Diagram of our influences. There are bands that we both love who influence our material – Porcupine Tree, Kraftwerk, Flower Kings, Ozric Tentacles and classic seventies symphonic prog bands like Camel, Floyd, Genesis etc. And then there's the other stuff we bring individually: Chris can speak for himself but I'm a massive queen fan, I like a lot of folk music and heavy rock and metal.
I think when you hear the new album you'll hear a band which can be edgy like King Crimson, spacey like Hawkwind, thoughtful like Floyd and Porcupine Tree and rocky like Zeppelin. But I also think you'll hear the echoes of electronica, folk, minimalism and even pop – whatever lights our candle and serves the song.
Ultimately, whilst I wouldn't presume to myself in the same godlike league as Roine Stolt and co we strive for that rich, open-minded sound that the Flower Kings do so beautifully.
Chris Bond : I currently listen to a lot of electronica, 'folktronica' or Scandinavian bands like 'The Deer Tracks' or 'Fever Ray' as well as Bat For Lashes and Imogen Heap. Some influences from those bands with female vocals are bound to creep over into Stealing The Fire, though I'm still hoping that it'll sound something like early Camel in places!
When it comes to availability for both the Earthstone album Seed and your own Hot Ice and Wondrous Strange Snow, how is the availability of these two albums now.
Chris Bond : I believe 'Seed' is now out of print although copies sometimes surface on ebay etc. It might be worth making enquiries with Kinesis if anyone's looking for a copy. I don't think Kinesis releases CDs under their own label any longer but, as I'm sure many readers will know, Kinesis is still an excellent source of prog cd's of all kinds. 'Hot Ice..' should still be available from Fossil Records (
http://www.fossilrecords.net
/) for a short time, or if anyone would like to buy a copy at a discount price they can drop me an email at armyofmicemusic(at)googlemail.co.uk.
Hot Ice and Wondrous Strange Snow was released twelve years ago. What have you been up to this century, what is your current status and what are your plans for this year and beyond ?
Tim Lane : Twelve years! Well, I got married again, and rather more successfully… but I assume you mean musically. I wrote a musical, "The Fall Guy" with music by the incomparable Joe Sanger, played in a couple of funk bands, became a music and music technology teacher. I composed an electronic soundtrack for a hi-tech production of Macbeth, played in Celidh bands and then a "country and Irish" band called The Rum Brothers and a Rock Covers band called Elton Goodlady. In the last year or so I've taken to playing solo country folk and blues gigs under my own name
www.reverbnation.com/
timlane
whilst at the same time working on a space-rock album which I've just finished called "When the Twelve of Wands is in the Six of Nodes"
http://soundcloud.com/ubermodo/sets/when-the-twelve-of-wands-is-in
under the name Ubermodo. You can buy it as a download from my reverbnation page
www.reverbnation.com/
ubermodo
but I'm currently trying to get a wider release sorted out.
Chris Bond : I been involved in several recording projects since 'Hot Ice...' Currently I'm in a band called 'Army of Mice' who play electro/electronica/trip-hop (so possibly of less interest to Prog fans than Tim's project!). We've released a CD and done some pretty good gigs. Anyone interested can check out the tracks or buy/download our cd from Bandcamp (
http://armyofmice.bandcamp.com
/).
Chris Phillips is still making music in a space-rock band that includes Chris Hylton of 'Silas'. You can hear their music here:
http://iron-sun.soundawesome.com
/.
Thank you to Chris and Tim for this interview