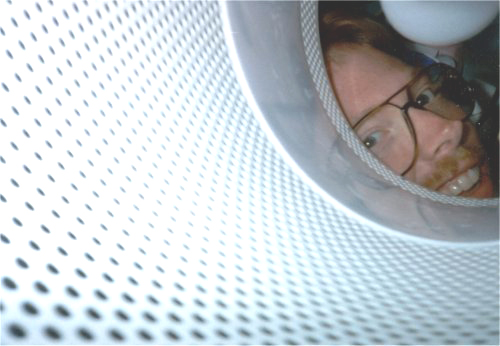 SUPERLUMINAL PACHYDERM is a one-man project created by Ken Robinson of the State College area of Pennsylvania in 1999. The project is rather unusual in that Robinson rarely performs any instruments on his music, but instead composes them entirely of samples of real instruments using music sequencer software on his computer with the help of a sound editor and other music software.
I got in touch with Ken Robinson for his story.
#################################################################################
Your biography has been covered in your ProgArchives profile so let's bypass the biography details. But why did you set up Superluminal Pachyderm and why did you choose that name ?
I always had an interest in making my own music, and also building things with Legos, going back to my childhood. I guess it had started the night my Dad put Pink Floyd's Dark Side of the Moon on the stereo. I was enthralled the minute I heard the thumping heartbeat and later found On the Run an amazing piece; loved the helicopters. That was a mind-expanding experience that led me into what eventually became known as progressive rock. In fact, quite a few records of my Dad's inspired me into this direction, including the Moody Blues and the Electric Light Orchestra. When I became a goofy teenager in the 1980s I started buying my own records and discovered Genesis, Yes, Rush, and others. My brother and I had started experimenting with tape recorders about this time and made our own instruments out of things like cardboard boxes, metal shelving, rubber bands, tennis ball cans, and eventually incorporated some real instruments into the fold, cheap stuff you could get from Sears. We called our project The Idiots and it was barely listenable, but it was loads of fun. Then college came, and after a few years of being poor after graduating and eating sugar, I finally bought a computer and the idea dawned on me to resurrect this experiment after I discovered that there is software out there that could help me make something of my own again. Besides, I had nothing better to do, spending hours counting ants on the sidewalk and deeply involved in a rather insignificant toilet paper tube collection.
So that's what started the Superluminal Pachyderm project, a yearning to make something, have fun making it, and attempting to make something no one else had done before. Unlike other computer-based musicians, I wasn't interested in techno or electronica. I wanted to make prog rock on my computer. In 1999, that was pretty scarce to come across. I literally composed it with only samples. No physical instruments (although later I've added them, but very sparingly), just samples and virtual synths.
As to the name, that actually came to me while I was "taking care of business" on the commode. Can I say poop in an interview? Really. I had just finished reading an article about superluminal motion in the Astrophysical Journal (geek alert!), while in the midst of "business." I thought, "hey, that's a neat word." Then I thought about what I could juxtapose it with and pachyderm fell out of my brain. I believe that happened during wiping procedures. Don't we all have our greatest ideas on the toilet?
This is an archive based interview also intended for the fans you get well after both you and I have passed away so let's go straight to your releases. Please tell us more about.....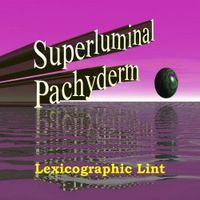 Lexicographic Lint from 2000
This one is my first one. So, it has sentimental value. But after 11 years, it's quite an embarrassing album. A lot of debuts are that way, aren't they? There are a few tracks on there I wish I hadn't made, or had developed them better, or waited until I had a better idea. The one song I really like on it is Trail to Grytvikken. The original version of this song was about 32 minutes long. Back in 1999, mp3.com wouldn't allow the loading up of a song more than 20MB in size, so I had to cut it down to around 18 minutes. I still think the original was better, but the compromised version is better than most of the rest of the album. I did re-issue an instrumental section as a bonus track years later after mp3.com dissolved and called it Clothespin Bag. The best way to describe this album is when your at a department store and the cashier says "thanks for shopping here" and you reply "you too."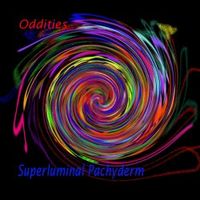 Oddities from 2000
I surprised myself when I chugged this one out six months after releasing my debut. I spend a lot of my time wondering about how many slinkies I could put on an escalator, to the intricacies of what kinds of things I could put in a washing machine that just barely causes it to malfunction. With little spare time, I wonder how these albums come to be, not only exist, but where did the ideas come from. My best guess is that most of them get pulled out of the air, a spark of inspiration happens in the clothes hamper, or a ham sandwich experience. Take your pick.
Anyway, this one is basically about odd stuff, or things I think are odd, or things I think a dog might think would be odd. So, it covers topics like pens, the Arctic Circle, swing sets, brushing teeth, cotton, popcorn, peas, iced tea, and dots. It's not really a concept album. Each song is bubble within itself. The carbonation is underwhelming. My favorite is Ghonk. It's another long one. I like the long ones. Multiplication sends my senses off a cliff.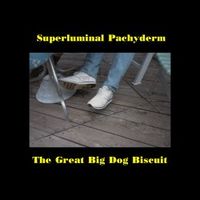 The Great Big Dog Biscuit from 2001
This is really a compilation and it had some unreleased things that didn't make it onto Oddities and Perpetual Insanity. Some of them were pieces of longer songs. I remember the song Cookies did well on mp3.com's charts. I'm not sure why. It's kind of weird. I believe only four or five copies of this exist, and I have one. Since everything on here is provided for elsewhere, I saw no reason in re-issuing it. I might make another compilation some day. I don't know. I'm not sure what the point would be.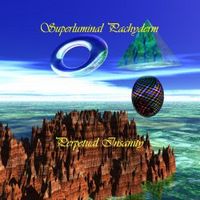 Perpetual Insanity from 2001
This one took a little longer to do and I like the way it turned out. I actually played some guitar on this in different places (rather than relying on samples). I can't really play the guitar. I don't even know how to play Smoke on the Water or Jingle Bells, or even the Popeye theme song. But I do know how to make some neat noises on it, and that's all that mattered. This one was more of a continuation of the themes explored on Oddities. Still, I think it's a bit different, sort of like different snacks. If Oddities was potato chips and Lexicographic Lint was pretzels, this one was more like tennis balls.
I think spoons was a recurring topic, although you could hardly tell after it was all done. Dementia was my favorite track on this. That one was over 17 minutes long. I like long songs. It seems to cover a lot of unrelated subjects, something I seem to thrive on. I really like egg salad sandwiches.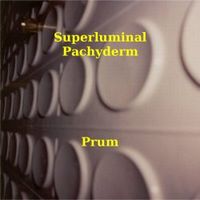 Prum from 2002
Prum was the first album where I collaborated with other humans. Although it was only on one song (Hippopotamus), I enjoyed working with Kim Novak on vocals and Miles Walsh (also known as Milo Black) on guitar. I wasn't sure how it was going to turn out as my songwriting and lyrics are a bit off the deep end. I think Kim and Miles are really talented and they did an amazing job on this song. I hope it was as much fun for them as it was for me.
The rest of the album featured a lot of new experiments, particularly with unusual time signatures and even throwing some industrial music into the mess. I think most of the album worked out quite well, but two of the songs I'm pretty sure I put together to get the album done. I regret doing that, but it's water under the bridge, or eleven day old eggs now. And I even got to include two of my heroes into my Reactive Shampoo song: Glenn Seaborg and Popeye. Although not everyone in that song is a hero. I can't imagine not liking jellybeans and broccoli, but I suppose it happens.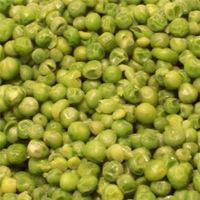 Sea of Peas from 2005
This one, so far, is my favorite of all the albums I've released. Isn't that usually the case? I'm sure the fans think otherwise (I only have three, so how would I know?). This was the first album in which I used Mellotron samples. I love Mellotrons, but who doesn't? This album took a long time to finish. I kept getting distracted by episodes of Stargate SG-1. I also was turning into a stamp collector. I can't remember what that was like, but eBay seemed to be a central figure in my existence between 2003 and 2004. I just realized that I still remember 5 1/4-inch disks and somewhere I have a computer I can put them in. It's like storing all of your canned goods and high beams in a hammock in the backyard.
This album also had guests. Duane Tate did the vocals on Dezincification and did an admirable job. I wish I could sing like that. My singing sounds like a weakly oiled clothes dryer on a trip down a spiral playground sliding board. Also, on Of the Ferric Oxides in the Old Toilets features Jeff Edmunds (of The Seen fame) on Stick and making a lot of the noises on the second part called Bibbed Boat of Pinwheel Game Boards. Jeff's fascinating playing style seemed to really gel into the Superluminal Pachyderm sound.
What is the availabilities of your albums ?
They used to be available, but then they disappeared. I will be re-issuing them on Amazon.com in 2012. Stay tuned.
How would you describe your music and which bands would you compare yourself with ?
I would describe my music as holomorphically-arranged manifolds and vapor-released sludge cakes atop an abandoned saltpeter mine filled with microfilms of old census records. I would compare myself with Weird Al Yankovic after taking extra-strength Alka-Seltzer allergy tablets attempting a neo prog/psychedelic style, with elements of cacophony, dissonance, and perhaps even the avant-garde, whatever that means. To be honest, I don't really know what my music sounds like. But I do like genealogy.
How is the creative processes from coming up with an idea to it's being recorded ?
It's kind of like rearranging the cushions of a sofa. I pull one of them out and the others slide over to cover the whole and I'm left with a cushion in my hands that no longer fits in the sofa. So, I change the ink on my Corona typewriter and dial the time people to see what time it is. I then have images of a red setting sun behind a Manayunk bridge. I don't need a big high-definition screen TV for this, just a month's supply of pop tarts and far-sighted Kepler cups. Meanwhile the sofa is dancing to Michael Jackson tunes and I'm wishing it had been Violinski, especially the song Clog Dance. I don't know how it maintains its balance with only four legs. Vern Ruhle playing a Minimoog would surely take care of that. But then, I've never been to Houston.
Big bags of Unicode diacritics and doorknobs roll down my backyard hill; and they really need flashlights to do that. Do you know we now have the capability on this planet to create a ring of canned corn around the Earth? Where else in the universe could you find something like that? That's what I mean by that.
Sea of Peas is your so far last album. What have you been up to since the release of Sea Of Peas ?
Pretty much being a lazy ass. I have a bunch of unfinished tracks, ranging from 10 seconds long to over 18 minutes long for my next album that I'm calling Unsalted Pants. It's been more than six years since I've released an album, so yeah... lazy ass. I did make a deck for Puppy this year, so I didn't necessarily do nothing. Now I need to make ramps.
What is your current status and what is your plans for this year and beyond ?
I'm married and my wife rolls her eyes at me a lot. She keeps me from falling out of my seat a lot. She's the best thing that's ever happened to me. You never know what's gonna come out of my mouth. I think I might have some interesting explorations with mulch next year. Musically, who knows. You know, this interview might even spawn some inspiration for me to get something out there to all of my three fans.
To wrap up this interview, is there anything you want to add to this interview ?
I have a web site. I don't know why.
Thank you to Ken Robinson for this interview

The PA profile is here and the homepage is here